Preferred Care at Home of National Headquarters | 354 NE 1st Ave Delray Beach, Fl 33444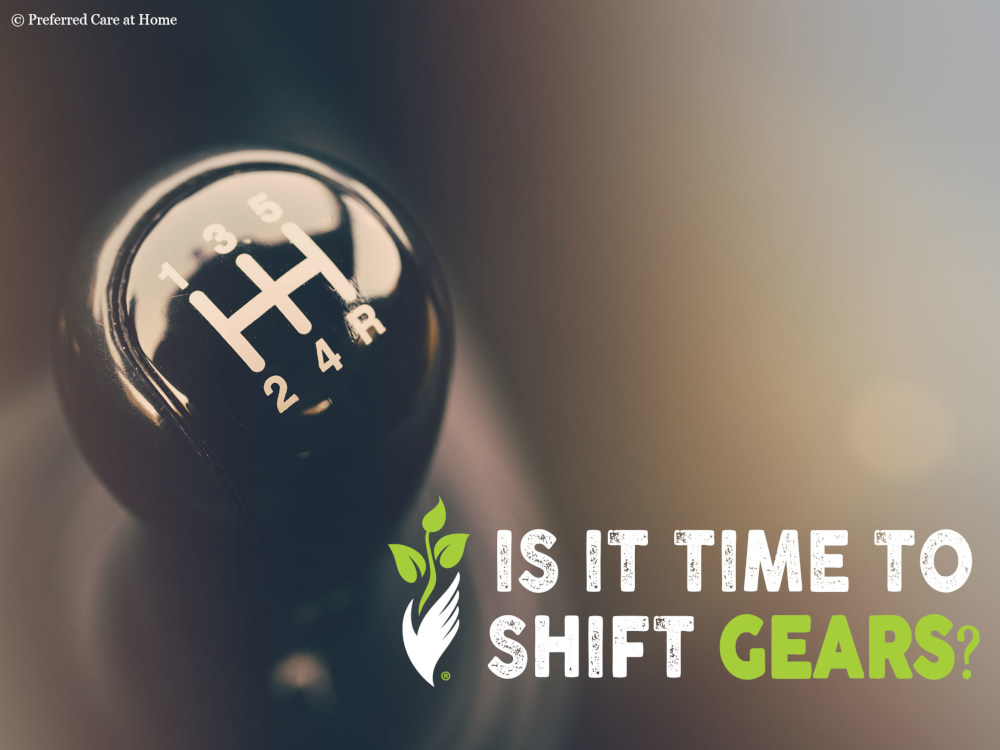 Greetings one and all…
A few weeks ago, I drove from Denver to the Western Slope of Colorado to present a caregiving conference. The drive over was gorgeous as the aspen trees were dressed in their finest autumn attire. The hillsides were ablaze with the characteristic golden hues of the season. As always, it was breathtaking and thought-provoking. As I drove, I reflected on what has been an incredibly busy year. Seems as if everyone I encounter relates a similar story – a year filled with an overabundance of personal and professional demands. Savoring the scenery and the moment, I wondered if it might be time to shift gears—to slow down a bit.
Granted, this is not the first time I have contemplated dialing back on my speaking engagements in order to spend more time in the mountains that I love. In fact, I wrote about this very issue in a previous posting—Smaller, Simpler, and Slower. At that time, I focused on the planning process necessary to relocate and subsequently to age well. Today, let's focus on the internal sensation of gears shifting—an indication that the body, mind, and soul are ready for a change.
A Sense of Peaceful Belonging
On my way over to the Western Slope, I stopped at one of my favorite coffee shop in a small mountain town. As I sipped my latte and enjoyed the moment, I felt:
An overwhelming sense of peace that brought tears to my eyes.
My mind and body relaxing into the slower pace of life.
My soul expanding into every crevasse of my being.
As if I was exactly where I was meant to be.
I belonged.
Living Intentionally and Gratefully
When I arrived at my destination several hours later, I checked into the hotel and unpacked. Although I needed to prepare for the conference the following morning, I took the time to explore Main Street and get a feel for the community. Sitting on the deck of a quaint restaurant, I listened to the locals talk about life. I chatted with the waiter and learned about his journey to Colorado. And I enjoyed every bite of my meal. I chose to be:
Aware of the moment.
Observant of my surroundings.
Thankful for the opportunity to slow down.
Grateful for my life.
Believe in the Dream
The following morning at the conference, I thoroughly enjoyed meeting members of the community. During my introduction, I noted how much I enjoyed visiting the area and that I might explore the possibilities of relocating at some point. At the break, many people encouraged me to move sooner rather than later! Several ladies offered to show me "the ropes" and to highlight everything the town had to offer. One woman even invited me to join her pinochle card group! I was encouraged to:
Pay attention to my longing to slow down.
Discover the place and community that speaks to my heart.
Be open to the possibilities.
Believe in the dream of living smaller, simpler, and slower.
Due to the encouragement of others as well as the continued longing to shift gears, I am opting to rely on something a bit more reliable than luck or the lottery. Since returning home, I am doing my homework to discover the intersection of my dream with reality. This is a process, not a moment. One step at a time, I am slowly shifting gears and realizing my dream of living intentionally in a place where my mind, body, and spirit feel at home. I'll keep you posted as the journey unfolds. Perhaps my musings will encourage you to believe in your dream as well. Wouldn't that be lovely? Take good care and enjoy the moment. Blessings on your journey……jane
© 2007-2020 Preferred Care at Home, a division of Help at Home Franchise Service, LLC. All Rights Reserved.
Services may vary depending on the licensing of each Preferred Care at Home Franchise location. Each location is individually owned and responsible for controlling and managing day-to-day business operations.