Preferred Care at Home of National Headquarters | 354 NE 1st Ave Delray Beach, Fl 33444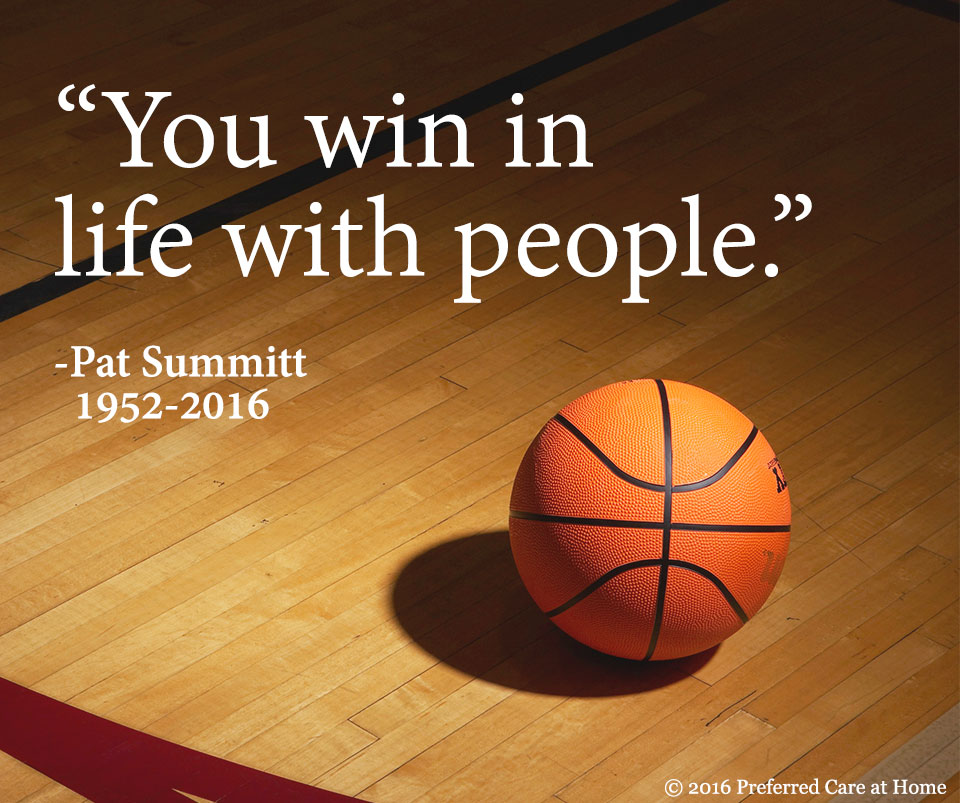 Today, Tuesday, June 28 Pat Summitt passed away after a courageous battle with early onset dementia 'Alzheimer's Type'. As a University of Tennessee alumni, the news of Pat Summitt's passing feels personal even though I never even met her. Her impact on athletics, her players, her school, and her community can hardly be put into words.
Her son, Tyler Summitt's statement to the media was a powerful testimony to the life she led, "For 64 years, my mother first built her life upon a strong relationship with her Lord and Savior, Jesus Christ.  Her foundation was also built upon love of her family and of her players, and love of the fundamentals of hard work which reflected her philosophy that 'you win in life with people'."
"You win in life with people." This statement has stuck with me today. It's a powerful reminder of what truly matters in life. While Pat Summitt's accomplishments are impressive, it is the priority she put on relationships that has had the greatest impact.
So today and everyday, let's take a page from Pat Summitt's playbook and remember: You win in life with people.
© 2007-2020 Preferred Care at Home, a division of Help at Home Franchise Service, LLC. All Rights Reserved.
Services may vary depending on the licensing of each Preferred Care at Home Franchise location. Each location is individually owned and responsible for controlling and managing day-to-day business operations.