Preferred Care at Home of National Headquarters | 354 NE 1st Ave Delray Beach, Fl 33444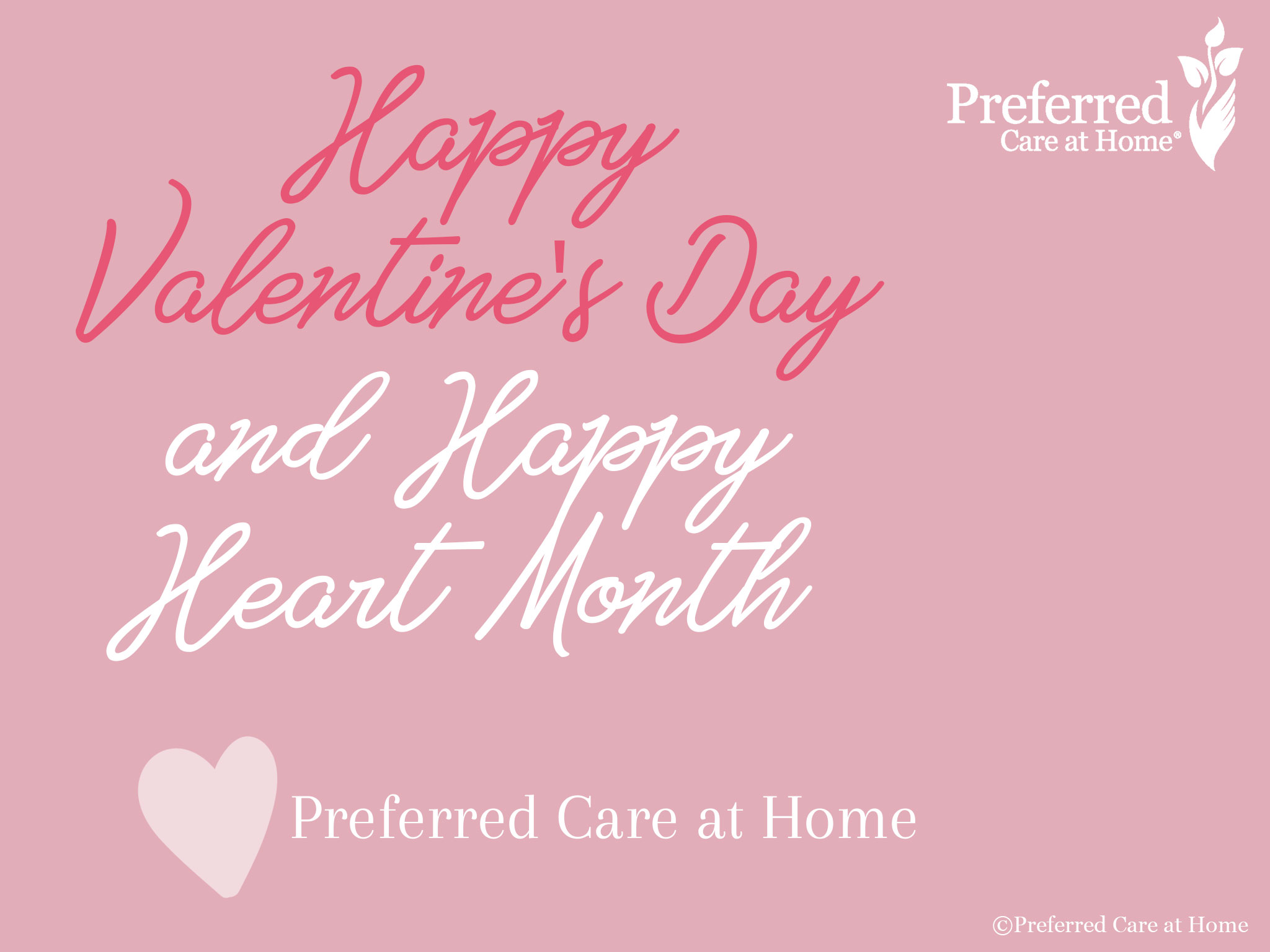 Today, millions of Americans will take time to say "I Love You" and celebrate Valentine's Day with someone special in their life.  Among the roses and Hallmark cards, you will certainly see a countless number of heart-shaped objects.  As the universal symbol for love, you may even choose to give your special someone a heart-shaped chocolate, candy, or necklace, just to name a few possibilities.
But did you know that February is also the month dedicated to focusing on your heart health? This time each year, the American Heart Association works to raise awareness about heart disease, since it is currently responsible for 1 in 4 deaths in the United States.  While this statistic is sobering, the good news is that heart disease can be largely prevented with the proper diet, exercise, and medication when necessary.  As you celebrate someone you love this February, think about these 4 tips to keep your heart healthy for many Valentine's Days to come.
1. Heart Health: Stay Active with a Hobby
I'm sure you've heard about the many benefits exercise can have for your heart health.  However, many people find it difficult to work out consistently and loathe the idea of going to a gym.  If you resonate with this feeling, consider finding a hobby that will keep you active.  Do you enjoy dance classes, gardening, or walking?  These activities can also provide benefits for your health.  The key is to find something that you enjoy, and perform that activity regularly over a long period of time.
2. Heart Health: Examine Your Diet
The goal of a healthy diet is to help you maintain a healthy weight while keeping your cholesterol and blood pressure at healthy levels.  The American Heart Association recommends eating a diet rich in vegetables and fruit along with whole-grain, high fiber foods.  It is also recommended to eat fish at least twice weekly.  Try to avoid foods with added salt as too much salt can elevate your blood pressure.  If you need help planning your meals, ask your doctor about consulting a dietician.  These visits with a dietician may even be covered by your insurance depending on your particular medical conditions.
3. Heart Health: Still Smoking? Consider Dropping the Habit
Doctors have known for decades that smoking increases your risk for heart attacks and stroke.  In addition, over time smoking will damage your lung function and will make it difficult to perform the exercise that you need to stay healthy.  Even with these health risks, we understand that quitting smoking is a very difficult decision to make and that most individuals will need multiple attempts before finally kicking the habit for good.  If you are interested in quitting, read our article here and contact your health care provider to get the help you need to quit.
4. Heart Health: Optimize Your Blood Pressure and Cholesterol
High blood pressure and high cholesterol levels increase your risk for developing heart disease.  If you are diagnosed with either one, your doctor will first try to adjust your diet and exercise plan.  If needed, you may be placed on a medication to control your blood pressure or improve your cholesterol levels.  It is important to continue taking this medication as directed by your doctor, even if you feel normal or have a normal blood pressure reading.
At Preferred Care at Home, we want to wish you a Happy Valentine's Day and Happy Heart Month!  If you or a loved one need help with preparing healthy meals or need a reminder for that blood pressure medication, we would love for you to give us a call and see how we can help you keep your heart healthy.
© 2007-2020 Preferred Care at Home, a division of Help at Home Franchise Service, LLC. All Rights Reserved.
Services may vary depending on the licensing of each Preferred Care at Home Franchise location. Each location is individually owned and responsible for controlling and managing day-to-day business operations.