Preferred Care at Home of National Headquarters | 354 NE 1st Ave Delray Beach, Fl 33444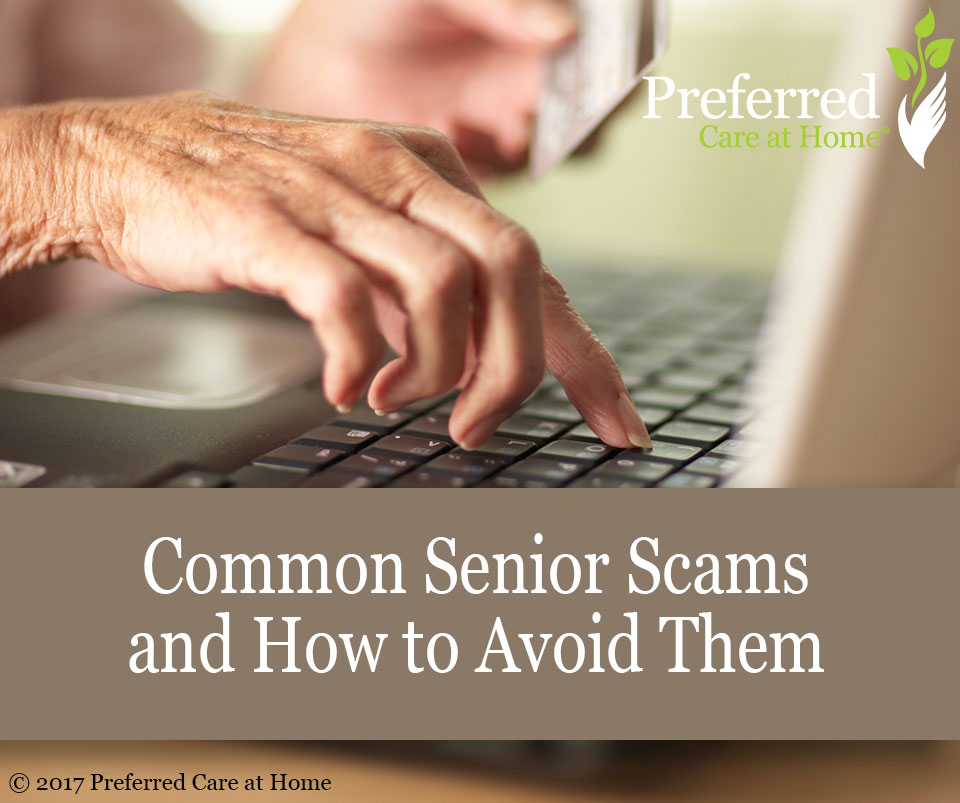 The exploitation of seniors through a variety of scams is all too common and chances are you, or someone you know, have experienced the attempts of a scammer. Seniors are often the target of a scam due to the likelihood of financial reserves (savings, retirement, house, etc.) and the potential presence of vulnerabilities such as cognitive impairments, isolation, and loneliness. However, raising awareness of the ways scammers exploit and rob seniors can stop these criminals in their tracks. Here are a few examples of common senior scams.
Email Scams
A common email scam is known as the "Nigerian email scam" (although not always originating from Nigeria). This email scam requests the investment of money and claims there will be a large payout for the investment. Another email scam is known as "Phishing", this scam appears to be from a familiar source, such as your bank or even the IRS. The email will request personal account information and appears to be from a legitimate institution while attempting to access your accounts.
Sweepstake and Lottery Scams
Sweepstake and Lottery scams claims the victim has won a prize, but needs to pay a fee to "unlock" the reward. The senior may even receive a check that will inevitably bounce, but not before the criminals have collected their so called fees.
The Grandparent Scam
The Grandparent scam is particularly dangerous because it plays on the heart and emotions of a senior. Contact is made claiming to be a grandchild who is in need of immediate financial assistance. More sophisticated versions of this scam incorporates accurate facts about the grandchild retrieved from social media sites.
Telemarketing and Phone Scams
Older adults make twice as many purchases over the phone than the national average. This may be a reason they are more likely to fall victim to a telemarketing scam. Telemarketing scams often hook their victim with promises of free vacations, awards, prizes, or investment opportunities. One type of phone scam includes the "Charity Scam". This scam may take place after a natural disaster and claims to be collecting funds for a specific charity.
How to Avoid a Scam
Collect information from all callers and fact check claims they are coming from a familiar institution.

Never give out bank information, passwords, or social security numbers.

Ask for another opinion. If someone is requesting information or money, consult a trusted family member or attorney on your best course of action.

Don't feel pressured to make a decision right away. Legitimate institutions will not mind if you take your time to research and learn more.

Sign up for the Federal Trade Commission's Do-Not-Call Registry. You can sign up at

www.donotcall.gov

or at (888) 382-1222.
© 2007-2020 Preferred Care at Home, a division of Help at Home Franchise Service, LLC. All Rights Reserved.
Services may vary depending on the licensing of each Preferred Care at Home Franchise location. Each location is individually owned and responsible for controlling and managing day-to-day business operations.