Preferred Care at Home of National Headquarters | 354 NE 1st Ave Delray Beach, Fl 33444
Services

Hospital to Home Care, Transition Care

Smooth-Transition Care, an affordable, evidence-based service, combines four key components to prevent readmission in elderly people.

More info

Companion Care

Too often, with age comes loneliness. The feeling that no one cares creeps in. Aging has a way of reminding you of family members and friends who have passed on. You can feel like you're alone.

Homemaker Care

Preferred Care at Home's homemaker care. We make your house into that special place again. We do the chores and provide those tender loving touches that make you comfortable. Ultimately, our homemaker care can help you or a loved one remain where you want to be home.

Personal Care

As we mature, our needs change. The things that were once simple to perform become complicated.We can provide you or your loved one assistance and direction with all the tasks referred to as activities of daily living.

Dementia/Alzheimer's Care

If you or your parent has Alzheimer's disease, you're not alone. After all, every 70 seconds someone is diagnosed with it. Yet it can feel so isolating, so overwhelming.

Live-in Care

Peace of mind. It's so often an elusive dream for people with elderly parents and for elderly people themselves. That's why Preferred Care at Home has always been known best for our 24-hour peace-of-mind service called live-in care.

End-of-Life Care

At Preferred Care at Home, we partner with hospices to care for people as they approach life's final transition. Our caregivers are specially trained in end-of-life care. Depending on your needs, they may, for example, prepare easy-to-eat foods, read to you, and watch for discomfort and summon health-care providers if needed.

Specialty Care

Preferred Care at Home provides a variety of specialty services. These services are built around the unique needs of the individual. Included are packages for New Mothers and Surgery Recovery.

Skilled Care

Our medically trained and licensed caregivers are available to assist with your nursing needs. These services can be as simple as wound care to ventilator care.

Services

At Preferred Care at Home, we're passionate about keeping elderly people safe and independent in their own home. We offer a variety of in-home care services, so you can be sure we have the option that will work best for you.

Please explore our services listed to the left.

Blog

Caregiving Roller Coaster

"The ups and downs, the twists and turns, and the unknown trajectory of the caregiving roller coaster are more than challenging some days. But this is the price we pay for a ticket to ride with those we love until the journey is completed..." Greetings one and all… Today I am a wee bit weary having ridden the caregiving roller...

Read the blog

Escaping the Gravity of Isolation

Loneliness and isolation can feel overwhelming. It can make you feel like you are a couple thousand miles away from humanity. Loneliness and isolation can feel overwhelming. It can make you feel like you are a couple thousand miles away from humanity. Hopefully, you always and eventually come to realize that you are not actually alone, certainly not thousands of...

Read the blog

Called to Care: A Daunting Challenge and Sacred Honor

"Companioning those we love to the end of the road is the hardest thing we do as a family. And yet, it's a journey not to be missed..." Greetings one and all… It's with a heavy heart that I compose this reflection today. Earlier this week, I received the call to care for yet another family member. Since...

Read the blog

Senior Home Care Blog

If you want to connect and interact with an in-home care expert, explore our senior home-care blog, which includes posts on the senior topics that most affect you.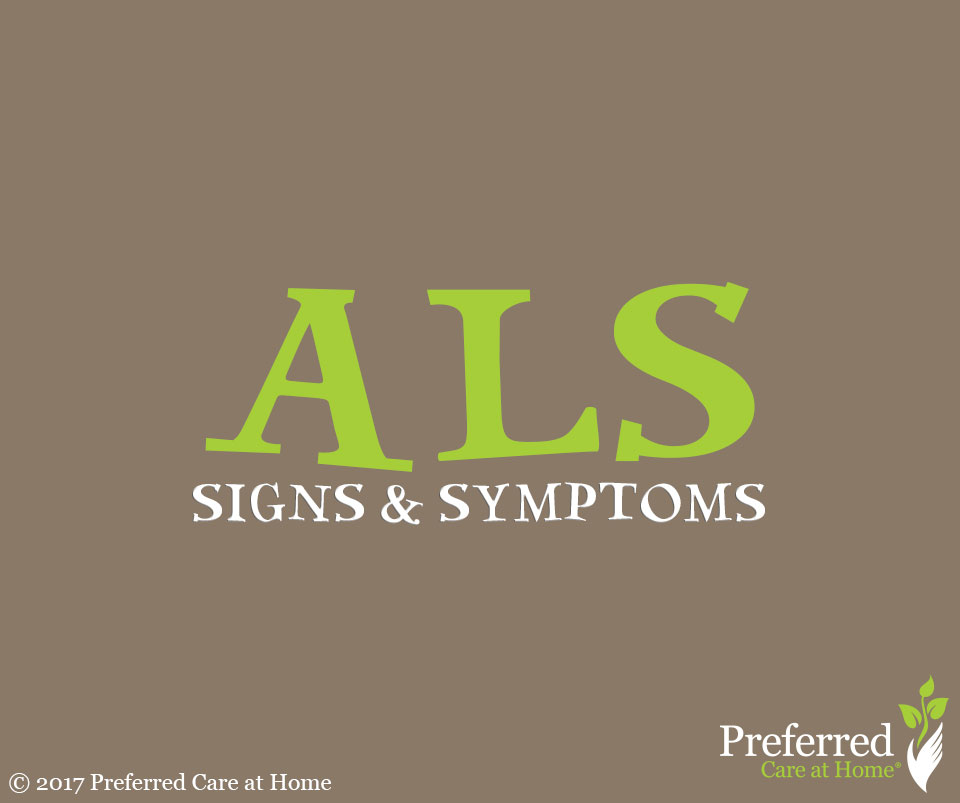 If you know someone who suffers from ALS, than you know that it is a devastating and heartbreaking disease. If you haven't been directly impacted by ALS then you may not know much more about the disease other than the ice bucket challenge that took over social media a few years back. Thanks to the ALS Ice Bucket challenge in 2014, there is more awareness for the disease with scientific advancements being made due to those donations. But, what is ALS?
What is ALS?
ALS stands for Amytrophic Lateral Sclerosis, but is more commonly known as Lou Gehrig's disease.  The disease involves the destruction of neurons within the brain and spinal cord, leading to weakened and disordered movement.  Some cases of ALS may also cause personality changes or memory loss. While ~10% of patients with ALS have a family history of the disease, sporadic cases of ALS are most likely to develop between the ages of 58-63.*
Common Signs of ALS
While no two cases of ALS are exactly the same, there are a few common symptoms that are important to recognize.  About 70% of patients with ALS first complain of a problem with the arms or legs.  This may present as weakness, cramps, or difficulty walking due to stiff muscles.  Another 25% of ALS patients first present with difficulty speaking or swallowing.  While these symptoms may be seen with other medical conditions, a more specific sign for ALS is tongue fasciculations, which are short, involuntary contractions of part of the tongue muscle.  Because it is a rare condition, a thorough evaluation by a physician is needed to adequately distinguish ALS from other neurological or musculoskeletal conditions.
Symptom Management and Comfort Care
Once the diagnosis of ALS is made, treatment primarily consists of symptom management and comfort care.  While some medication has been shown to increase life-expectancy by 2-3 months, there is currently no cure for ALS.  A small number of patients may live 5-10 years after symptom onset, but half of all patients pass away within 2.5 years of developing symptoms.
It is important to remember that symptoms of ALS become progressively worse over time, a factor that may help distinguish ALS from other diseases.  Fortunately, ALS is a rare disease, and most individuals with muscle weakness or cramps do not have ALS.  Even so, if you or a loved one are concerned about any of the above symptoms, it is important to visit your healthcare provider for an appropriate evaluation of your symptoms.
*Kiernan MC, Vucic S, Cheah BC, et al. Amyotrophic lateral sclerosis. Lancet. 2011 Mar 12;377(9769):942-55
© 2016-2017 Preferred Care at Home, a division of Help at Home Franchise Service, LLC. All Rights Reserved.
Services may vary depending on the licensing of each Preferred Care at Home Franchise location. Each location is individually owned and responsible for controlling and managing day-to-day business operations.