Preferred Care at Home of National Headquarters | 354 NE 1st Ave Delray Beach, Fl 33444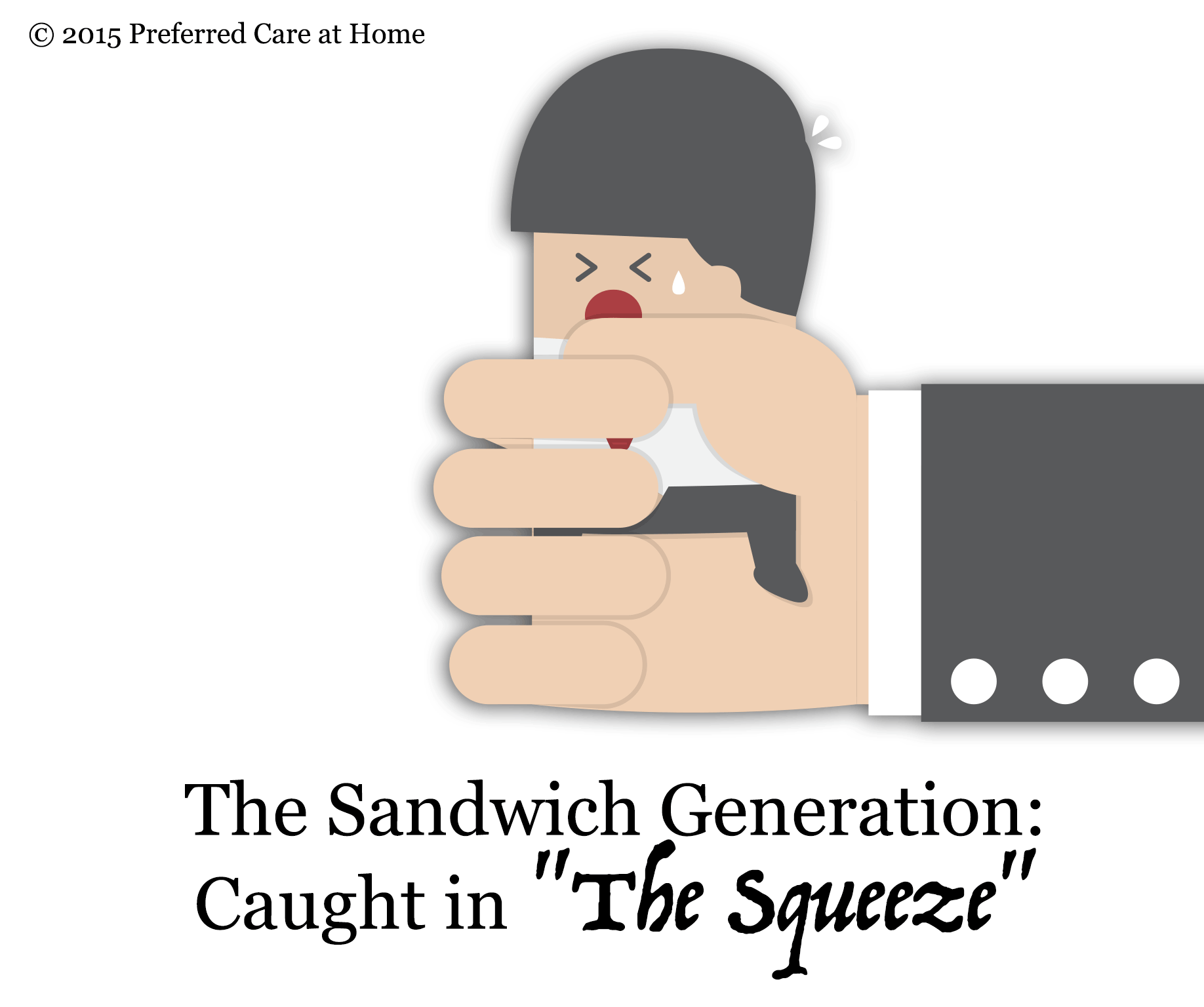 Greetings one and all! I hope you are doing well and loving life. Once again, I invite you to take a deep breath, pour a cup of coffee or hot tea, and relax. If you are caught in the caregiving squeeze—caring for an aging parent as well as a child—you obviously need a break! The Sandwich Generation—a term coined by Dorothy Miller in 1981—is a consequence of increased longevity and societal changes in the family system. Currently, it is estimated that 47% of adults between 40-60 years of age are caught in "the squeeze." So if you are feeling a bit of pressure today, you are in good company!
The Sandwich Generation faces a myriad of challenges today. The physical and emotional demands of caring for an aging parent are daunting enough. However, many people caught in "the squeeze" also assume a portion (if not all) of the financial responsibility of care. The other half of the sandwich—child care and/or supporting an adult child—demands physical, emotional, and financial investments as well. In fact, the financial burden associated with supporting an adult child exceeds that of caring for an aging parent. This reality was highlighted during the Great Recession (resulting from the Wall Street debacle of 2008) when young adults struggled to find employment and consequently relied on their parents for food, housing, and basic daily needs. In 2012, 40% of men and 32% of women 18-31 years of age reportedly lived with their parents. And so, the pressure builds for those caught in "the squeeze."
Self care is critically important for all caregivers. However, for those caught in "the squeeze," self care becomes increasingly important. Along with the concurrent caregiving duties associated with an aging parent and maturing children, the Sandwich generation also feels the pressure of other relationships (spouse, partner, friends), personal health issues, personal financial needs, and career demands. Consequently, those caught in "the squeeze" struggle to maintain their own physical, emotional, and financial well-being. So, if you are part of the Sandwich Generation, be wise and be proactive when caring for your family. Consider the following suggestions before you are caught in "the squeeze."
Plan Ahead

—

Anticipate the future care requirements of your parents and children. Define your role in that plan of care.
Assess the Situation Before a Crisis

—

Identity available resources and assets for future caregiving needs. Discuss goals of care (advance care planning) with all interested parties.
Investigate Financial/Insurance Options

—

Assess well in advance of a caregiving need if long-term care insurance, life insurance, or other financial investments will serve you and your family well.
Preserve Personal Financial Assets

—

Seek expert financial advice prior to jeopardizing your future, financial stability. Funding the care of an aging parent and a maturing child can quickly deplete your financial assets.
Take Good Care of YOU

—

Recognize that self care is not optional. If you are to care for others, you must

first

care for yourself!
Although we can't accurately predict the future, we do know that caregiving needs will likely escalate for our aging parents. We also know that maturing children will require a bit of assistance somewhere along the way. We can thus mitigate some of the pressure by proactively planning for these two eventualities. Getting caught in "the squeeze" need not be your ultimate destiny. If we plan well to live well, perhaps the menu of life will include something other than sandwiches!
I look forward to the ongoing conversation. If you have specific questions or concerns related to your caregiving experience, I would love to hear from you. Until the next posting, I wish you and yours countless blessings…jane

© 2007-2020 Preferred Care at Home, a division of Help at Home Franchise Service, LLC. All Rights Reserved.
Services may vary depending on the licensing of each Preferred Care at Home Franchise location. Each location is individually owned and responsible for controlling and managing day-to-day business operations.