Preferred Care at Home of National Headquarters | 354 NE 1st Ave Delray Beach, Fl 33444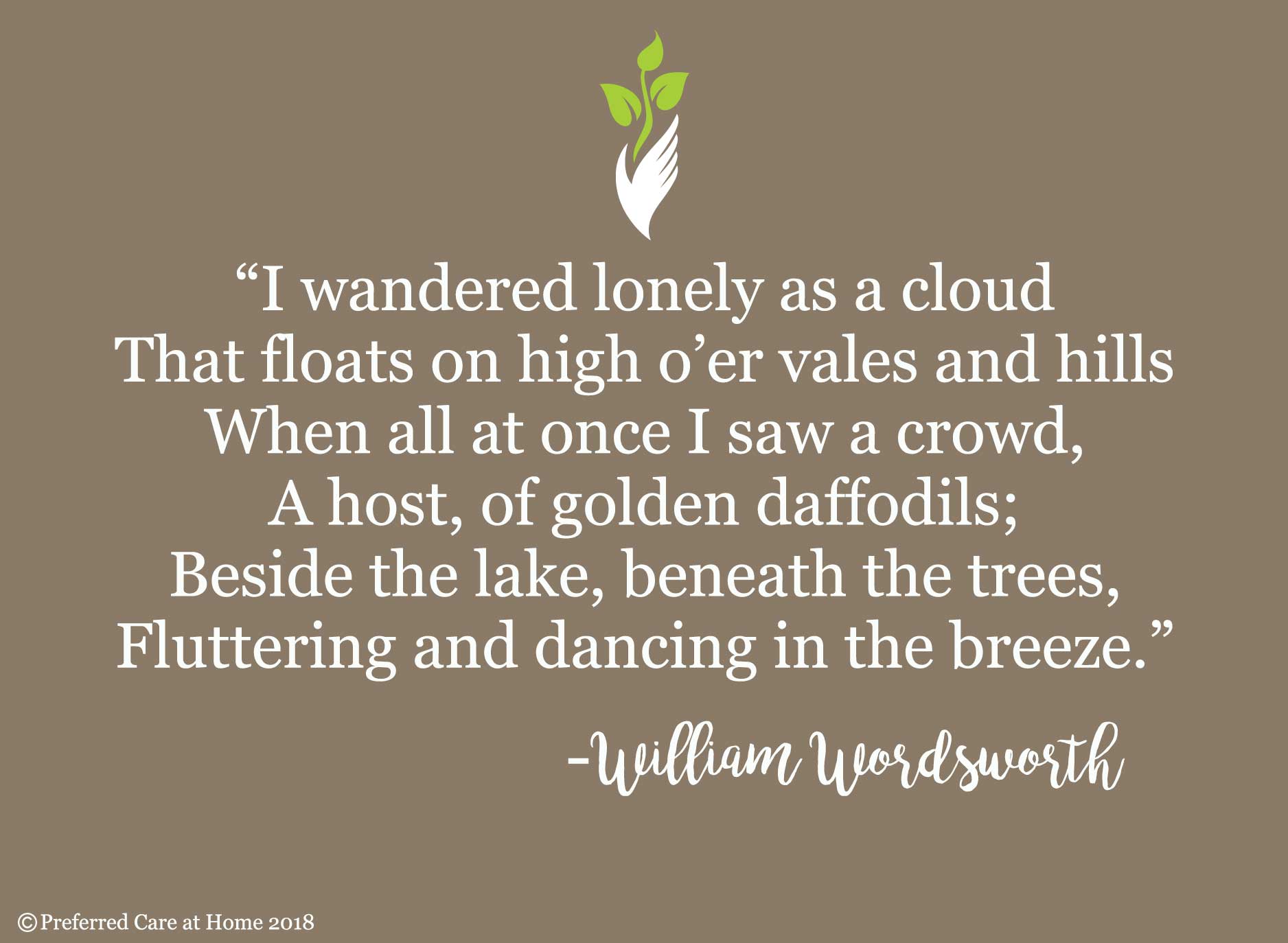 "I wandered lonely as a cloud

That floats on high o'er vales and hills,

When all at once I saw a crowd,

A host, of golden daffodils;

Beside the lake, beneath the trees,

Fluttering and dancing in the breeze."
In an unplanned moment, you may suddenly find yourself at a stop, gazing at something remarkable, irresistible, and ordinary.
In that moment, you may be stirred enough to write something reread and echoed decades and centuries later – not unlike the poem above written by William Wordsworth back in the early 1800s.
Wordsworth's inspired verses came to him after he and his sister came upon a long belt of daffodils, packed together and swaying in the breeze, a real account of a 'stop and smell the flowers' moment.
It's a well-worn idiom, but it's a good one none-the-less, one with some scientific backing even.
But here's my concern: If we let it happen, our life and the momentum we've cultivated over the years can often push us right past these flowery moments, our pockets of breeze, peace, and tranquility.
If it's not our many bills, it's our commutes or portfolios that take us right over the daffodils of March, and then through the April daisies, past the lilies in May and even the honeysuckles in June.
My flowers are my family and friends.
Yours might be your children or music or a walk in the woods or being around actual flowers. Whatever it may be, make sure you leave enough room for it.
Let yourself wander and find your unplanned peace, your version of golden daffodils fluttering and dancing in the breeze.
© 2007-2020 Preferred Care at Home, a division of Help at Home Franchise Service, LLC. All Rights Reserved.
Services may vary depending on the licensing of each Preferred Care at Home Franchise location. Each location is individually owned and responsible for controlling and managing day-to-day business operations.