Preferred Care at Home of National Headquarters | 354 NE 1st Ave Delray Beach, Fl 33444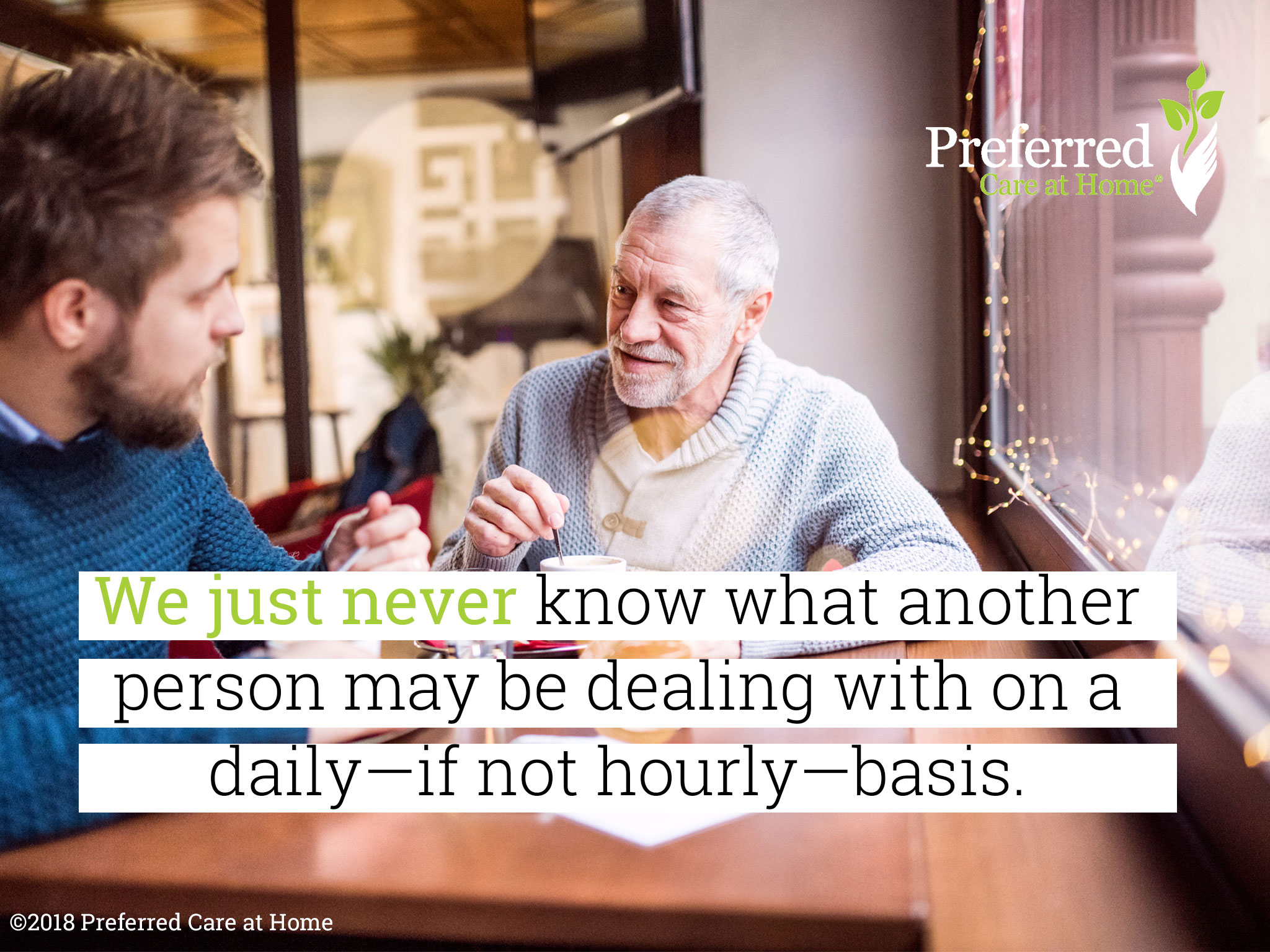 Greetings one and all…
Another glorious day dawns in Denver. Sunshine, blue skies, and high 70's are in the forecast for the day. However, I am wise enough to know that this Spring-like weather will not last long. In fact, snow is predicted to arrive tomorrow. Therefore, I will soak up every lovely moment today.
Before kicking into high gear, I choose to savor a steaming cup of coffee while reflecting on my experiences of the past few weeks when traveling to various conferences and workshops. As always, I met countless people, many of whom amazed, inspired, and touched me. As I listened to the stories of caregivers, care receivers, and professional care providers, I learned so much about the journey of life. I realized once again that unless we intentionally take the time to BE with each other, we just never know what another person may be dealing with on a daily—if not hourly—basis. And by "knowing" another person, our compassion for each other grows exponentially.
As a public speaker and educator, I convey information through poignant and powerful stories. Facts, figures, and theories are interesting (and provide the needed credibility for many of my programs). However, it's always "the story" that engages an audience and establishes the vital connection between speaker and listener. When I take center stage, by being open, honest, and vulnerable with the audience, I invite everyone in the room to be vulnerable as well. And more often than not, people accept my invitation as evidenced by their willingness (even eagerness) to share a bit of their story with me at the conclusion of the presentation. Listening to the joys and the sorrows, the triumphs and tragedies, and the hopes and fears of others, I am humbled indeed. And I think to myself, "Wow! You just never know what other people are going through!"
Several weeks ago, I traveled to the Western Slope of Colorado for a caregiving conference. There I met a young man who moved to Colorado to care for his grandfather. Although the grandfather requires a high level of care, he is resistant to all forms of assistance. Consequently, the young man struggles every day to care for his grandfather. And yet, he didn't complain. He didn't whine. He didn't lament his fate. Instead, he attended the caregiving conference to become a more competent and compassionate caregiver. As I listened to his story, I admired his determination and commitment to care despite his grandfather's resistance. Again, you just never know…
A week later, I attended a national conference in Texas where I presented several programs to professional service providers and clinicians. Those in attendance courageously companion and serve patients and families challenged by a progressive, neurological disease. Additionally, many of these professional have personal issues of caregiving at home as well. As I was leaving the conference hall after my final presentation, a woman approached me with open arms and gave me a heartfelt hug. She noted that one of my stories really "hit home." Her mother has Parkinson's disease. As the primary caregiver for the past 20 years, this woman resonated with the stories I shared about caring for my own mother. In that moment, we stood on common ground. We shared a common experience. We "knew" and cared for each other for that brief moment in time. Minus our stories, we would have never known.
So today, the invitation is this. Share a bit of your story. Share a bit of yourself. Let people know who you are and what you are about! And, invite others to do the same! You just never know how this could enrich your life until you try!
I look forward to the ongoing conversation. If you have specific questions or concerns related to your caregiving experience, I would love to hear from you. Until the next posting, I wish you and yours countless blessings…jane
© 2007-2020 Preferred Care at Home, a division of Help at Home Franchise Service, LLC. All Rights Reserved.
Services may vary depending on the licensing of each Preferred Care at Home Franchise location. Each location is individually owned and responsible for controlling and managing day-to-day business operations.