Preferred Care at Home of National Headquarters | 354 NE 1st Ave Delray Beach, Fl 33444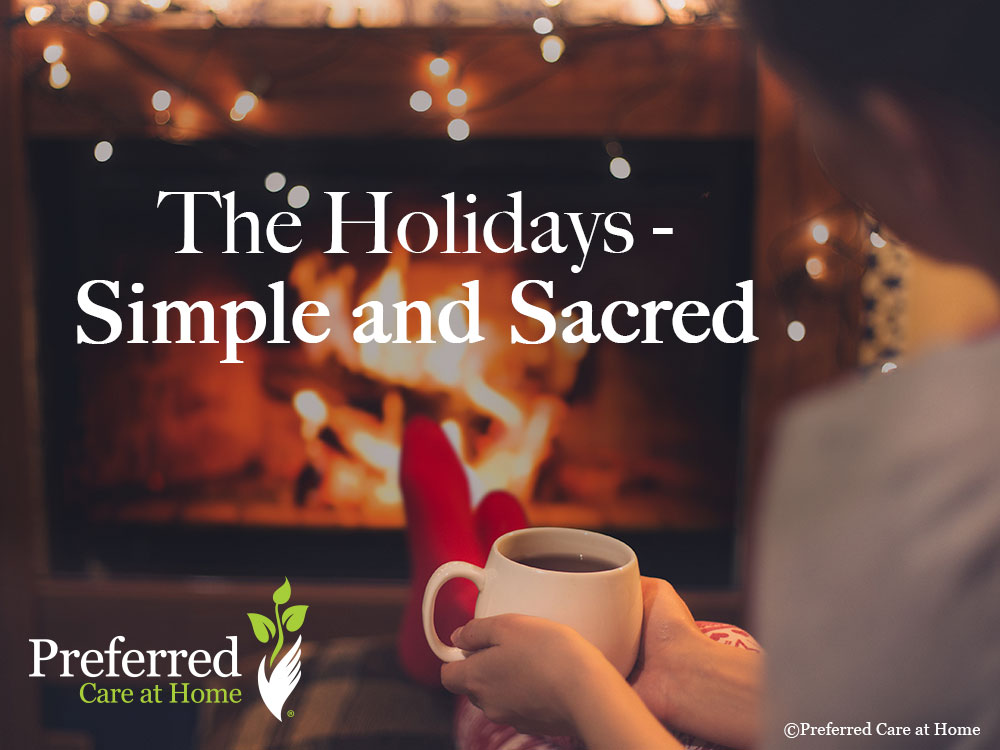 Greetings one and all…
It's hard to believe that the holidays are here. Although Thanksgiving was late this year, the holidays seemingly snuck up on me. Like everyone else, I have been more than fully occupied with work, with family, and with LIFE this year. Perhaps that is why I am longing for a simple and sacred holiday season.
Yesterday I ventured out to run a few errands in anticipation not only of the holidays but also a massive winter storm bearing down on Denver. Needless to say, I wasn't alone. Walking into my local grocery store, a man passed by and said, "Get ready. It's CRAZY in there!" Honestly, he looked dazed and confused after his shopping experience.
So, I took a deep breath and forged ahead. Although the store was a mob scene, everyone seemed to be taking it in stride. Standing in line to check out, I chatted with people about their holiday plans—or revised plans due to the weather forecast. Instead of complaining about the situation, the people I spoke with focused on the essence of the season—being thankful for family, friends, faith, and good health. Pretty simple. And incredibly sacred.
This morning I awoke to over a foot of snow in my backyard. As I was shoveling a path for my low clearance dogs, I savored the simple act of shoveling snow. Once done, I enjoyed watching my dogs frolic in the snow. I realized the sacredness of ordinary moments in life. And, I decided to simplify the holidays so I have many more moments like the one this morning—moments of pure joy. What does simple and sacred look like? Consider this…
Share the Holidays with Loved Ones – Past and Present
Share the moment with people who fill you up and bring you joy
Continue life-giving family traditions
Initiate new rituals to enrich the moment
Share the stories of holidays past—remembering those who have died
Create new memories to cherish in the years to come
Share the Holidays with Those In Need
Volunteer to prepare/serve meals at your church, a shelter, or community center
Invite friends, neighbors, or colleagues who may be alone to join you for a meal or festive event
Be a courageous companion for someone who is grieving
Recognize and serve the needs of aging family members
Share Your Gratitude
Express your gratitude to family and friends for their presence in your life
Be grateful for meaning-FULL work
Be thankful for a reason to be—people and a purpose that motivate you to serve in beneficial ways every day
Realize that every moment is a gift
In closing, I wish you and yours a blessed holiday season. We all have challenges to contend with during the holidays – some ongoing, others short-lived. Regardless, the opportunity to simplify our approach to the holidays remains. Focus on what matters most to you and then savor every moment. Simplify and experience a sacred holiday season. Take good care and enjoy the moment. Blessings to you and yours……jane
© 2007-2020 Preferred Care at Home, a division of Help at Home Franchise Service, LLC. All Rights Reserved.
Services may vary depending on the licensing of each Preferred Care at Home Franchise location. Each location is individually owned and responsible for controlling and managing day-to-day business operations.