Preferred Care at Home of National Headquarters | 354 NE 1st Ave Delray Beach, Fl 33444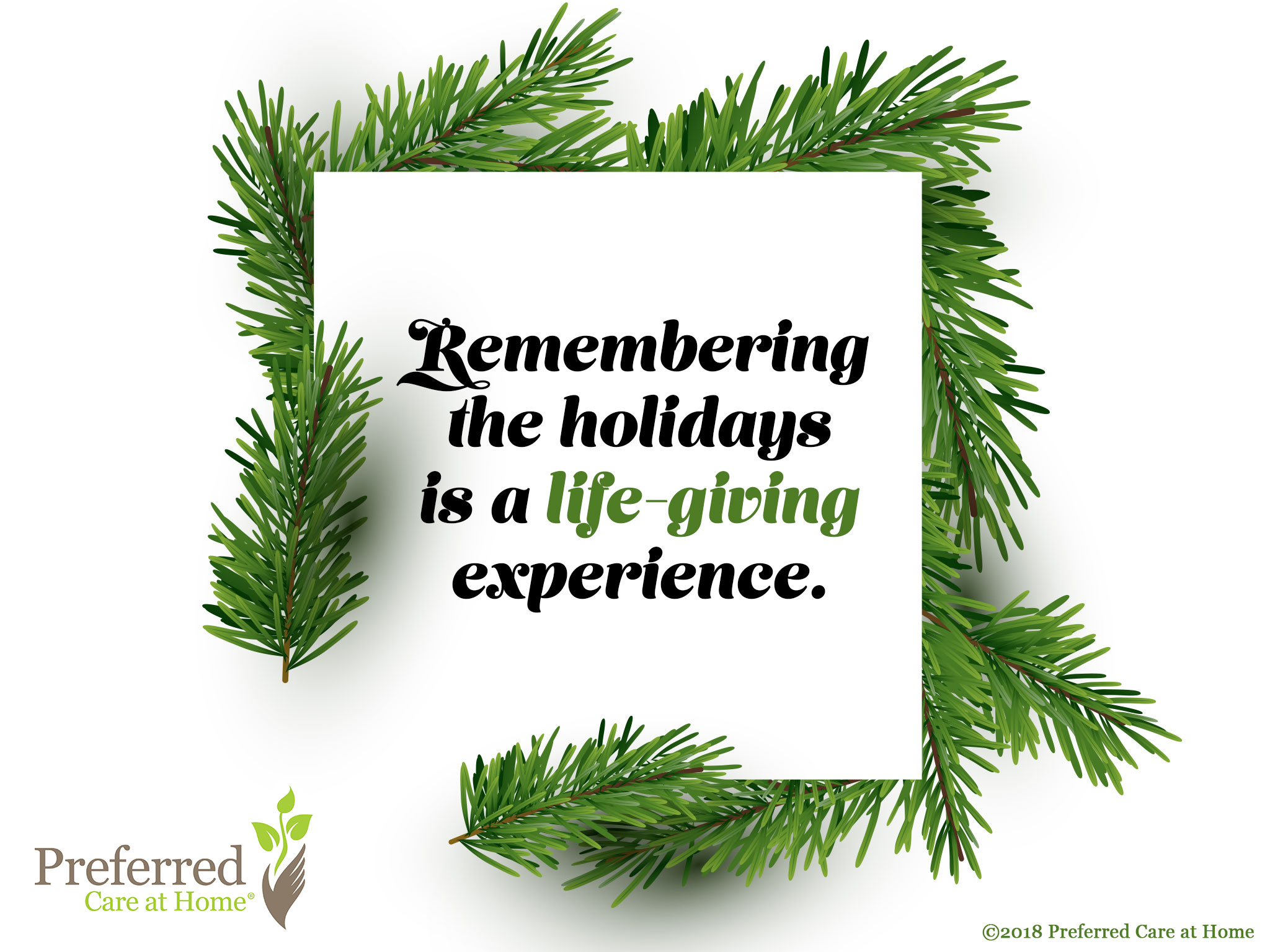 Greetings one and all…
Today, I am lamenting the passing of the Thanksgiving weekend while anticipating the upcoming holiday season. A bittersweet feeling—an emotional milieu that is quite familiar to me and to countless others during the holidays. Perhaps your experience of the holidays is similar. The mix of emotions naturally occurs due to several factors. The passing of each holiday after weeks of great anticipation results in an emotional let down the day after. Furthermore, because the holidays are a special time of the year—memories of holidays past bubble up eliciting emotions of joy as well as sorrow.
The memories of past holidays often highlight what has changed over the years and who is absent. Thus, remembering past holidays magnifies what we have lost—and so we grieve. If your loss is recent, the acuity of your pain is intense. If the loss is a distant memory, a lingering ache remains—testament to the fact that grief is a life-long journey. We never "get over" our significant losses. Instead, we learn how to live with them. This year, as the memories of past holidays with my mom, dad, and brother filled my heart and soul, I chose to embrace every memory as a precious gift—a reminder of how incredibly blessed I've been over the past 61 years. An approach that served to assuage the pain of my lingering grief.
Growing up, Thanksgiving was my family's all-time favorite holiday of the year. We focused on family, friends, and food! We intentionally gave thanks for our home, for our health, for each other, and for our friends. On Thanksgiving, food was an expression of love—an ingredient that my mom added generously to every delicious creation coming out of her kitchen. Although I relished every morsel of Thanksgiving dinner, I enjoyed the process of preparing for the holiday even more. We spent days washing the "good china" and polishing the silver. We debated the pros and cons of possible menu items—ultimately opting for our tried and true family favorites. We recreated family recipes handed down from generation to generation—cranberry relish from my great grandmother, smoked oyster dressing from my dad's family, and sour cream pumpkin pie compliments of my mom. With every dish came a side of family stories—stories that served as a garnish to the recipe. How I loved hearing those familiar stories every year while savoring the fruits of our labor!
This year as I prepared my Thanksgiving meal, I looked at my mom's picture hanging in my kitchen and longed for her. I desperately wanted to cook with her, to hear her laugh, to see her smile, and to feel her warm embrace. Not surprising. I long for Mom every Thanksgiving. And every year, I seek to satisfy my longing by remembering the holidays of my childhood and adolescence. The memories serve as a blessed balm for my grief as I sense Mom's abiding spiritual presence all around. Granted, it's not the same as her physical presence, but Mom's spirit fills the hole in my heart and inspires me to celebrate the season—making more memories for reflection in the years to come.
As I moved through Thanksgiving this year, I realized that the holidays provide an amazing moment in time during which the past, the present, and the future seemingly come together in a comforting and reassuring way. My memories of past holidays enhance my appreciation of the present holiday—a sacred moment not to be missed. And my present holiday imbues all future holidays with an enriched sense of meaning and family history—a moment to anticipate with great expectations. So the invitation and the challenge is to be present to the moment—a moment informed by the past that will also inform the future. Being "present" is thus a balancing act!
Having experienced my fair share of "blue" holidays, I know how tough it is to be present—to pull off that tricky balancing act. When wounded by loss, it is easy to get stuck in the past or yearn for better days ahead. But my hope is this. I hope that when remembering the holidays of years past, we focus not on what we have lost over the years—but instead we choose to focus on how we have been blessed. Once done, we can then consider how those blessings serve to sustain and to support us this holiday season. By so doing,
Remembering the holidays is healing instead of hurting.
Remembering the holidays is reassuring instead of disturbing.
Remembering the holidays is welcomed instead of rejected.
Remembering the holidays is a life-giving experience.
This year…may it be so.
I look forward to the ongoing conversation. If you have specific questions or concerns related to your caregiving experience, I would love to hear from you. Until the next posting, I wish you and yours countless blessings…jane
© 2007-2020 Preferred Care at Home, a division of Help at Home Franchise Service, LLC. All Rights Reserved.
Services may vary depending on the licensing of each Preferred Care at Home Franchise location. Each location is individually owned and responsible for controlling and managing day-to-day business operations.