Preferred Care at Home of National Headquarters | 354 NE 1st Ave Delray Beach, Fl 33444
Little Free Library Fosters a Love for Reading and Sharing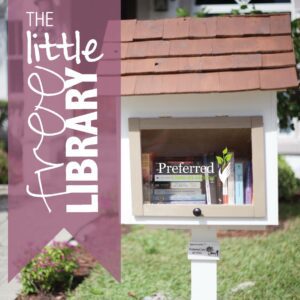 Preferred Care at Home Encourages Community Reading through its Little Free Library
DELRAY BEACH, Fla.- Sept. 13, 2013—Perhaps it was said best by Dr. Seuss, "The more that you read, the more things you will know. The more that you learn, the more places you'll go."
Little Free Library's are popping up all over the world and now one is here in Delray Beach at the corner of NE 1st Avenue and 4st Street in front of Preferred Care at Home. The concept is simple: take a book; leave a book. This little house-shaped library offers an ever-changing variety of books so people of all ages can pick up a book for free.
"When we found out about the Little Free Library we knew we wanted to participate," says Gina Guerrieri, co-owner and administrator for Preferred Care at Home. "It not only offers a fun way to promote reading, but it also requires community engagement and allows anyone to share their favorite books."
Preferred Care at Home has gone one-step further and created bookmarks. These bookmarks allow for people to write their thoughts and comments about the book as it is passed around the community. Preferred Care at Home also offers complimentary delivery or pick-up services for homebound seniors living in Delray Beach that would like to read or donate a book.
"Our Little Free Library is just one small way we can give back to our community," said Chad Farmer, Director of Community Relations and who took the time to build the Little Free Library. "We look forward to meeting fellow readers as we foster a love for reading in Delray Beach."
The Little Free Library is located at 354 NE 1st Avenue, in front of Preferred Care at Home. Bring your book donations to Preferred Care at Home or simply leave them in the Little Free Library. For questions regarding Preferred Care at Home and its Little Free Library, contact Chad Farmer at 561-404-2300.
About Preferred Care at Home
Since 1984, the founders of Preferred Care at Home have been dedicated to providing reliable, compassionate and affordable home care. This care improves quality of life while safeguarding independence and dignity. Services include companionship, meal preparation, hygiene reminders, medication reminders, incidental transportation and more. Preferred Care at Home is a nationally franchised company based in Delray Beach, Fla.
Contact:
Chad Farmer, Director of Community Affairs
561-404-2300
ChadF@PreferHome.com
www.PreferHome.com
© 2007-2020 Preferred Care at Home, a division of Help at Home Franchise Service, LLC. All Rights Reserved.
Services may vary depending on the licensing of each Preferred Care at Home Franchise location. Each location is individually owned and responsible for controlling and managing day-to-day business operations.