Preferred Care at Home of National Headquarters | 354 NE 1st Ave Delray Beach, Fl 33444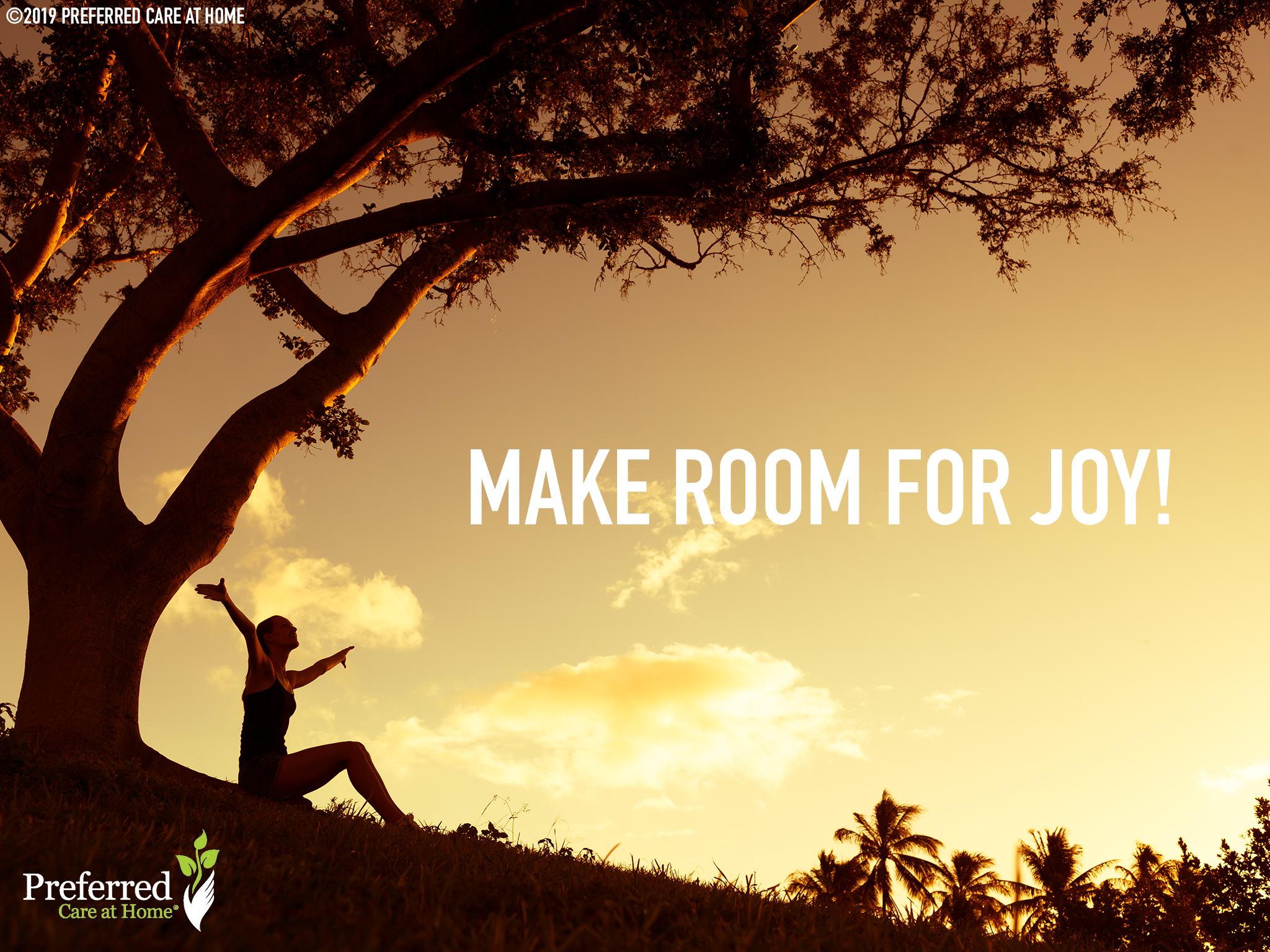 Greetings one and all…
It is definitely a winter's morning in Denver. Snow on the ground. Nippy temps. Snow flurries off and on. A perfect morning to sip coffee and reflect on life. Over the past few weeks I have been in full-blown planning mode for the coming year. Contacting clients, scheduling events, and scheduling time for writing, research, and program creation. Yesterday in the midst of juggling requests from numerous clients, I realized the need to step back and take a breath!   
Planned, Purpose-FULL, AND Joy-FULL
I am by nature a planner. Even as a child, I loved nothing better than making a daily list of things to do and then checking them off one by one. Such a feeling of accomplishment! I have even been known to write in a "to do" that I already completed just to have the satisfaction of checking it off the list. You may think this a wee bit obsessive. However, being a planner served me well in corporate America, as a business owner, and as a family caregiver. But I have to admit, I can become too focused on completing tasks, leaving little time to be present to the moment.
Thank goodness for the moments like yesterday when I awaken to the need to make room for Joy in my life. Moments that aren't planned. Moments that just happen when my heart and soul need a dose of Joy! Maybe you have felt a similar longing for Joy in your life. If so, in those moments, let's seek to:
Make Room for JOY

—This may sound like a daunting task if you are fully booked from dawn til dark. But by its very nature, Joy doesn't require a huge block of time. If we are open to Joy, just like a gas that expands to fill a container, Joy has the capacity to fill every void of our being. Joy fills us up!   

BE Spontaneous

—Opportunities to experience Joy often arise unexpectedly. Not part of the plan! In those moments, if we are too wedded to the plan, we miss experiencing moments of Joy.  As a planner, spontaneity is a personal challenge. In fact, my friends still tease me about a New Year's resolution made over 20 years ago. I

planned

to be more spontaneous in the coming year! An obvious contradiction, right? Thus I earned the nickname of Spontane Jane—a characterization I find difficult to embody some days. But, that's the plan!     

Delight in the Moment

—When presenting programs on self care, I often ask those in attendance, "What brings you joy?" The responses reflect another important aspect of Joy. Joy is most often derived from the simple yet sacred moments in life. A cup of hot tea on a bitterly cold morning. The smile of a loved one. The laughter of a child. Snuggling with a beloved pet. We can experience Joy by choosing to be present to the moment—by seeking that which is delight-FULL even in the midst of difficult circumstances.    
So today, if you have a list of "to dos" as long as your leg, I invite you to make room for JOY. Be open to the possibility that a moment will bubble up that fills you with Joy. Actually, the invitation entails more than merely being open to the possibility. I invite you to intentionally SEEK moments of Joy today. I have no doubt you will discover people, places, and things that enrich your life beyond measure. En-JOY every moment…jane
© 2007-2020 Preferred Care at Home, a division of Help at Home Franchise Service, LLC. All Rights Reserved.
Services may vary depending on the licensing of each Preferred Care at Home Franchise location. Each location is individually owned and responsible for controlling and managing day-to-day business operations.