Preferred Care at Home of National Headquarters | 354 NE 1st Ave Delray Beach, Fl 33444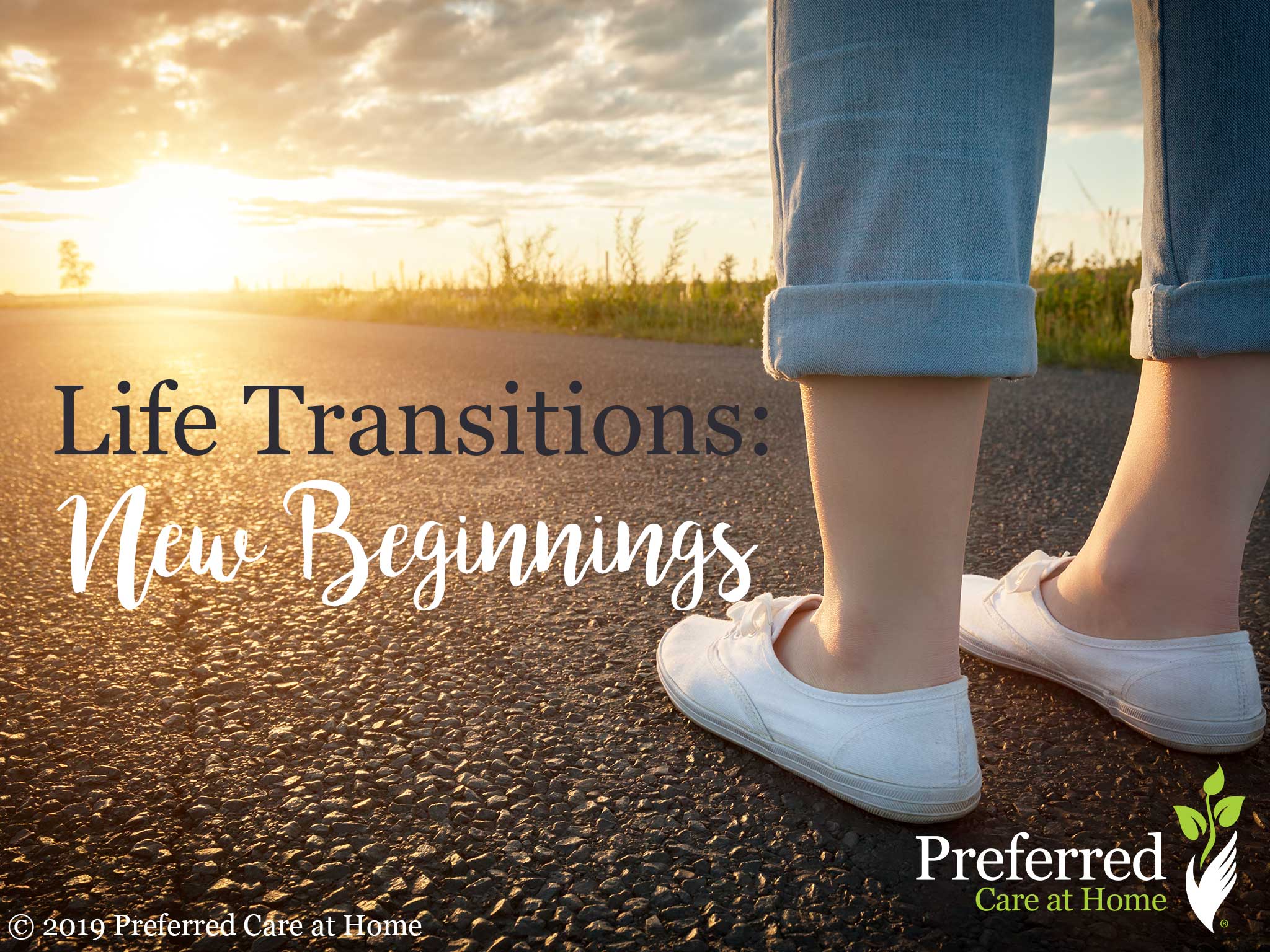 Greetings one and all…
Today I am enjoying a lovely taste of Spring. Granted, it is a wee bit early to confidently shift into the upcoming season. But the seasonal change is on the horizon—which I find incredibly exciting and life-giving. As I enjoy the warmer temps today and the glorious sunshine, I am reflecting on my experience of new beginnings. We all experience countless new beginnings over the course of a lifetime. Some welcomed, some not. In fact, some new beginnings can be frightening to the point of emotional paralysis. But if we understand the nature of new beginnings, perhaps we can welcome these transitions in life as enthusiastically as the coming of Spring.   
New Beginnings Are Prompted by Endings
Perhaps new beginnings are somewhat problematic due to their origin. A new beginning emerges because of a previous ending. The end of a dream. The end of a relationship. The end of a job. The end of a life. In Parker Palmer's lovely book, Let Your Life Speak, he discusses the idea of "way closing"—the recognition that a particular path or way of life is no longer an option. An opening has closed. Knowing what is totally out of the realm of possibility is equally as important as discovering what is possible. By eliminating unrealistic options, we can then focus on "way opening"—the new beginning. As we age, we experience countless "way closings" that change the trajectory of life:
Diagnosis of a serious disease

Death of a loved one

Retirement

Severance of relationships (estrangement, divorce, etc.)

Employment/Financial challenges
With each "way closing," we experience a sense of loss that triggers a grief response. So, it's no wonder that new beginnings are often bittersweet. Before we can enthusiastically say hello to "way opening," we must say goodbye to "way closing."
New Beginnings Are An Emotional Blender
Due to the bittersweet nature of new beginnings, we often feel as if we are in an emotional blender. Seemingly in a matter of minutes, we experience a myriad of emotions: sorrow, joy, fear, hope, anger, gratitude, etc. You get the idea. Bouncing from one emotion to another is exhausting as well as disconcerting. One day you may feel hopeful and optimistic about what is yet to come. The next morning, you may be reluctant to get out of bed—believing all is lost!
A few weeks ago, a widower shared a bit about his experience in the emotional blender since the death of his wife last year.  During the day, he explores the "way openings" that intrigue and inspire him. But the nights are when he confronts the "way closing"—often spending the night in the kitchen crying about all that he has lost. Determined to re-engage with life, this gentleman has learned how to move toward and gradually embrace a new beginning:
Be present to the moment

Take one step at a time

Be gentle with yourself

Feel what you feel when you feel it
Nurturing New and Tender Growth
As with the new and tender growth of flowers and vegetation in the Spring, the widower is working hard to nurture his new beginning. He is taking piano lessons. Attends a weekly yoga class. Volunteers for Meals on Wheels weekly. And is learning about the world of online dating. He noted that it's often scary venturing out into the world in new ways and with new people. But he is determined to create a life that he loves. Stepping out and embracing this new way of being requires:
Courage

Commitment

Optimism

Effort
So, if you are confronted by a new beginning (by choice or by circumstances), I invite you to balance any trepidation you might have with fascination. "Way opening" may lead to a life you absolutely love! One step at a time—be open to the possibilities.   Take good care and remember to enjoy the moment……jane
© 2007-2020 Preferred Care at Home, a division of Help at Home Franchise Service, LLC. All Rights Reserved.
Services may vary depending on the licensing of each Preferred Care at Home Franchise location. Each location is individually owned and responsible for controlling and managing day-to-day business operations.