Preferred Care at Home of National Headquarters | 354 NE 1st Ave Delray Beach, Fl 33444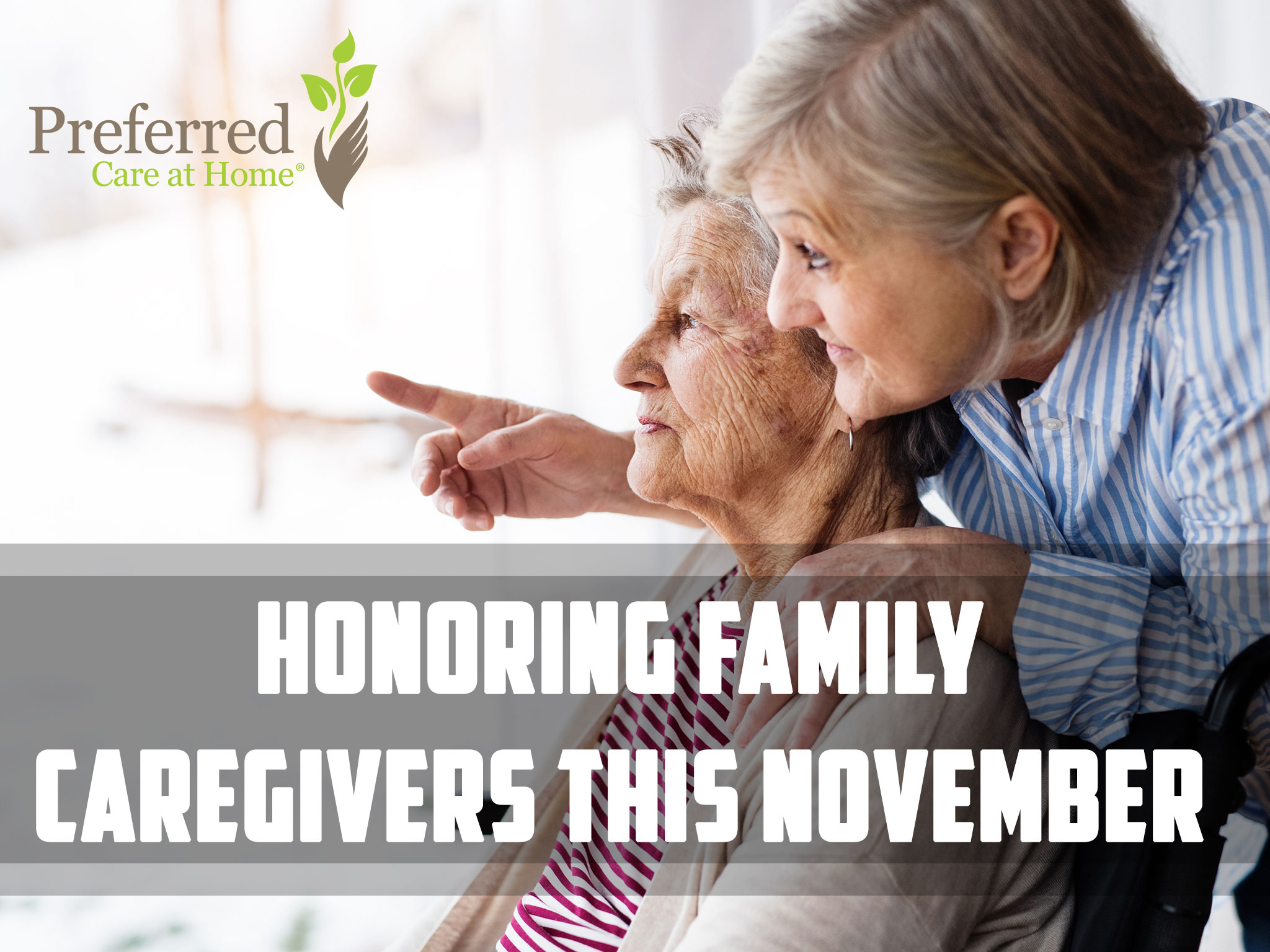 Greetings one and all…
Today, it feels a bit more like winter than fall in Denver. Frigid temps and snow on the ground. Regardless, I do love the month of November. It is the time of year when everything is changing—the leaves, the temperature, the lights, the sounds, the smells, and the rhythm of life. Additionally, November is National Family Caregivers month. A month in which we remember, recognize, and honor family caregivers in our community. Whether you have served or are currently serving as a caregiver for a family member, friend, colleague, or neighbor, YOU are the subject of my reflection. Today, I want to thank the caregivers I have encountered over the course of my 61 years who have taught me the meaning of compassion, courage, and commitment by the manner in which they cared for others.
My mom was the quintessential caregiver. For Mom, caring for others was in her DNA. Caring was something she did as naturally as breathing. She not only cared about others—she cared for others. She recognized the needs of others, empathized with their suffering, and then did something to improve the situation (physically, emotionally, and/or spiritually). Mom was compassion embodied. Although caring was second nature for my mom, she often compromised her own health and well being in the process. The needs of others superseded her own far too often resulting in compassion fatigue periodically. Sometimes we care too much! So today, I temper the lovely lessons learned from my mom with the realization that personal boundaries are necessary to care well and to be well.
My father taught me the meaning of courage in the trenches of caregiving. I was 15 years of age when I learned of my mother's terminal diagnosis of breast cancer. In that moment, I learned what fear feels like. And I also learned what courage looked like. Courage looked like my dad. Over the next 8 1/2 years, my dad was my port in the storm. He provided the calming reassurances and the authoritative guidance I needed to confront the seemingly unending changes and challenges. He never wavered. He was always there for my mom, my brother, and me. No doubt, he experienced moments of fear as well knowing that the love of his life was dying. Looking back, I am sure being "the rock" for everyone took a tremendous toll on my dad. Who was there for him in the wee hours of the morning to listen to his fears and his sorrow? Perhaps some of his friends were there for him. I don't know. But I do know this. Courageous caregivers need courageous companions as well. Lesson learned.
And finally, over the past 14 years, I have met thousands of caregivers at various programs who have taught me the meaning of commitment. The average duration of care in the United States today is over 4 years. Obviously, serving as a caregiver is a life-changing role requiring not only compassion and courage but also a dedication to complete the journey. As I listened to the story of a daughter who cared for her mother for 27 years as the journey of dementia unfolded, I marveled at the depth of her commitment to care. I learned that some bonds persist despite the duration and the intensity of the journey.
For these lessons and countless others, I am thankful beyond words. I am not only a better caregiver, I am a better person. So, family caregivers—enjoy your time in the spotlight this month. Recognition of your compassion, courage, and commitment is well deserved. Bravo!
I look forward to the ongoing conversation. If you have specific questions or concerns related to your caregiving experience, I would love to hear from you. Until the next posting, I wish you and yours countless blessings…jane  
© 2007-2020 Preferred Care at Home, a division of Help at Home Franchise Service, LLC. All Rights Reserved.
Services may vary depending on the licensing of each Preferred Care at Home Franchise location. Each location is individually owned and responsible for controlling and managing day-to-day business operations.