Preferred Care at Home of National Headquarters | 354 NE 1st Ave Delray Beach, Fl 33444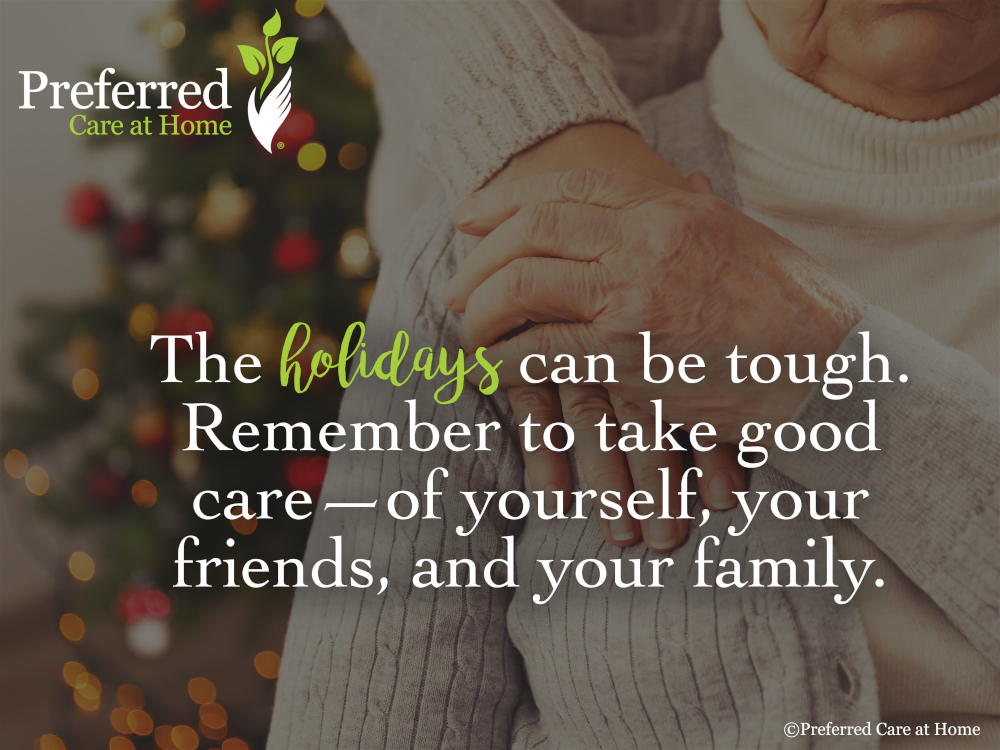 Greetings one and all…
This past week, I concluded my 2019 schedule of programs and presentations. As in years past, the last program of the season dealt with the issue of grief and the holidays. For those who have suffered a recent significant loss, the holidays can be downright brutal. For the rest of us, the holidays often trigger memories of who we have lost and what we have lost over the years. Either way, the holidays are a bittersweet experience for most people. In the midst of what should be a festive season, we remember who and what is missing. That is why there are so many services and educational events addressing the holiday blues this time of year.
Every year I am eager and anxious to present this program. Eager because I know people long for a safe space to express their sorrow during the holidays. Anxious because I want everyone to experience tender loving care. As in previous years, there was no need to feel anxious. I concluded the program in awe of the courage, the compassion, and the care exhibited by those in attendance. I witnessed the healing made possible by empathetic listening and courageous companioning. We took good care of each other. A blessing indeed.
If you are grieving this holiday season, I want to share some ideas for navigating the next few weeks. It's time to take good care!
Surround Yourself with Caring People
When feeling blue, we can find solace when in the company of other people. However, who we "hang with" is critically important. So, surround yourself with people who:
Listen well
Resist the temptation to "fix" you
Witness your suffering without hesitation
Fill you up and bring you joy
Truly care about you
Create a Safe Space to Share
Sharing our stories is one of the most effective ways of making sense of life and our losses. Sharing our stories is healing. As we talk about what happened—recently or in the distant past—the pieces fall into place. When you feel the need to talk:
Intentionally reserve time to reflect, to share, and to discuss your feelings
Invite a caring companion to share a cup of coffee, a walk, or a meal
Meet in a place with minimal distractions
Discover the courage to be vulnerable—allow others to see your pain
Welcome the compassionate support of friends and family
Believe that Joy is Possible
After the holidays every year, I always meet someone who reflects that "the holidays weren't as bad as I expected!" This is often the case when we are dreading the holidays. We anticipate the worst! What if we had different expectations? Could we alleviate some of our pre-holiday anxiety by believing that in the midst of our "blueness" joy is also possible? I think so—based on personal experience and observation. So, consider these ideas:
You will NOT be sad 24/7 throughout the holidays
There will be moments of unexpected joy (the laughter of a child, the kindness of a stranger, an unexpected visit from a dear friend, or a caring touch from a loved one)
Moments of joy—minutes, even seconds—sustain us through the tough times
Joy IS possible in the midst of sorrow – believe it and savor it!
In closing, remember to take good care—of yourself, your friends, and your family. I know the holidays can be tough. I certainly have my fair share of blue moments. But I am also blessed to experience incredible moments of joy as well. I hope you do too. Take good care and enjoy the moment. Blessings to you and yours……jane
© 2016-2019 Preferred Care at Home, a division of Help at Home Franchise Service, LLC. All Rights Reserved.
Services may vary depending on the licensing of each Preferred Care at Home Franchise location. Each location is individually owned and responsible for controlling and managing day-to-day business operations.