Preferred Care at Home of National Headquarters | 354 NE 1st Ave Delray Beach, Fl 33444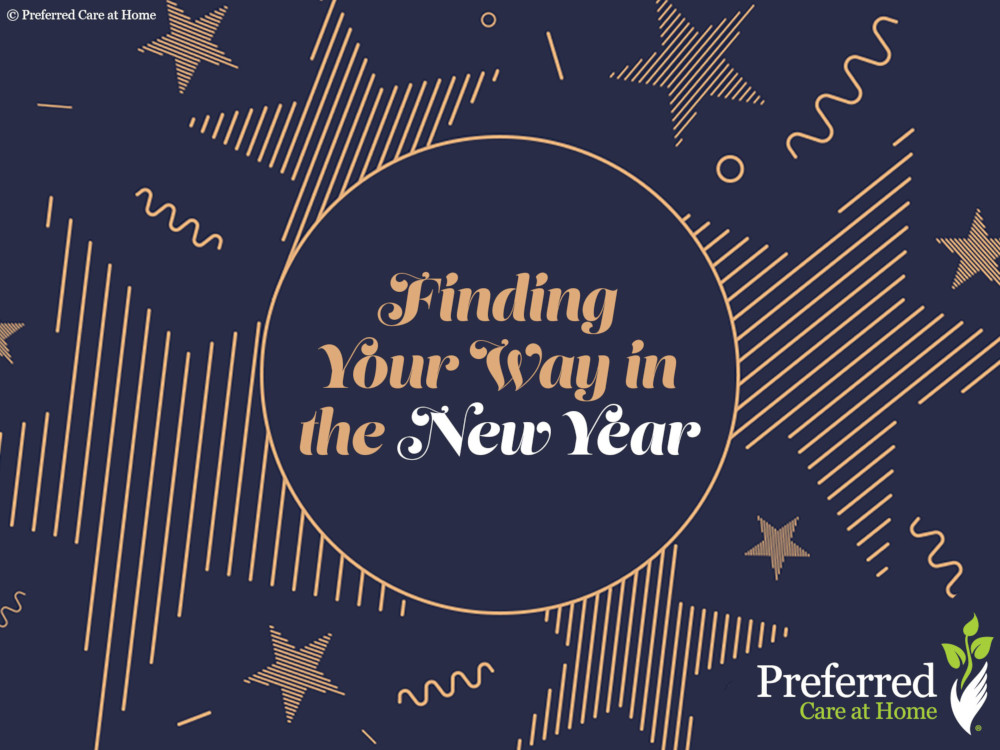 Greetings one and all…
Today, I am pondering the past and the future. Perhaps you are experiencing a similar divergence in attention with the start of the New Year. The beginning of a new year prompts reflection on the previous year. It's a time to assess the events of the past while anticipating the possibilities of the future. If the past year presented significant change, the New Year may seem a bit daunting. Maybe even downright frightening. 
Over the past two months, I witnessed family, friends, and colleagues confronted by the challenges of unemployment, the death of a loved one, and the diagnosis of a life-changing disease. In the aftermath of such devastating change, many are wondering how they will find their way in 2020. 
As I listened to those struggling to conceive of a way forward, I remembered the Quaker concept of Way Opening that I learned of when attending seminary many years ago. The idea is so incredibly simple, yet so profoundly hard to enact! When change happens, something ends—a life, a job, a relationship, good health, etc. This ending can be viewed as Way Closing. A path that is no longer available. A door closed. The opportunity (and challenge) is then to discern Way Opening. The path forward. An open door. Although the discernment process proves incredibly effective for some, it requires patience, intensive self-reflection, and time. We can't will Way Opening. Rather, we allow Way Opening to unfold. 
If you are wondering how to find "your way" in the New Year, consider the following suggestions:
Recognize and Accept Way Closing
When significant change happens, it's important to recognize that life is forever transformed. We can't go back to the way things were prior to the change. That door is closed. Coming to terms with Way Closing requires:
Naming what is lost

Grieving and mourning the loss

Accepting that life will never be the same

Acknowledging a door has closed, thus eliminating one option
Allow Way Opening
Following significant change, we are tempted to run headlong into Life. We long to regain control, avoid the pain of loss, and feel normal again. However, if we fail to be still and to listen to Life, we may (probably will) miss Way Opening. What serves to open our ears, eyes, mind, heart, and soul to Way Opening?
Assemble a trusted group of people who will listen

with

you. This group doesn't have the answer for you, but they may pose questions that lead you to discover the answers within. 

Invest the time and energy to examine your heart and soul. What are your priorities? Who do you imagine yourself to BE in the days, weeks, and years to come?

Pay attention to The Way that tugs at your heart and tickles your imagination. Way Opening is not about what you should or ought to do. Instead, Way Opening is all about who you are called to BE and how you are called to BE.  
Choose to Cross the Threshold of Way Opening
Once Way Opening is discerned, you have a choice to make. Will you choose to cross the threshold of Way Opening to pursue a different path in Life? Although excited, you may also experience great trepidation. Heading off into the unknown may generate tremendous anxiety and fear. So, you may be a bit hesitant to take the first step in your journey. If so, keep the following in mind:
You need not attempt this journey alone. Invite the support and encouragement of trusted companions.

Believe in yourself and the chosen path. One step at a time, the journey will unfold as you are able and willing to take the next step. 

Your experience of Way Opening depends on whether you choose to be frightened or fascinated. Open your mind, your heart, and your soul to all that Life has to offer. Be fascinated by the possibilities in the New Year! 
In closing, I want to thank you for the opportunity to share a bit of the journey with you this past year. I wish you and yours countless blessings in the New Year. Take good care and enjoy every step along "your way." Blessings to you and yours……jane
© 2016-2019 Preferred Care at Home, a division of Help at Home Franchise Service, LLC. All Rights Reserved.
Services may vary depending on the licensing of each Preferred Care at Home Franchise location. Each location is individually owned and responsible for controlling and managing day-to-day business operations.