Preferred Care at Home of National Headquarters | 354 NE 1st Ave Delray Beach, Fl 33444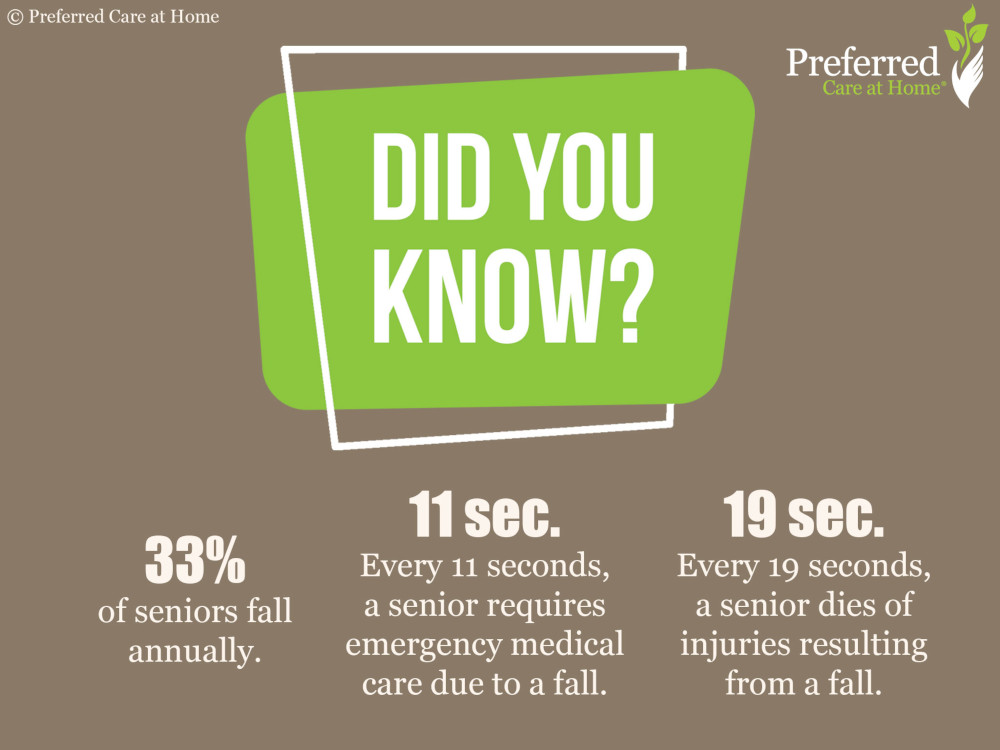 Greetings one and all…
Today, I want to chat about a vitally important concern for the aging population – fall prevention. I have a greater appreciation of this issue since my housemate took a nasty fall at the end of last year. Walking to a meeting, she caught the toe of her boot on an uneven edge of the sidewalk and went down hard. Thankfully, she did not hit her head or scrape her face. However, she did break a bone in her hand that continues to be a source of discomfort. To add insult to injury, I fell a few weeks ago in my bedroom and subsequently proved to be no match for my bookcase. Thank goodness I didn't break anything, but I've been nursing a bruised arm and hand since the encounter. Not surprisingly, our New Year's Resolution is to REMAIN VERTICAL!
Falling into the New Year, I want to advocate for fall prevention by sharing some statistics related to the incidence of falling in the senior population (persons 65 years of age and older). Many organizations report data related to falling. I opted to use information reported by the National Council for Aging Care (www.aging.com). Although there is a general awareness that seniors are at greater risk of falling, it may surprise you to know that falls are the leading cause of fatal injury. Consider the following information (specific to the United States):
The Occurrence of Falling
33% of seniors fall annually.
Every 11 seconds, a senior requires emergency medical care due to a fall.
Every 19 seconds, a senior dies of injuries resulting from a fall.
The Impact of Falling
Falls are the leading cause of head injuries and hip fractures in the senior population
After falling, fear of falling inhibits a senior's ability to engage in social and physical activities.
Serious injuries threaten the independence and quality of life of seniors.
The financial cost for treating injuries resulting from a fall averages $30,000. The total cost of falls reported in 2013 was $34 billion (78% paid by Medicare).
Risk Factors Related to Falling
As we age, the loss of strength, flexibility, and stability increases the risk of falling.
Females are at greater risk of falling.
Poor health and certain medications increase the likelihood of falling.
Environmental factors such as poor lighting, clutter, slick and/or uneven surfaces, and throw rugs increase the probability of falling.
Navigating the bathroom is obviously problematic since 80% of falls occur here.
Fall Prevention Ideas
The data related to seniors and the risk of falling get your attention, right? So, how can we mitigate the risk?
Stay physically active to maintain strength, stability, and independence.
Ensure good vision with an annual eye exam.
Discuss potential side effects of medications with medical professionals.
Use assistive devices if needed to maintain balance (cane, walker, etc.).
Wear stabilizing footwear to reduce the risk of slipping.
Request a professional assessment of the home to identify and resolve environmental risk factors.
In 2020, may we all be proactive about reducing the risk of falling. To be honest, my recent fall was frightening and humbling. I have never seen myself as a "fall risk." But it happened. I fell. Quite the wake-up call – and one I will not ignore. In the days and years to come, I will do everything I can to REMAIN VERTICAL. How about you? Take good care and blessings to you and yours……jane
© 2007-2020 Preferred Care at Home, a division of Help at Home Franchise Service, LLC. All Rights Reserved.
Services may vary depending on the licensing of each Preferred Care at Home Franchise location. Each location is individually owned and responsible for controlling and managing day-to-day business operations.