Preferred Care at Home of National Headquarters | 354 NE 1st Ave Delray Beach, Fl 33444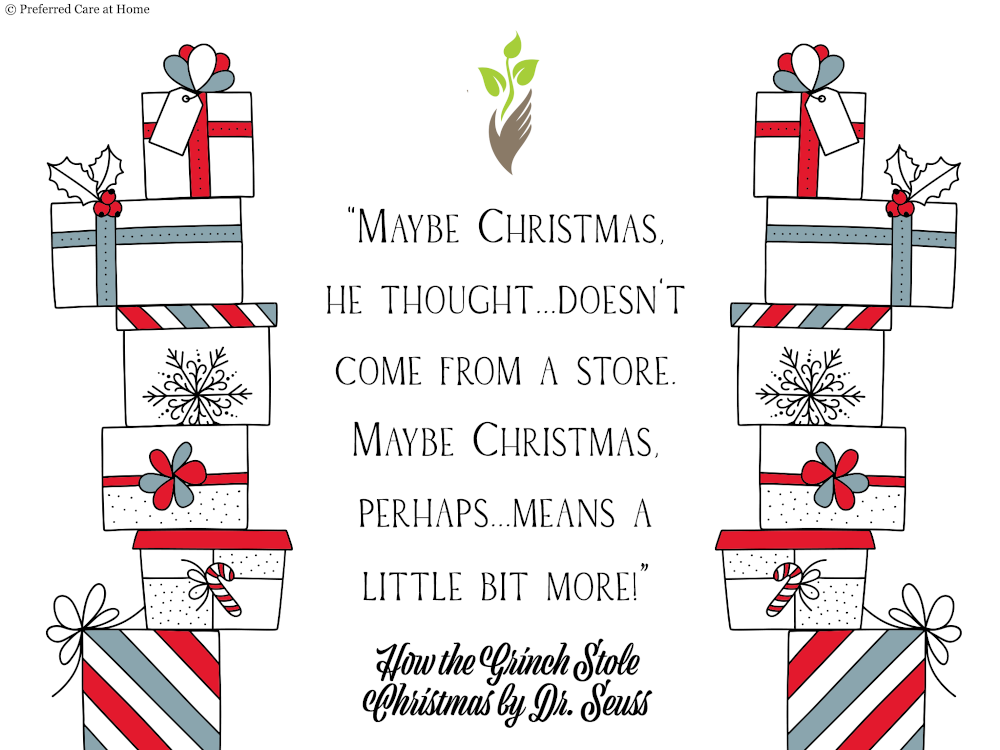 "He puzzled and puzzled till his puzzler was sore. Then the Grinch thought of something he hadn't before. Maybe Christmas, he thought…doesn't come from a store. Maybe Christmas, perhaps…means a little bit more!" – How the Grinch Stole Christmas by Dr. Seuss
For many, Christmas highlights loss experienced in this difficult year–loss of friends or loved ones, loss of tradition, loss of companionship. The Christmas season of 2020 is a difficult one for many. Loneliness, isolation, and loss are dominant themes as the COVID-19 numbers increase throughout the United States. Yet, even when life seems darkest, hope glimmers as the vaccine distribution begins from state to state. Light appears at the end of a long and dark tunnel just in time for Christmas.
Recently, I was watching How the Grinch Stole Christmas with my children, the commotion, color, and energy of the film stood in stark contrast to the quiet Christmas season that my family is experiencing this year. Gone are the busy shopping days, lines to meet Santa, and Holiday parties. In its place, I've come face-to-face with the wise words of Dr. Seuss, "He puzzled and puzzled till his puzzler was sore. Then the Grinch thought of something he hadn't before. Maybe Christmas, he thought…doesn't come from a store. Maybe Christmas, perhaps…means a little bit more!"
What does Christmas mean to you? For me Christmas is a celebration of Jesus' birth, a small babe being born in a manger, a quiet entrance of a King come to save the world. Christmas doesn't come from a store, but rather it means so much more.  It is light shining in the darkest night, hope for the most hopeless. Christmas serves as a reminder that even when life seems darkest, there is hope.
This Christmas, may your focus be one of hope. Because Christmas means a little bit more.
© 2007-2020 Preferred Care at Home, a division of Help at Home Franchise Service, LLC. All Rights Reserved.
Services may vary depending on the licensing of each Preferred Care at Home Franchise location. Each location is individually owned and responsible for controlling and managing day-to-day business operations.