Preferred Care at Home of National Headquarters | 354 NE 1st Ave Delray Beach, Fl 33444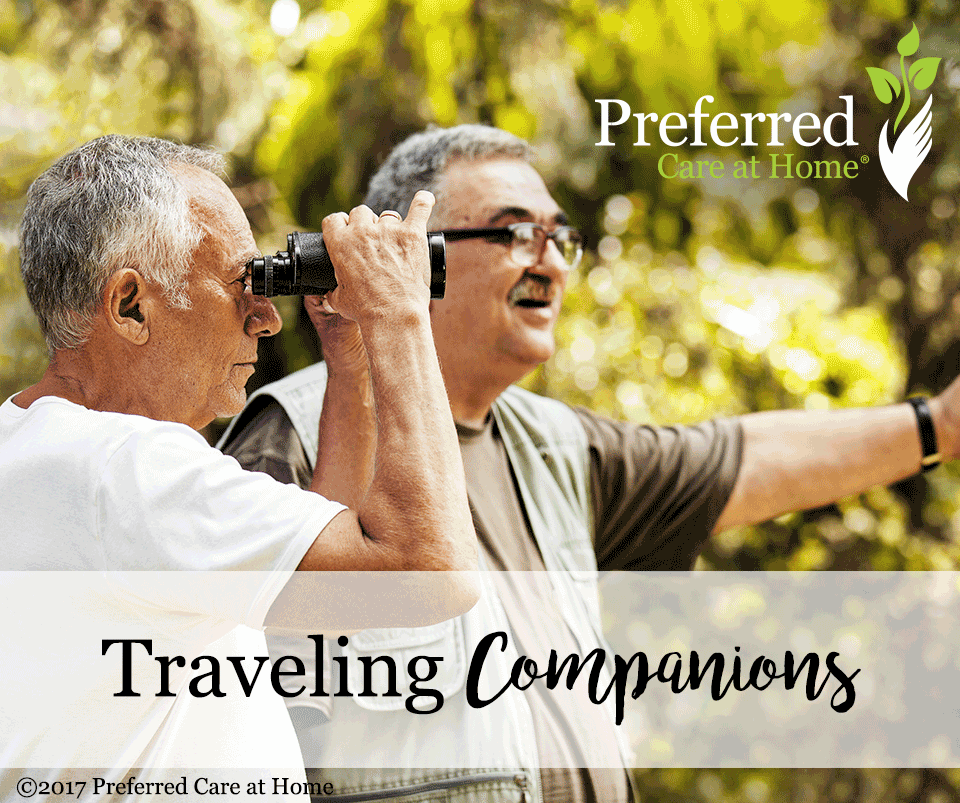 Greetings one and all…
I hope you are enjoying a lovely morning in your corner of the world. After a week of rather dreary weather, the sun is shining and blue skies abound. Thank goodness! After chatting with you, I am headed outdoors to soak up some Vitamin D while walking through the hood. Although I have never been a runner, I do love a fast-paced walk. Walking serves my body, my mind, and my soul. Walking allows me to meditate in motion—to reflect on the important things of life. Today, as a result of some recent experiences, I'll be pondering how our traveling companions enhance the journey of life.
A few weeks ago, I attended and presented at a caregiver conference on the Western Slope of Colorado. It was an amazing gathering of family caregivers and services providers in the area. The stories shared touched me deeply. One story in particular grabbed my heart—the story of a gentleman, Sam, caring for his wife who was diagnosed with Alzheimer's disease many years ago. The manner in which Sam spoke of his wife revealed his deep and abiding love for his wife. I could also sense the sorrow precipitated by the incremental losses inherent in the progression of this disease. I have heard similar stories from other family caregivers confronted by the daunting challenges of dementia. What makes Sam's story so memorable is the fact that he has a traveling companion with whom to share the daily ups and downs of the caregiving journey. Sam has a knowing, compassionate traveling companion.
Sam shared that several years after his wife's diagnosis, he was having a tough time. It was then that a friend introduced Sam to another gentleman, Mike, who is traveling a similar path of caregiving. The mutual friend believed that Sam and Mike could help each other along the way—and rightly so! Sam and Mike are now steadfast friends—a friendship that blesses both men and the greater community as well. Sam and Mike not only help each other, they also facilitate support groups for other caregivers in the community. Both men know the importance of having supportive, sustaining, caring companions as the journey of caregiving unfolds. Consequently, they graciously share their stories, their resources, and their compassionate presence with other caregivers. What a blessing!
At the conclusion of the conference, I was somewhat reluctant to leave! In a matter of days, I developed a deep fondness for the community—the people, the setting, and the spirit of the place. Having said my goodbyes, I heard Sam and Mike confirming their standing coffee date the following morning. Knowing that these two men have each other through the good times and the bad put a smile on my face and warmed my heart. As I drove back to Denver, I reflected on how different the journey would be for both Sam and Mike if they had not met years ago. Thank goodness for the introduction provided by their mutual friend! And then I thought about my own journey. Who are my trusted traveling companions? How am I supporting my friends? What can I do to enrich and to strengthen the most important relationships in my life? And, when do I intend to make this happen? Well, no time like the present! It's all about priorities, right?
I will always have a full dance card with countless things to do. But Sam and Mike reminded me of a foundational principle of life. It is not so much what we do in life that matters. Rather, what really matters is with whom we are blessed to share the journey. So, seek and nurture beloved traveling companions. By so doing, life will never be the same.
I look forward to the ongoing conversation. If you have specific questions or concerns related to your caregiving experience, I would love to hear from you. Until the next posting, I wish you and yours countless blessings…jane
© 2016-2017 Preferred Care at Home, a division of Help at Home Franchise Service, LLC. All Rights Reserved.
Services may vary depending on the licensing of each Preferred Care at Home Franchise location. Each location is individually owned and responsible for controlling and managing day-to-day business operations.