Preferred Care at Home of National Headquarters | 354 NE 1st Ave Delray Beach, Fl 33444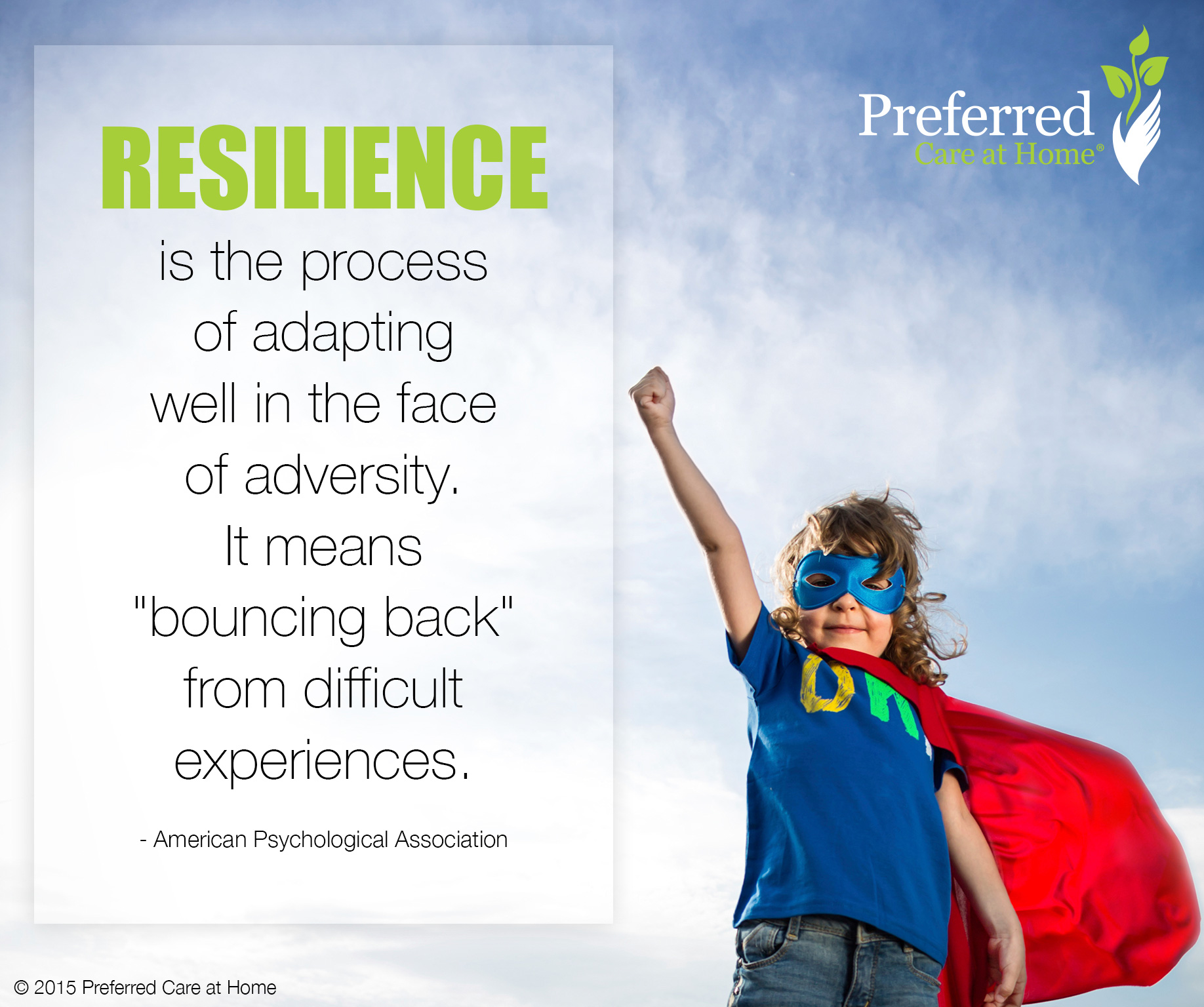 Greetings one and all! I hope you are doing well and loving life. Once again, I invite you to take a deep breath, pour a cup of coffee or hot tea, and relax. Today, I want to marvel at our capacity to BOUNCE back from adversity. The process is known as resilience —currently a hot topic of conversation and research in a variety of circles. How do we BOUNCE back from the death of a loved one? Why does one corporation BOUNCE back from an economic downturn when other businesses opt to declare bankruptcy? What enables one caregiver to manage a difficult journey when others feel overwhelmed? In a word, resilience! So, let's explore this process of "BOUNCING back" and recognize the blessings of BOUNCE.
The basic ingredients needed to BOUNCE are discussed in the American Psychological Association's publication, The Road to Resilience, and Dr. Steven Southwick's book, Resilience: The Science of Mastering Life's Greatest Challenges (2012). According to the experts, resilient people typically—
Perceive Life as Meaning-FULL
Engage in Religious or Spiritual Practices
Nurture Supportive Relationships
Emulate Models of Resilience
Maintain Physical, Emotional, and Mental Fitness
Refuse to be Victims of Life
Please note, you don't have to possess all of the ingredients listed above to BOUNCE well. Instead, identify your strongest attributes and work to enhance those personal characteristics. Focus on a few ingredients of resilience and become a master of BOUNCING! We all BOUNCE uniquely. Select your preferred ingredients and create your own recipe for BOUNCING.
Personally, resilient role models serve as my inspiration to BOUNCE. I have been blessed by amazing mentors and models of resilience throughout my life. During the toughest times, examples of resilience inspired me to BOUNCE back. My "grandest" example of BOUNCE was and is my mom. A year after being diagnosed with terminal breast cancer, Mom hiked the Grand Canyon—in one day! Down and back, 14 miles roundtrip. The previous year, she had a radical mastectomy followed by months of radiation treatments. Although physically compromised, Mom was emotionally and spiritually strong. She was determined to successfully complete the journey as well as ENJOY every moment of the adventure. Our excursion into and out of the Grand Canyon was the most extraordinary day of my life. The memory of Mom BOUNCING out of the Grand Canyon is truly inspirational!
Forty-two years ago, I learned how to BOUNCE back from adversity by hiking the Bright Angel trail with Mom. The lessons learned that day continue to inspire and to sustain me through trials and tribulations. Mom exuded self-confidence. She believed in the goodness of others. She courageously embraced life. And she sensed the sacred in the ordinary moments. Mom ultimately died of cancer, but she was not a victim of life. She remained hope-FULL and joy-FULL to the conclusion of her journey—always leaning into life. Mom chose to BOUNCE instead of being deflated by hardship. Her choice served to inspire everyone who knew and loved her.
I hope that by sharing a bit of my mom's story today that you will be inspired as well. We can't control everything that happens in life, but we do have the freedom to choose a response to life. My fervent hope is that we all choose to BOUNCE in grand, life-giving ways.
I look forward to the ongoing conversation. If you have specific questions or concerns related to your caregiving experience, I would love to hear from you. Until the next posting, I wish you and yours countless blessings…jane
© 2007-2020 Preferred Care at Home, a division of Help at Home Franchise Service, LLC. All Rights Reserved.
Services may vary depending on the licensing of each Preferred Care at Home Franchise location. Each location is individually owned and responsible for controlling and managing day-to-day business operations.