Preferred Care at Home of National Headquarters | 354 NE 1st Ave Delray Beach, Fl 33444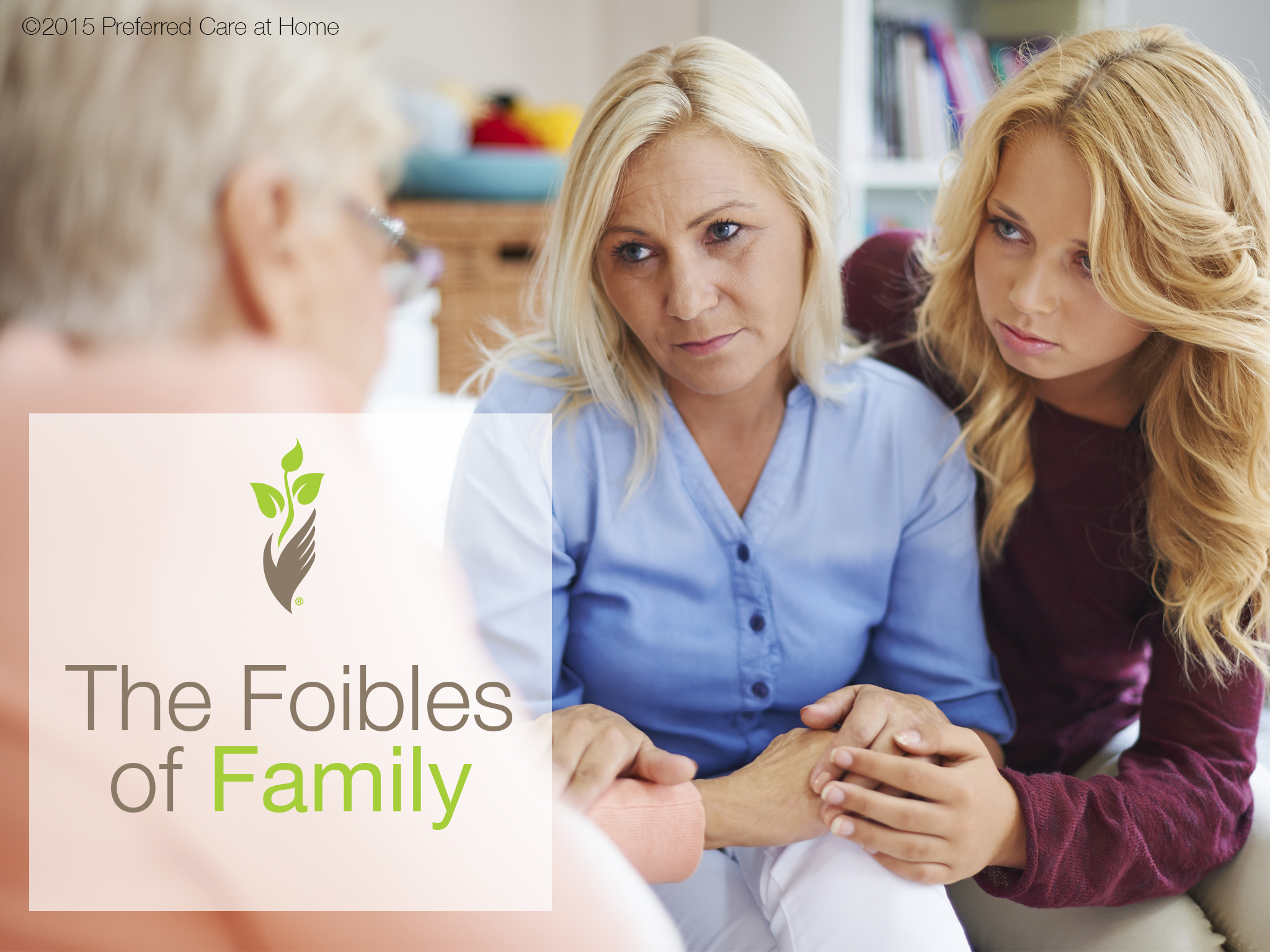 Greetings one and all! I hope you are doing well and loving life. Once again, I invite you to take a deep breath, pour a cup of coffee or hot tea, and relax. Today, I want to chat about the systems within which caregiving occurs—our families. Our families—good, bad, or indifferent—play a critical role in the journey of caregiving. When the physical and/or cognitive abilities of an individual are compromised, it is obviously a very personal challenge. However, it is so much more. It is a family challenge. Compared to other stresses experienced by families, illness and aging are among the most challenging and destabilizing. Realizing that all families have foibles—imperfections—allows for more realistic expectations as the caregiving journey unfolds.
In order to appreciate the fabulous as well as frustrating facets of families, we must first define "family." Not a simple task in this day and time. Family is not necessarily defined by biological connections; many of us choose our families, or are chosen. When I think of family, it's the people I trust to show up when I need and want them the most. My family is the fuzzy slippers, bed hair, and coffee brigade that shows up on my front porch when I sound the alarm. I am blessed by the hodgepodge of folks who come together as my family to share the journey—my "go to" people. The importance of "family" support cannot be stressed enough. In fact, research bears out the fact that our social support systems are a critical factor in aging well. So, a couple of questions for you to consider. Who are the "go to" people in your life? And, who trusts you to show up when the alarm sounds?
Regardless of how you define family, there is a fundamental truth that must be acknowledged—families are flawed. All families are dysfunctional at some level. There is no such thing as a perfect family. Never has been. Never will be. However, we seem to expect (or at least want) perfection, particularly in the midst of a family crisis. Families are supposed to rise to the occasion, right? However, with enough stress, all families exhibit some level of dysfunction—our foibles bubble to the surface. So I encourage all of us to have realistic expectations and to be gentle with ourselves and our families during the times that try our souls. The journey of caregiving is hard enough. There is no need to be disappointed by the failure to achieve the impossible—perfection! Instead, we are much better served to accept the inherent imperfections of our families and to give thanks for our "go to" people who choose to show up.
There are many reasons why perfection is not possible in regard to caregiving. Here are just a few aspects of the caregiving journey in the twenty-first century that tend to stress most families:
Life expectancies have increased by 30 years over the past century. The journey of caregiving can be, and often is, long and difficult.
Due to the increased incidence of chronic illness, we require higher levels of care for extended periods of time.
Families are smaller and geographically dispersed. There are fewer hands to provide the needed care for family members.
The majority of women work outside the home. Since the majority of primary caregivers are women, the stress of juggling caregiving duties with job responsibilities affects the entire family system.
The increased incidence of Alzheimer's disease strains families on all levels—physically, emotionally, financially, spiritually, and psychosocially.
The health care system expects families to shoulder the lion's share of responsibility for recovery and care of loved ones, often with little preparation and/or training.
"Today's journey of caregiving looks and feels quite different from that of previous generations. Everything seems to be magnified in the twenty-first century. Higher levels of care. Longer durations of care. More complex disease processes. Increased expenses. Fewer resources. Enhanced sense of isolation. Responding to the changes posed by aging and illness is one of the most stressful times within a family. So have realistic expectations of yourself and your family. Caregiving is not about perfection. More often than not, caregiving is about showing up, being present, and taking one step at a time" (Barton, 2013. Caregiving for the GENIUS).
I look forward to the ongoing conversation. If you have specific questions or concerns related to your caregiving experience, I would love to hear from you. Until the next posting, I wish you and yours countless blessings…jane
© 2007-2020 Preferred Care at Home, a division of Help at Home Franchise Service, LLC. All Rights Reserved.
Services may vary depending on the licensing of each Preferred Care at Home Franchise location. Each location is individually owned and responsible for controlling and managing day-to-day business operations.