Preferred Care at Home of National Headquarters | 354 NE 1st Ave Delray Beach, Fl 33444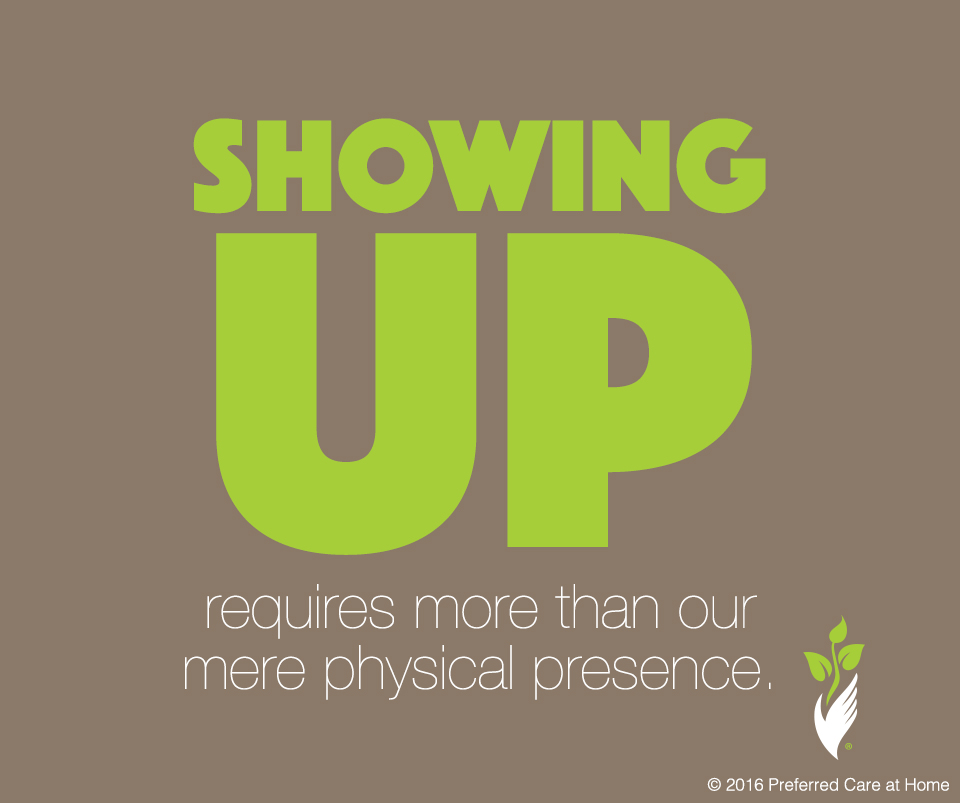 Greetings one and all!
It is hard to believe how quickly the summer is flying by. WOW! So, let's take a little break in the action and slow down. Grab your favorite cold beverage. Find a comfy place to land. And breathe deeply as I chat about the importance of showing up. Last week, I presented a program on the Afterglow of Adversity. It was a fabulously diverse gathering of people—various ages, professionals, races, ethnicities, religious beliefs, and psychosocial situations. However, there was a commonality amongst the group that enriched the conversation and accelerated connections between individuals—a common denominator. Everyone attending had experienced adversity in life somewhere along the way. Furthermore, every person chose to "show up" that morning to consider a challenging topic. Little did they know that they actually showed up to help and to support each other.
At most of my programs in the Denver area, I know many of the people attending. The program on adversity was no different. I was delighted to see friends, colleagues, and community members who routinely support my educational efforts. I also enjoyed meeting some new folks who opted to attend. And more than anything, I loved witnessing the connections made between those attending as the conversation unfolded that morning.
Over the course of the morning, I included two opportunities for people to engage in small group discussions. Ideas were discussed. Stories shared. Comfort offered. And connections made. I was particularly touched by two women who met for the first time that day. It was seemingly happenstance that they ended up in the same group. But, I don't believe in coincidence! These two women were meant to meet that day. And by showing up at the program, they were able to help each other move along in the process of healing from a devastating loss—the death of a beloved child. One woman, age 92, shared that her son died over 30 years ago. The other woman, age 54, revealed her daughter died three years ago. Witnessing the profound connection between these two ladies over the course of two hours highlights what is possible when we choose to show up—we see and we are seen. As a result, we are forever changed.
"Showing up" requires more than our mere physical presence. It requires our willingness to engage life and to engage other people. Hence, it takes effort and energy to show up! Additionally, it often takes courage to show up—to confront the trials and tribulations of life. And, as the two ladies demonstrated, showing up requires an openness to life and to other people—a willingness to be vulnerable. Bottomline, showing up is not for the faint of heart! However, if we choose to show up, life will unfold in amazing and unexpected ways—for you and for everyone you encounter along the way. Remember, there are no coincidences. So, show up and pay attention!
I look forward to the ongoing conversation. If you have specific questions or concerns related to your caregiving experience, I would love to hear from you. Until the next posting, I wish you and yours countless blessings…jane

© 2007-2020 Preferred Care at Home, a division of Help at Home Franchise Service, LLC. All Rights Reserved.
Services may vary depending on the licensing of each Preferred Care at Home Franchise location. Each location is individually owned and responsible for controlling and managing day-to-day business operations.