Preferred Care at Home of National Headquarters | 354 NE 1st Ave Delray Beach, Fl 33444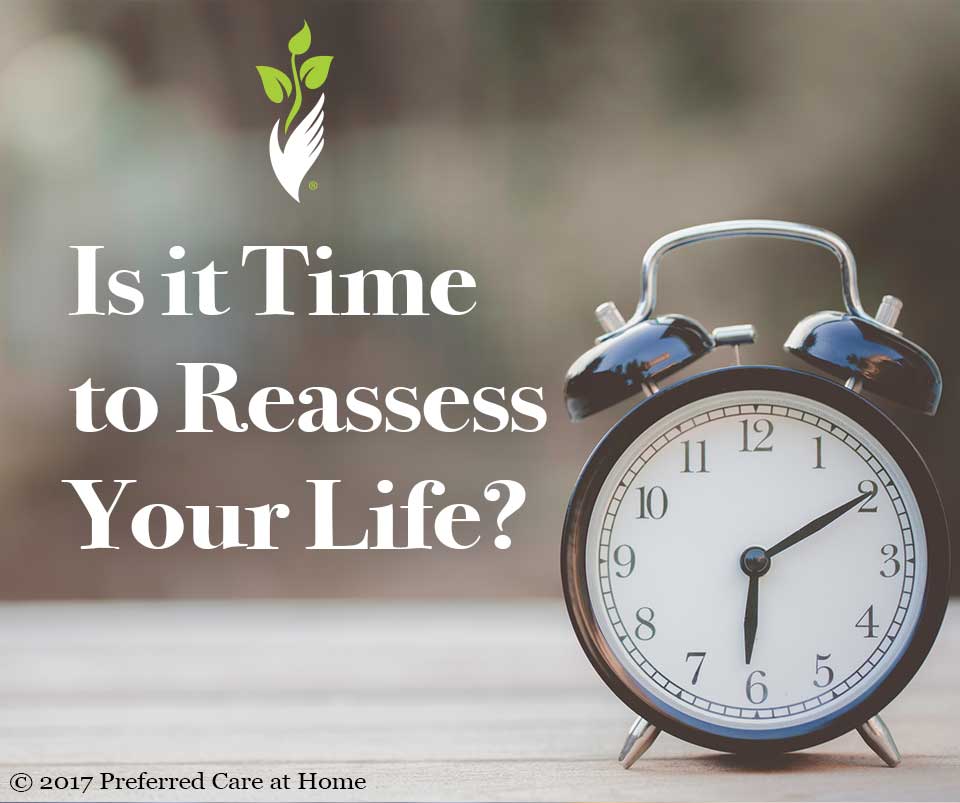 Greetings one and all…
It is a cool and rainy day in Denver—feels like fall outside instead of summer. The perfect day to stay inside, sip a cup of hot tea, and write. Recently, I have been pondering the ripple effect caused by my recent medical adventure. Since it is my journey, the impact of my health issue has been significant—waves of challenges that until only recently have diminished in magnitude. Not surprising. The crisis has passed, and now I am dealing with the recovery process. I am also reassessing my life in the aftermath of this disturbing, destabilizing interruption. Again, not surprising. Any significant change in life usually prompts us to reassess life–our current situation, our priorities, and our values. What is proving to be fascinating is how my situation is causing my friends, colleagues, and community members (who attend my educational programs) to reassess life as well.
Last week, I met a dear friend and colleague for dinner and a long overdue chat. It was a fabulous reunion comprised of nonstop conversation, laughter, and food. After catching up on my current status, my friend remarked how my unexpected medical adventure had really thrown her for a loop. It was a stark reminder that life can change in an instant. Consequently, she is reassessing her plans for retirement. Although she had her own medical wake-up call a few years ago, she recognized that many of the lessons learned were currently being overshadowed by the demands of work. So, she is reassessing her current situation as well as reimagining future plans.
Yesterday, I had the pleasure of presenting an educational program for one of my clients. What a delight to reconnect with friends and colleagues as well as meeting new people. Prior to the program, I enjoyed greeting people and catching up on life. Several people in attendance knew of my recent health issue and inquired as to my current status. As the conversation unfolded, a woman remarked that my story is a reminder that we shouldn't take life for granted. Life can change in an instant. One minute we are cruising through life. And the next, we are dry docked. She went on to share a bit of her story—a medical event that rattled her world many years ago. As a result, she spent considerable time reassessing her life choices and making some needed course corrections.
Over the course of 60 years, I have come to believe that one of the blessings of adversity is the resultant desire to "take stock" of life. Instead of merely going through the motions or settling for life as it is, in the aftermath of adversity we seem compelled to reassess how we choose to engage the journey of life. How do I choose to invest my time, talents, and treasures? What are my priorities in life? Are my daily activities aligned with my values? These questions and many more must be considered carefully when reassessing who we are and what we are about. No doubt, this is time and energy well spent. Reassessing life in the aftermath of challenging times affords us the opportunity to refine our chosen path. And by so doing, rather than merely enduring life, we create the opportunity to embrace every step of the journey. A blessing indeed!
I look forward to the ongoing conversation. If you have specific questions or concerns related to your caregiving experience, I would love to hear from you. Until the next posting, I wish you and yours countless blessings…jane  
© 2007-2020 Preferred Care at Home, a division of Help at Home Franchise Service, LLC. All Rights Reserved.
Services may vary depending on the licensing of each Preferred Care at Home Franchise location. Each location is individually owned and responsible for controlling and managing day-to-day business operations.