Preferred Care at Home of National Headquarters | 354 NE 1st Ave Delray Beach, Fl 33444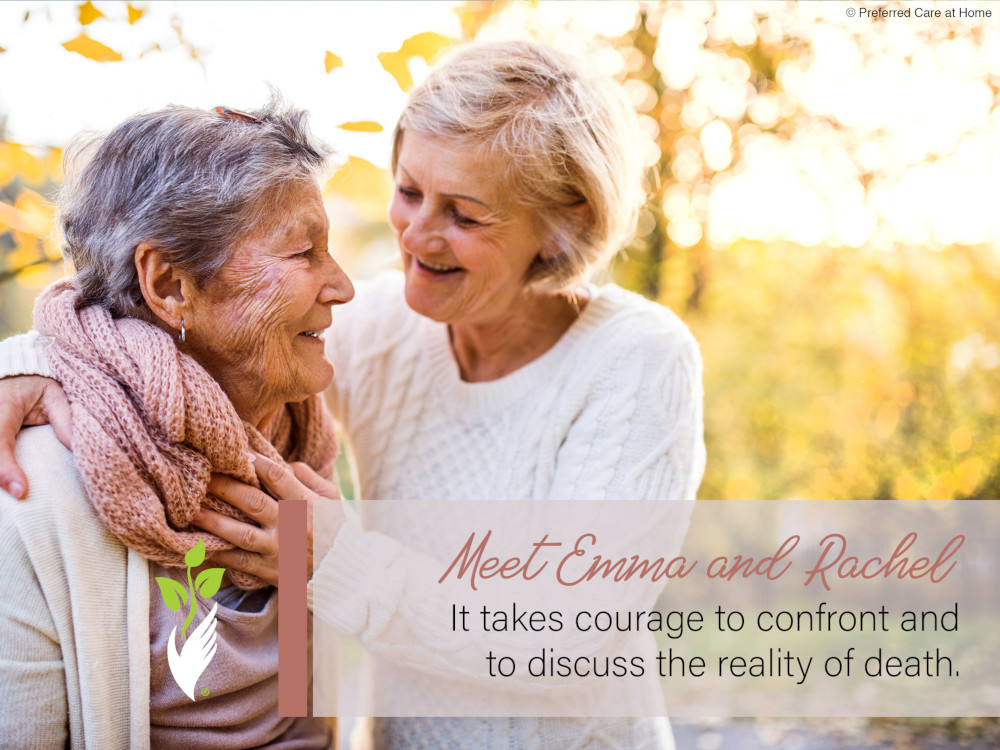 Greetings one and all…
At a recent program, I witnessed the remarkable courage of a mother and daughter who are dealing with a rare neurological disorder. I met Emma and Rachel a few years ago when they attended one of my presentations. Emma, the mother, had been recently diagnosed. Rachel, the daughter, is serving as her primary caregiver. Thus, they were proactively seeking information and support that would be needed in the days, weeks, and years ahead. Since then, I have been blessed to see them at many of my programs and to learn more about their journey.
The recent program dealt specifically with the opportunities and challenges related to companioning someone at the end of life. For many people in the room, this topic is not hypothetical; rather, it is their current or pending reality. It takes courage to confront and to discuss the reality of death—particularly when death seems perched on the threshold of your home. But Emma and Rachel showed up able and willing to speak their truth and subsequently inspire all who heard.
We Know What's Coming
Emma and Rachel shared a bit of their story with the group. As always, they were honest, raw, and real. Several times, tears flowed and voices cracked, but they were courageous enough to be vulnerable. I looked at the faces of those in the room as they spoke. Because they were genuine and authentic, their words resonated with everyone. Emma and Rachel shared openly about their situation:
There is no cure.
There are no medications.
This disorder is terminal.
They are confronting the reality of death, openly and honestly.
Our Family Doesn't Get It
After the program, I thanked Emma and Rachel for their open and honest reflections. As we chatted, they highlighted an ongoing challenge they have yet to resolve. One of their greatest frustrations and laments is that other family members "don't get it." Or perhaps, they are unwilling—choosing instead to live in denial. For example, Emma's son traveled to Denver for a long overdue visit earlier in the year. Driving from the airport to Emma's home, he suggested to Rachel that a trip to the mountains might be a great getaway for their mom. They could enjoy the great outdoors by hiking their favorite trails. Rachel responded, "A lovely idea except Mom is no longer able to ambulate. She uses a wheel chair the majority of the time." Rachel remarked at the program that the unwillingness of her brother to recognize the reality of the situation is hurtful, insensitive, and frustrating. To date, the family refuses to discuss and to address:
The current situation.
The prognosis – anticipated changes.
The reality that the condition is terminal.
A Support Group is Vitally Important
Emma and Rachel are not without support—thank goodness. They noted the blessings of their support group that meets once a month. This group is comprised of people dealing with similar neurological disorders. Those who attend obviously "get it." Mother and daughter both noted that the support group is a lifeline. When in the company of their group, Emma and Rachel feel:
Seen.
Heard.
Accepted.
Supported.
Now, for the rest of the story. I received an email the day after the program from another attendee. She shared that a dear friend was recently diagnosed with the same rare neurological disorder as Emma. She was therefore thrilled to hear of the support group and to meet Emma and Rachel after the program. "Listening to Emma and Rachel gave me a better idea of how I can help my friend," She noted. "Thank you for providing the venue where people can come together, share resources, and support each other."
In closing, never discount the importance of your story. By courageously opening your heart and sharing your story with others, you can make a profound difference in the world. A good thing indeed. Take good care and enjoy the moment. Blessings on your journey……jane
© 2007-2020 Preferred Care at Home, a division of Help at Home Franchise Service, LLC. All Rights Reserved.
Services may vary depending on the licensing of each Preferred Care at Home Franchise location. Each location is individually owned and responsible for controlling and managing day-to-day business operations.