Preferred Care at Home of National Headquarters | 354 NE 1st Ave Delray Beach, Fl 33444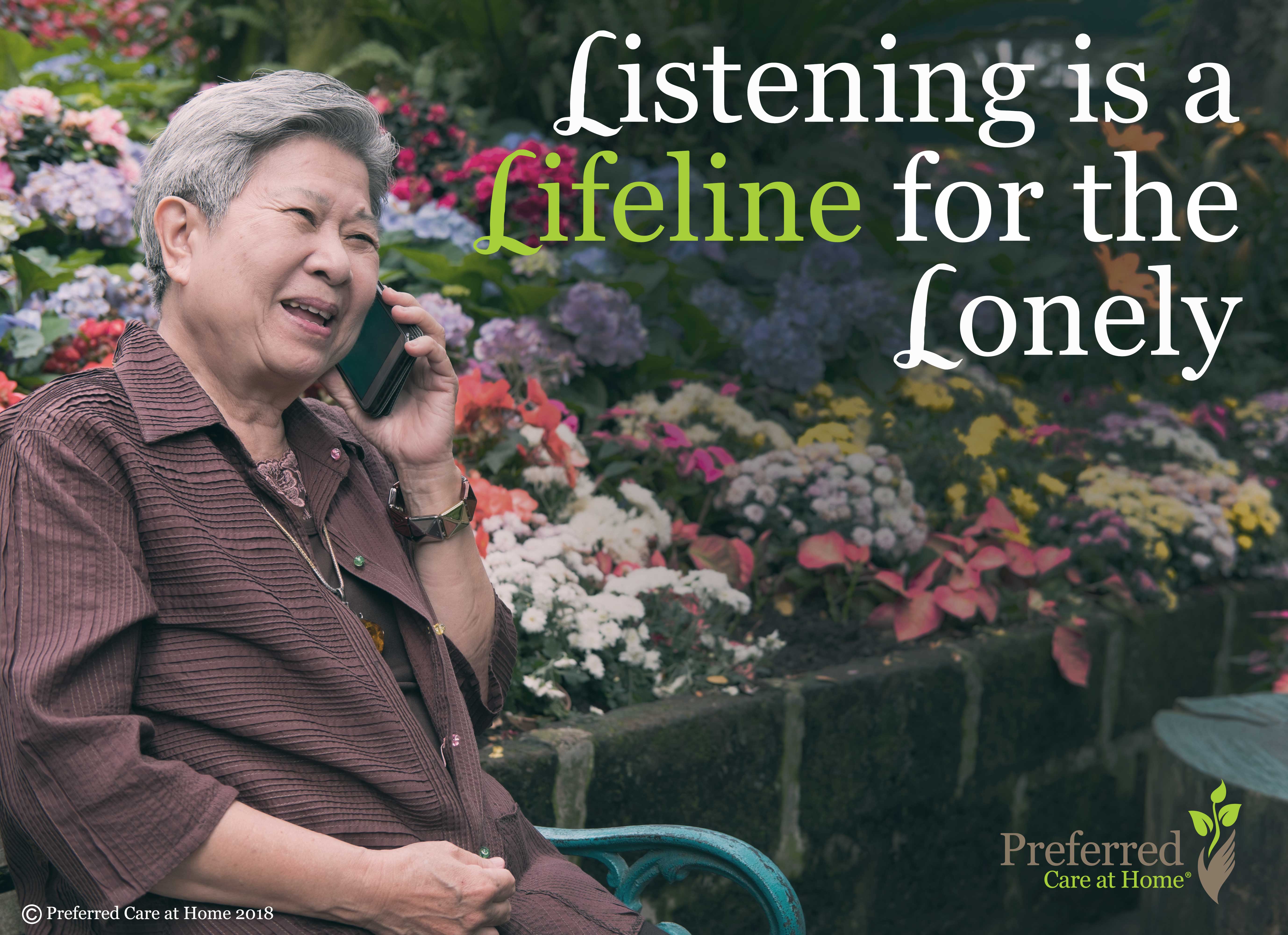 Greetings one and all…
It is a glorious spring-like day in the Mile High City. Sunshine. Blue skies. Warm temps. And gentle breezes. Standing in my backyard this afternoon, I savored the sights and the sounds of the season. Although I am a very visual person, there is something sacred about listening to the world around us. Listening to family and friends. Listening to strangers. Listening. A seemingly simple act that profoundly affects the listener and the speaker.
I have always appreciated the art of listening having been raised by the quintessential listener—my mom. Growing up, I witnessed how my mom's ability to listen well honored, comforted, and nurtured family, friends, and neighbors. By listening, my mom demonstrated that she truly cared for others. She leaned into the conversation. She held a person's gaze. She resisted the temptation to "fix" the situation. And she rarely offered any advice. Instead, she listened. The other person felt seen, heard, and companioned. What a gift!
Yesterday, I watched a TED Talk that was reminiscent of my mom. The tag line read, "The best way to help is often just to listen." Well, I couldn't resist taking a break and watching the short video. Sophie Andrews was the speaker. During her talk, she shared a very personal story of listening—her story of how a compassionate listener working at a call center had changed her life. And because of that transformation, Sophie went on to create an organization in the UK that offers a 24/7 helpline for older people who are seeking information, advice, or friendship – The Silver Line. As a young girl, Sophie had experienced the blessing of being heard. Now, as an adult, she offers that blessing to older, isolated people who desperately want and need to be heard. Sophie and her staff listen.
The TED Talk on listening was timely indeed. Over the past few months, I have been reading countless articles and books on all aspects of aging and caregiving. Common concerns noted by many experts in the field are loneliness and social isolation. And rightly so. It has been shown by rigorous studies that loneliness has series medical repercussions. Consequently, it is vitally important to intentionally nurture life-giving relationships. The TED Talk reminded me that one of the best ways to do so is to listen.
By listening to the hopes and fears, the joys and sorrows, and the successes and failures of others, we have the opportunity to serve as a lifeline for someone reaching out for help. Perhaps it's a family member. A friend. A colleague. Or a stranger. It matters not. Everyone needs a listener in life—a lifeline that breaches loneliness and offers a compassionate connection. A simple act that potentially transforms life!
So today, I commit to be a more intentional listener. I will seek opportunities to listen to someone every day—even if just for a moment. Care to join me? Think about it! If we all choose to "just listen"—to be present to another person—loneliness and isolation become non-issues. Listening—we help to create a more compassionate and caring world. A good thing indeed.
I look forward to the ongoing conversation. If you have specific questions or concerns related to your caregiving experience, I would love to hear from you. Until the next posting, I wish you and yours countless blessings…jane  
© 2007-2020 Preferred Care at Home, a division of Help at Home Franchise Service, LLC. All Rights Reserved.
Services may vary depending on the licensing of each Preferred Care at Home Franchise location. Each location is individually owned and responsible for controlling and managing day-to-day business operations.