Preferred Care at Home of National Headquarters | 354 NE 1st Ave Delray Beach, Fl 33444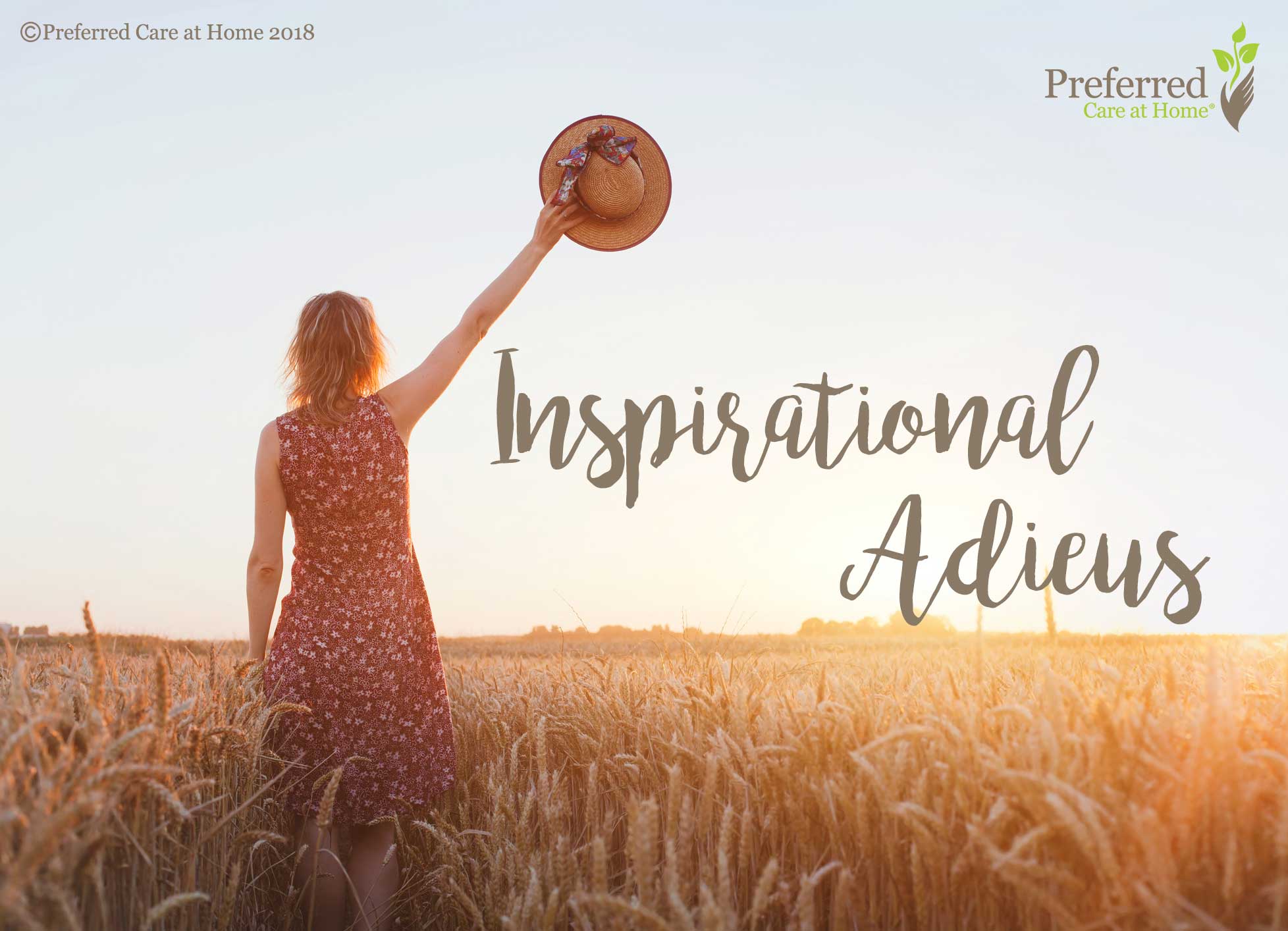 Greetings one and all…
Another spring day dawns according to the calendar. However, looking out my kitchen window, the scene is very reminiscent of winter. Spring is rarely a smooth transition in Colorado as evidenced by the falling snow this morning. Our spring flowers and the emerging leaves on the trees are covered in the white stuff! But hope springs eternal—the season of rebirth and renewal will take center stage in a few weeks no doubt. For now, I will take advantage of this rather dreary morning to reflect and to write. To everything there is a season, right?
This past weekend, I witnessed two inspirational adieus—two goodbyes. I watched the funeral service for former First Lady Barbara Bush and shortly thereafter attended a memorial service for a dear gentleman in my community. Although the two services were dramatically different in regard to scale, setting, and religious tradition, the essence and the intent were identical. People gathered to honor a life lived, to share stories, to initiate the mourning process, to search for meaning in the midst of loss, and to support each other. People gathered to bid adieu to the deceased.
You may be wondering why I use the word "adieu." I learned the significance of the word "adieu" in my high school French class. My teacher was from France. She and her family fled France during WWII when the Nazis invaded their country. Through her stories, I learned to appreciate the culture, the history, and the language of France. I can still remember the sorrow in her eyes and voice when she described leaving her home – saying goodbye to family and friends left behind. She did NOT say au revoir – until we meet again. Instead, she said adieu – which literally means "to God." She explained that adieu is only used when there is no expectation of reunion in this life. Although that was 45 years ago, I remember how I felt when hearing my teacher's story and witnessing her sorrow. It is the same way I felt this weekend. Speechless.
I have to admit, I have never been good at saying "goodbye" – literally. As a child, I marveled at my friends who could cry and speak at the same time. As an adult, I still struggle to emote and to articulate simultaneously. When I get emotional and the tears flow, my vocal cords cease to function. My throat constricts. It's hard to breathe. And words do not flow off my lips. I can write a lovely eulogy, but I can't say the words. Frustrating to say the very least!
Perhaps that is why I was inspired by the two adieus witnessed over the weekend.  Everyone bid adieu in their own unique way. Some spoke. Some were silent. Some cried. Some were stoic. Bottomline, there was no one right way to say goodbye. Goodbye was "said" by one and all in various ways – words, reflections, and/or gestures. I derived great comfort and solace in the collective, multi-faceted adieu. Together – we initiated the lifelong journey of mourning. Together – we spoke, listened, and supported each other. Together – we confronted the challenge and embraced the opportunity to intentionally bid adieu to the deceased. By intentionally saying goodbye, we can now intentionally greet Life as the journey unfolds one step at a time. Inspired indeed.      
I look forward to the ongoing conversation. If you have specific questions or concerns related to your caregiving experience, I would love to hear from you. Until the next posting, I wish you and yours countless blessings…jane
© 2007-2020 Preferred Care at Home, a division of Help at Home Franchise Service, LLC. All Rights Reserved.
Services may vary depending on the licensing of each Preferred Care at Home Franchise location. Each location is individually owned and responsible for controlling and managing day-to-day business operations.