Preferred Care at Home of National Headquarters | 354 NE 1st Ave Delray Beach, Fl 33444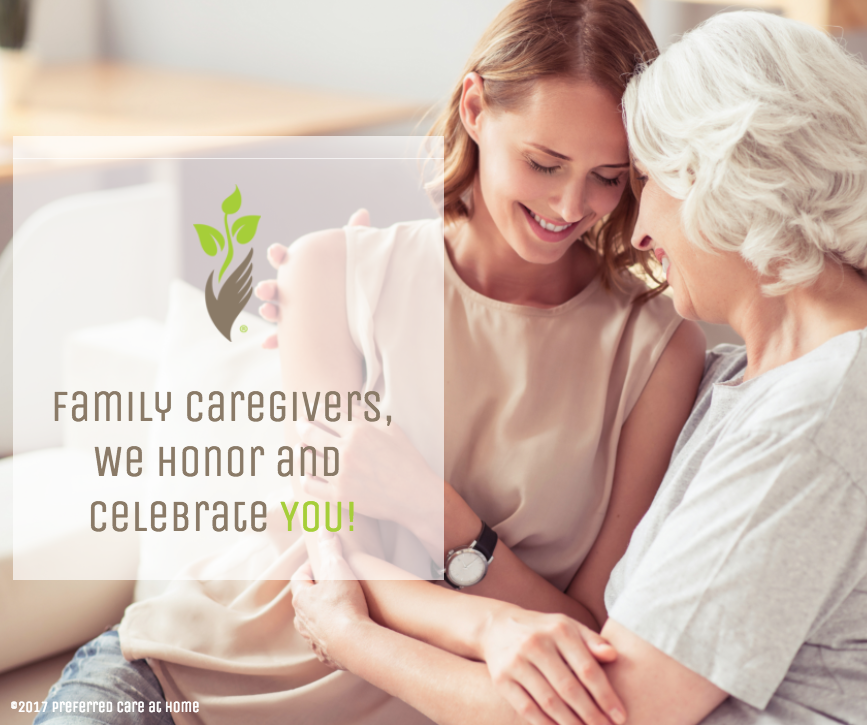 Greetings one and all…
It is a rather blustery morning in Denver. Evidently, a cold front is blowing through bringing much colder temperatures and the possibility of snow as well. Yesterday we enjoyed the mid-80's. Tonight—snow! Gotta love the fall season in Colorado. If the forecast proves accurate, it will certainly feel more like November. Consequently, I am reminded that November is a time to honor family caregivers—National Family Caregivers Month.
Yesterday, I had the delight of participating in a regional caregiving conference. The speakers, exhibitors, and sponsors of the conference were intent on providing beneficial resources, information, and ideas to family caregivers. Additionally, we embraced the opportunity to honor those who care for family, friends, and neighbors—often sacrificing their own health and well-being in the process. We recognized their commitment to care, their compassionate hearts, and their courageous spirits. However, we didn't romanticize the journey of caregiving. The reality is that being a family caregiving is often an arduous calling, requiring everything we have to give. Consequently, it is important to savor the sacred, sustaining moments along the way.
From beginning to end, an overarching theme of the conference was the need for self care. Several speakers stressed the need for respite care—a break in the action from the day-to-day duties of caregiving. Respite might consist of a 5 minute break to stand outside and breathe deeply. Or perhaps respite is a weekend trip to the mountains. Regardless of the duration, respite is not optional if family caregivers are to be well and subsequently care well. At the end of the conference, one caregiver highlighted the profound impact of respite. As she was leaving, she approached me with tears in her eyes and a thank you on her lips. She said, "Just having the chance to enjoy a leisurely, lovely lunch with other people was such a gift. Thank you!" Respite is often simple, yet incredibly sacred.
This morning as I reflect on the many conversations I had with family caregivers yesterday, I am filled with admiration and awe. As I listened to the questions, concerns, and stories of those in attendance, a myriad of emotions bubbled up. Some stories were poignant. Others inspiring. Some incredibly funny! Each person had a unique perspective of caregiving—a unique journey. However, each person and every story was worthy of recognition and honor. Recognition and honor from others is certainly nice. But what I realized yesterday is the importance of family caregivers recognizing and honoring the care they provide to family and friends. An honoring of self. Even if no one else seems to acknowledge our extraordinary efforts, we can give ourselves a much needed pat on the back. I certainly encouraged every one I met yesterday to recognize and to celebrate the care they provide others.
So as we move into the month of November, I invite you to celebrate and to honor the family caregivers in your life. Perhaps you are a family caregiver. Honor and celebrate YOU! Maybe you have friends or colleagues who are caring for aging parents, disabled children, or an ill spouse or partner. Honor and celebrate those family caregivers. Imagine the difference we can make if we focus on honoring and celebrating a family caregiver every day throughout the month of November. Well, let's not imagine. Let's do it! And once done, let's continue to honor and to celebrate family caregivers from this day forward.
I look forward to the ongoing conversation. If you have specific questions or concerns related to your caregiving experience, I would love to hear from you. Until the next posting, I wish you and yours countless blessings…jane  
© 2016-2019 Preferred Care at Home, a division of Help at Home Franchise Service, LLC. All Rights Reserved.
Services may vary depending on the licensing of each Preferred Care at Home Franchise location. Each location is individually owned and responsible for controlling and managing day-to-day business operations.