Preferred Care at Home of National Headquarters | 354 NE 1st Ave Delray Beach, Fl 33444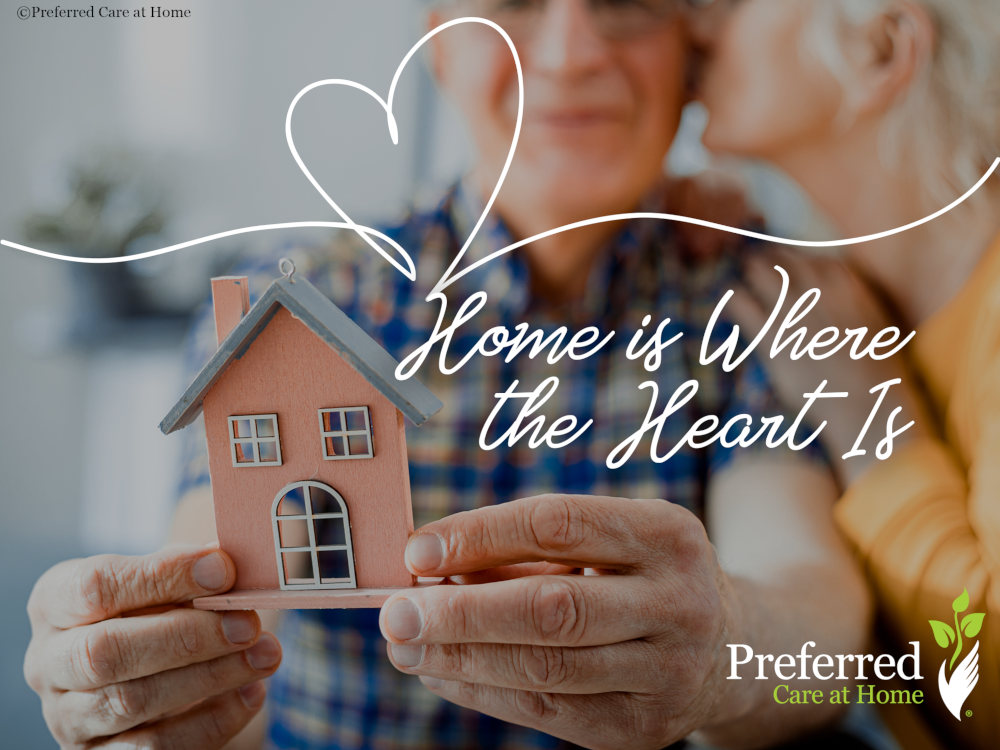 Greetings one and all…
Recently, I spent two weeks in northwestern Washington state exploring everything that the Pacific Northwest has to offer – mountains, rocky coastlines, and rain forests. It was a fabulous adventure shared with a dear friend. Most days were spent hiking in the great outdoors. Nothing better as far as I am concerned. But I have to admit, toward the end of the vacation I was ready to go home. I rarely leave home for more than a week at a time. So by the end of two weeks, I was homesick! There is obviously some truth to the well-known adage that there is no place like home.
On the flight back to Denver, I thought about the idea of home. Home has been a hot topic of conversation in many of the programs I have presented this year. I have spoken with numerous people who lack a sense of home due to a recent relocation prompted by their journey of aging. Some people opted to move closer to their adult children. Others decided it was time to downsize after the diagnosis of a serious and/or progressive disease. Regardless of the motivating reason to move, I recognize the signs and symptoms of homesickness since I have experienced that emotional angst many times in my life. So, what is so special about "home" that when displaced we feel distressed?
Home is Familiar
When at home, we have a sense of comfort, security, and knowing. We are familiar with the people, places, and things. Consequently, when at home:
There is a familiar routine and rhythm that enhances our sense of control.
We know of the available community resources and how to access retail, social, and professional services.
In a myriad of ways, life seems easier when at home since we know the environment in which we live.
Home is Part of Our History
When I was in my mid-20's (many moons ago!), I moved from the only home I had known to start my professional career. Since then, there has always been something special about "going home" to visit family and friends. Returning home is a journey that:
Reminds us of our roots—who we are and what we are about.
Sparks memories of times past—an opportunity to "remember when."
Informs how we choose to live today—prompting a reassessment of priorities.
Inspires our plans for the future—reconnecting with childhood dreams.
Home is Where the Heart Is
When contemplating the journey of aging, housing is always a major concern. However, the issue of housing is quite different from the concept of home—feeling "at home." Home is not merely a structure or an abode. Home is:
Where we feel we belong.
Where we feel connected to a supportive and caring community.
Where we are known, honored, and loved.
Where we are physically, emotionally, psychosocially, and spiritually at ease.
Where the heart is.
Over the course of a lifetime, most of us will be challenged to create a sense of "home" in numerous places. The good news is that there may be numerous places in which you feel "at home." So, if you are feeling a wee bit homesick today for whatever reason, there is hope. Look around. Identify opportunities to connect with the community in which you live. Then, one step at a time, invest yourself in the process—invest your heart and soul. Because, home is where the heart is. Take good care and enjoy the moment. Blessings on your journey……jane
© 2007-2020 Preferred Care at Home, a division of Help at Home Franchise Service, LLC. All Rights Reserved.
Services may vary depending on the licensing of each Preferred Care at Home Franchise location. Each location is individually owned and responsible for controlling and managing day-to-day business operations.