Preferred Care at Home of National Headquarters | 354 NE 1st Ave Delray Beach, Fl 33444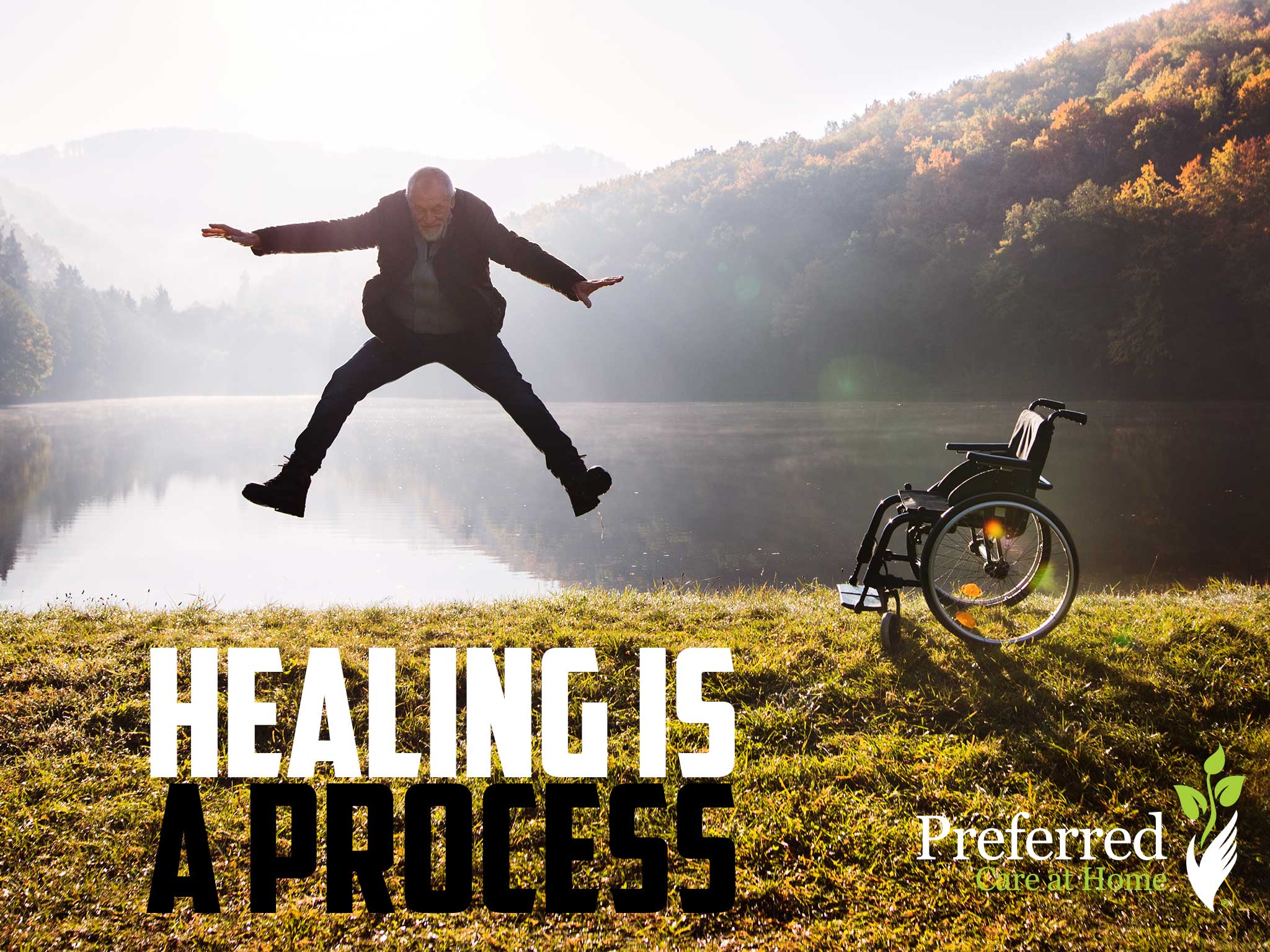 Greetings one and all…
I am writing this reflection as a historic blizzard whips through Colorado. AMAZING to say the very least! All along the Front Range, life as we know it has basically come to a frigid standstill. Mother Nature is making her presence known in a dramatic, if not frightening, way. I am blessed to work from home today. In addition to my shovel duties in the backyard to clear a path for my dogs, I want to chat about the healing process after a serious medical issue. What is to be learned?
Normal Must Be Redefined
Two years ago, I experienced an acute case of pericarditis (inflammation of the sac around the heart) with severe complications. After 7 months, I recovered to the point that medications were no longer warranted. Then 3 months later, I experienced a recurrence which required 10 more months of medications and monitoring. Consequently, when I stopped taking meds this time around, I thought this might be "deja vu" all over again! With every twinge of pain or shortness of breath, I despaired. I doubted. I questioned. I worried that I would never feel "normal" again.
But in the past few weeks, something changed. I met a dear friend for lunch last week, and she asked me how I was feeling. I was surprised by her question. Then, I was surprised that I was surprised! I actually hadn't thought about my "issue" in several weeks—a FIRST since my initial diagnosis two years ago. In that moment, I realized:
There are some days when I feel "normal." Not a pre-diagnosis kind of normal. Instead, I have a new sense of "normal."
It is hard to trust that my new sense of normal will continue.
There are moments when the specter of all too familiar symptoms triggers fear and anxiety.
I am trusting the process more days than not.
Patience is a Virtue
Growing up, I heard more than once that patience is a virtue. And, a virtue is a grace. Well, I have never professed to be virtuous or graceful! Thus, the healing process has been more than a wee bit frustrating for me. Once the medical emergency was resolved, I was ready to fast forward to HEALED! As noted, that did not happen. Although frustrated, I ultimately realized the healing process afforded a tremendous opportunity to grow, to learn, and to evolve. This is what I refer to as the afterglow of adversity. In the aftermath of the tough times of life:
We can choose to tease out the life-changing lessons to be learned.
We can develop an enhanced view and appreciation of life.
We ultimately realize the important lessons of life unfold as we are ready to listen and learn.
We become older and wiser one step at a time.
Healing Is Not Linear
As we all know, the shortest distance between two points is a straight line. So, it makes sense that after the diagnosis of a serious (yet curable) condition, we mentally draw a straight line from diagnosis to HEALED. The direct route reflects our fervent hope to get back on track as soon as possible. However, unexpected complications or a recurrence transform the direct route into a circuitous, undulating journey—derailing our initial plans. Therefore, upon diagnosis, we are wise to:
Have realistic expectations of the healing process.
Learn everything we could about the diagnosis and prognosis.
Speak with other people who have experienced a similar medical condition. Their stories serve to normalize the journey, alleviate fears, and reassure that we are on track—although not a linear one!
Today, if you are healing from a medical condition or accident, perhaps my tale of healing rings true. The journey can be frightening and frustrating. But if your prognosis holds the promise of recovery, the journey is ultimately life-giving. So, trust the process. Create and embrace your new sense of normal. Be patient—sometimes healing is two steps forward and one step back. And remember, your path of healing may take some unexpected twists and turns. However, your destination remains the same. Blessings on your journey……jane
© 2016-2019 Preferred Care at Home, a division of Help at Home Franchise Service, LLC. All Rights Reserved.
Services may vary depending on the licensing of each Preferred Care at Home Franchise location. Each location is individually owned and responsible for controlling and managing day-to-day business operations.