Preferred Care at Home of National Headquarters | 354 NE 1st Ave Delray Beach, Fl 33444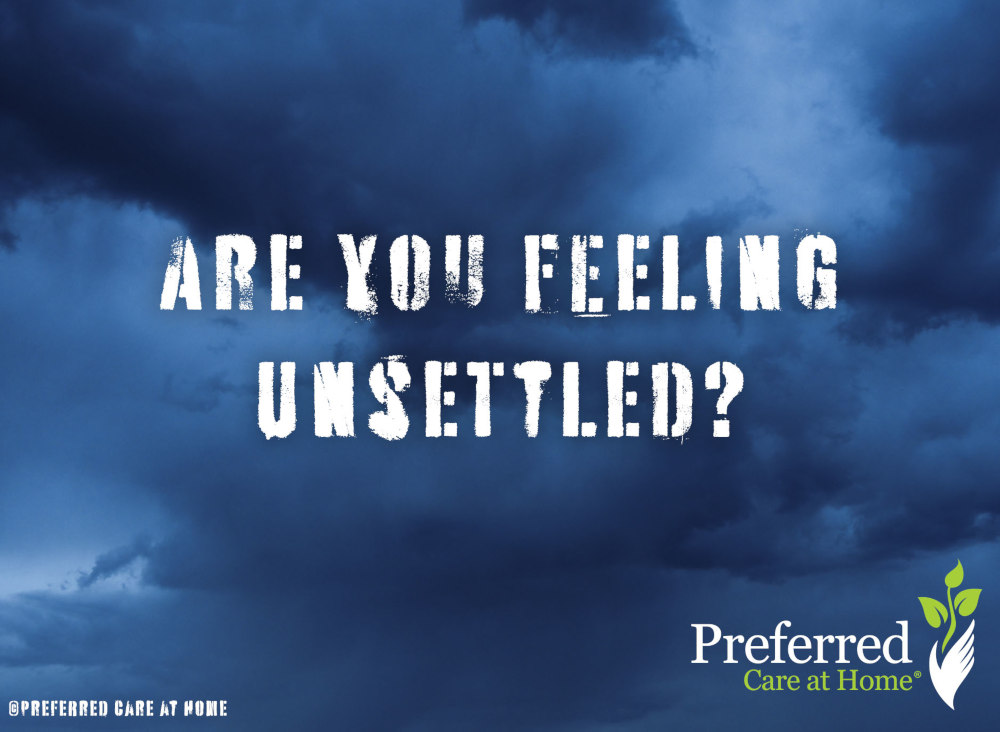 Greetings one and all…
Standing at my desk this morning (I love my standing desk!), I am a wee bit unsettled by the events of the past few weeks. The coronavirus. The dramatic drop in the price of oil. And the subsequent volatility of the stock market. Watching the news, I feel as if everything is spinning out of control – which results in a tremendous amount of anxiety. I have to admit that there are moments when I just want to pack a bag, grab the critters, and head for the hills until the dust settles.
This morning as I reflect on my internal angst, I realize that I have felt this way before. When my mom was diagnosed with cancer. When my dad had a stroke. When my brother died of terminal lung cancer. When one of my best friends died unexpectedly a few years ago. When life changed unexpectedly and thus derailed my plans – that is when I felt anxious, exposed, and vulnerable. Unsettled! Not a pleasant sensation to say the very least!
However, life by its very nature is an unending series of change – expected or not. Therefore, it's important to remember that we can't control everything that happens over the course of lifetime. But we ARE in control of how we choose to respond to life. And our response to change shapes our ultimate experience of life. So today, let's consider what informs our response to life. When life is chaotic, on whom or what do you rely when feeling unsettled? Personally, I lean on family and friends, previous experience, and faith.
Family and Friends
Human beings are inherently relational beings. We are designed to share the journey of life with other people. Consequently, we share the highs and lows, twists and turns, good times and bad with our companions. My family and friends assist in navigating the journey by:
Reassuring me that I am not alone. 

Sharing the burdens and the blessings of life.

Committing to companion me no matter what!

Serving as a port in the storm – a stabilizing force.
Previous Experience
I have felt unsettled many times before. Reflecting back on those disturbing moments, I remember how I opted to respond. Furthermore, I assess whether my response served me well or not. Yes, there is validity in the adage that we live and learn! So, over the past 62 years, what have I learned?
When challenged, I am stronger than I ever imagined.

Some of the most difficult moments in life ultimately result in the most amazing, life-giving transformations. 

Discovering the courage to ask others for help reinforces and enriches my friendships.

Even the smallest glimmer of hope on the horizon inspires me to endure the tough times in order to ultimately thrive.  
Faith
When life literally and figuratively brings me to my knees, I have to admit that I am not in control. Admittedly, a difficult admission since I am the proverbial Control Queen! Once done, I rely on my foundational beliefs to support, sustain, and guide me through the dips of life. Believing in a higher power, I am assured that:
I am not alone when challenged by life. 

I WILL persist by choosing to move through and beyond the current difficulties.

Unsettled moments in life are ephemeral. There ARE better days ahead.  

By faith, my path forward will unfold as I am ready and willing to take the next step.
If you are feeling a bit unsettled today as well, consider the following. Turn off the TV. Disconnect from all your electronic devices. Mute the current noise of life. In the subsequent silence, remember that which guides, supports, and sustains you. Then, choose to embrace those stabilizing forces in your life. One step at a time, move toward better and brighter days. Take good care and blessings to you and yours……jane
© 2007-2020 Preferred Care at Home, a division of Help at Home Franchise Service, LLC. All Rights Reserved.
Services may vary depending on the licensing of each Preferred Care at Home Franchise location. Each location is individually owned and responsible for controlling and managing day-to-day business operations.