Preferred Care at Home of National Headquarters | 354 NE 1st Ave Delray Beach, Fl 33444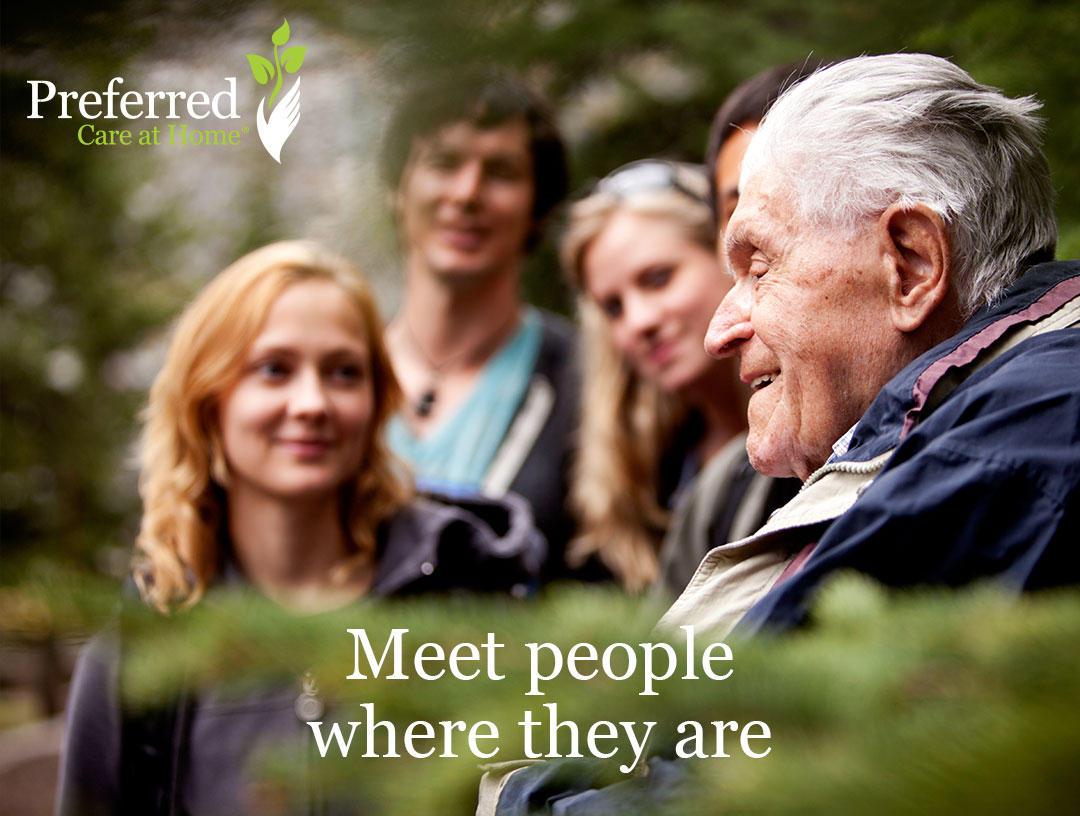 Greetings one and all…
I am just in from staining my fence—a summer ritual of sorts! WHEW! It certainly feels like July outside today. Toasty! Definitely time for a little break in the action and a cold beverage. Now this may sound odd, but I don't mind the process of staining. I find it to be a contemplative exercise. Today as I methodically applied the stain, I used the time to reflect on a recent experience with a dear friend. An experience that was sacred as well as heartbreaking.
Last week, my housemate and I made lunch plans with a mutual friend, Sarah, to celebrate her 90th birthday. Since Sarah has been somewhat forgetful of late, we called the day before to remind her about lunch. Based upon our conversation, all systems were "a go" for our gathering. To be honest, I was somewhat skeptical due to Sarah's recent lapses in short-term memory. Although Sarah has not been diagnosed with any form of dementia, her recent "forgetfulness" is quite concerning.
Anticipating that Sarah might forget our lunch date, I mentioned the possibility to my housemate the night before. She and Sarah have been friends for over twenty years. They have enjoyed many adventures over the years and thus share a very special bond. Consequently, witnessing Sarah's physical and now cognitive decline is particularly devastating for her. So, I wanted to prepare my housemate for what "might" happen—and to discuss how we could respectfully and compassionately respond.
I shared with her the insights gained from Alzheimer's professionals and families many years ago when I served as a hospice chaplain and community educator. I highlighted what became my mantra when serving those with dementia —meet people where they are. Join them. Companion them. Walk with them. BE with them. As it turned out, our conversation was timely indeed.
Upon arriving at Sarah's apartment the following day, our concerns were validated. She answered the door in her robe and slippers, obviously surprised to see us at her door! She had NO idea why we were there, but she was happy to see us. My housemate and I shared a knowing look—silently agreeing to meet Sarah where she was. We never mentioned our previous conversations. We didn't shame her by pointing out that she had forgotten our lunch date. We resisted asking questions for which there were no answers.  
Instead, we met Sarah where she was and enjoyed her company. We caught up on the latest news. We listened. We talked. We laughed about life. And we celebrated the birthday of our dear friend in the best way possible—we met Sarah where she was. We embraced the person she was, the person she is, and the person she is becoming. And we savored another sacred moment with this amazing woman.
Although I am grateful for the time spent with Sarah, I have to admit that the experience was heartbreaking as well. Witnessing the incremental changes, I grieve the loss of the person I have known and loved for 16 years. I long for the vital, vibrant, and fiercely independent woman who taught me so much about life. Sarah never shied away from a challenge—medical or otherwise. She confronted the reality head on. She considered her options. And then made the best of the situation. An approach to life that seemingly remains unchanged.
No doubt, Sarah has much more to teach me. So, I will meet Sarah where she is and once again be blessed by the lessons learned. For now, I need to finish staining the fence. With every stroke of the brush, I will give thanks for Sarah—an incredible spirit in the world.    
I look forward to the ongoing conversation. If you have specific questions or concerns related to your caregiving experience, I would love to hear from you. Until the next posting, I wish you and yours countless blessings…jane  
© 2007-2020 Preferred Care at Home, a division of Help at Home Franchise Service, LLC. All Rights Reserved.
Services may vary depending on the licensing of each Preferred Care at Home Franchise location. Each location is individually owned and responsible for controlling and managing day-to-day business operations.