Preferred Care at Home of National Headquarters | 354 NE 1st Ave Delray Beach, Fl 33444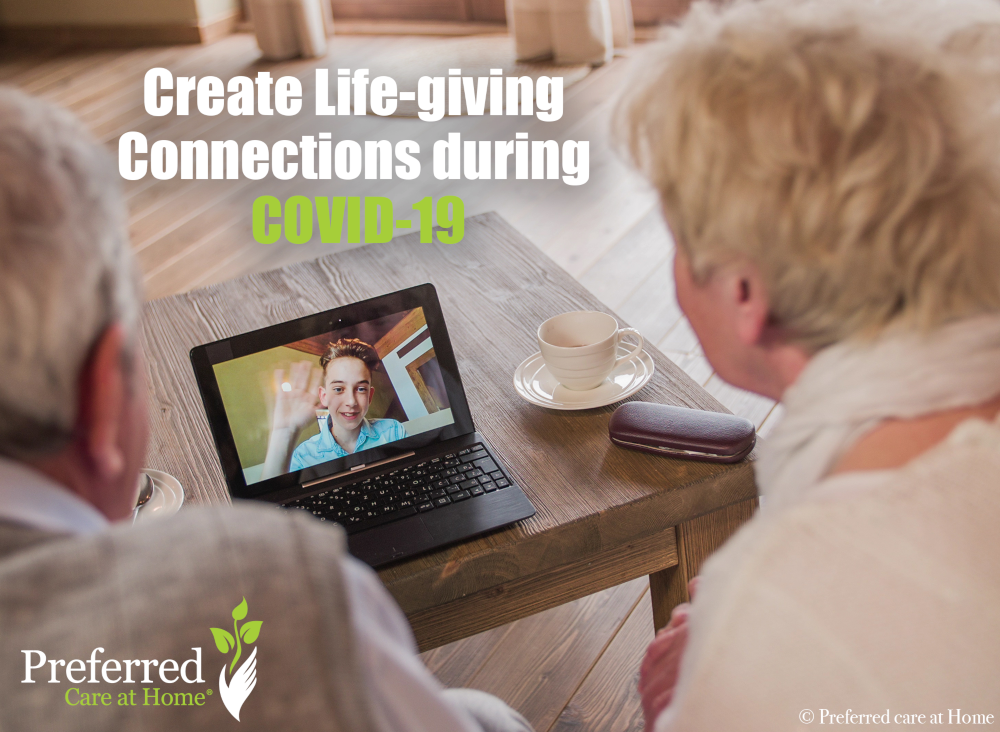 Greetings one and all….
I'm writing this on Day 1 after the declaration of the "stay at home" executive order by our governor. If we are to flatten the curve of COVID-19, social distancing is mandatory. Ironic, right? At a moment in time when we need and want each other the most, physical separation is required. How then are we to satiate our hunger for intimate, compassionate, loving, and caring human interaction during this historic health care crisis? An important question worthy of consideration.
Social isolation and subsequent loneliness have been, are, and will continue to be challenging issues for caregivers and care receivers. Sadly, the COVID-19 crisis is serving to exacerbate the problem for all concerned. As a result, the importance of staying connected while staying at home is now recognized globally. 
The challenge – and opportunity – during this universally trying time is creating innovative ways to interact socially with other people when physically separated. No doubt, you have seen and heard heartwarming stories of life-giving connections made and sustained in the midst of dire circumstances. I will never forget the first time I viewed the video of people in Italy singing from their balconies – a courageous, creative collective of people empowered and encouraged by their combined voices. In that moment, social and emotional isolation morphed into a life-giving chorus. Inspired and inspirational! What other kinds of connections will serve us well in the foreseeable future?
Internal Connections
Times of social isolation afford the opportunity to embrace life-giving solitude. Personally, I love my "alone" time – precious time to go within and reconnect with my sense of self. During this unique time of recommended social distancing, how can you make life-enhancing internal connections?
Reassess your values and priorities. What and who are worthy of your time, talents, and investment? What truly matters to you?

Consider how COVID-19 has changed the rhythm of your life. Are there blessings to be discovered as you move to a different beat? 

Contemplate your life after COVID-19. Life will be forever changed – for all of us. What constitutes a meaningful, life-giving existence for you and your family in the aftermath of this life-changing event?
External Connections
Although I believe solitude to be beneficial, I relish sharing time with other people as well. This is no big surprise. Human beings are inherently relational creatures. We need and want each other – particularly during the times that try our souls. And in case you haven't noticed, we are knee-deep in such a time! So, how can we stay connected when apart – personally and professionally? Consider utilizing available technology in creative and life-enriching ways:
Routinely communicate via phone, email, text, instagram, social media, or video conferencing. Reinforce life-giving connections by communicating with the people in your life. 

Move social gatherings to online platforms such as FaceTime, FaceBook, Zoom, Skype, Google Duo, etc. Seeing and hearing family and friends is such a gift. Happy hours, birthdays, meals, family meetings, coffee dates, game nights, whatever! Come together virtually and savor being together.

Access telehealth services. Consultations with health care professionals online are effective and efficient – and greatly reduce the risk of exposure to COVID-19.   
Divine Connections
Since gatherings are now limited to 10 people or less, many people are missing the sustaining support of communal worship. The absence of meaningful rituals can be destabilizing as ritual serves to connect us to that which we deem Divine and sacred. How can we maintain Divine connections in the solitude of our homes?
Participate in online worship services offered by various faith communities. 

Utilize online platforms such as ZOOM to convene your spiritual support groups. 

Embrace and practice a daily spiritual ritual that reinforces your Divine connections.
In closing, I hope that you and yours are WELL and STAY WELL. If you are feeling isolated and alone, proactively seek the necessary connections – internal, external, and Divine – to move through and live beyond this moment in time. Connected, you WILL get through this. Blessings to you and yours……jane
© 2007-2020 Preferred Care at Home, a division of Help at Home Franchise Service, LLC. All Rights Reserved.
Services may vary depending on the licensing of each Preferred Care at Home Franchise location. Each location is individually owned and responsible for controlling and managing day-to-day business operations.