Preferred Care at Home of National Headquarters | 354 NE 1st Ave Delray Beach, Fl 33444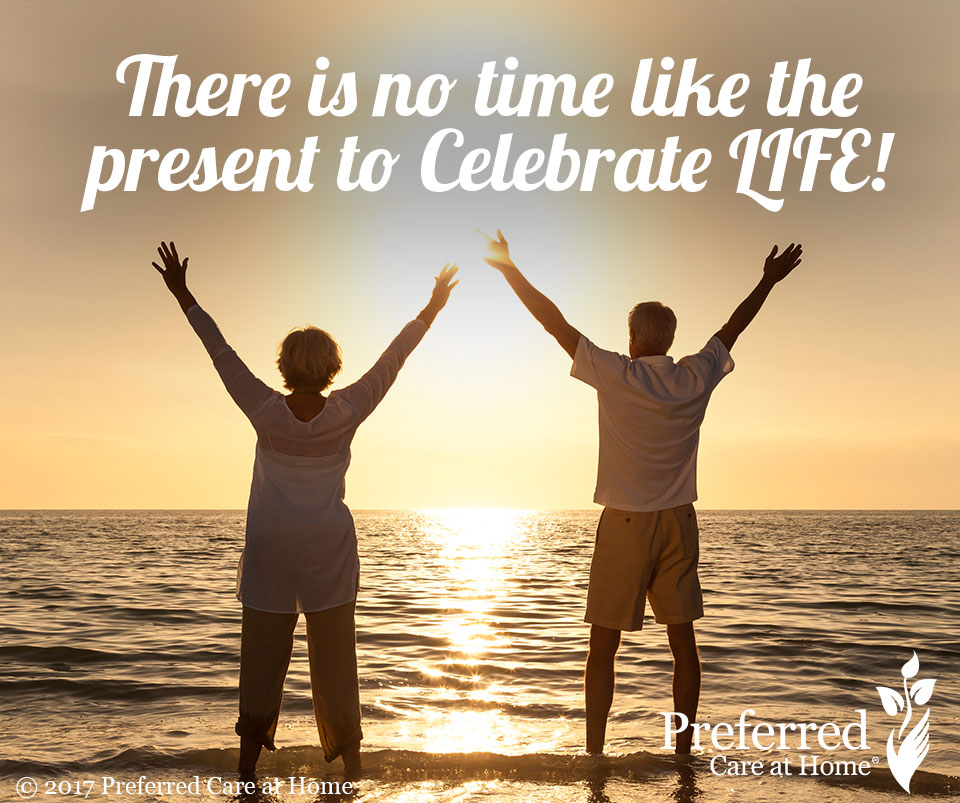 Greetings one and all…
Sitting at my desk this morning, I am savoring a sensational spring vista outside my window. There is something life-giving about witnessing the unfolding of tender leaves on the trees and the miraculous emergence of daffodils, tulips, and iris in our gardens. The vibrant colors are a welcome change to the dormant hues of winter. The brilliant sunshine highlights the gifts of spring—a glorious sight indeed! Since I can be distracted by work and mundane responsibilities, I am thankful that Mother Nature provides a wake-up call for all of my senses. If I fail to see a gift of spring, I am invited to hear or to smell this sacred season. The lovely song of a finch. The fabulous fragrance of hyacinths. Ahhhhhhhhh! There are SO many reasons to celebrate life! No wonder Spring is a favorite time of year for so many people.
I have another reason to celebrate life during the Spring season. My birthday is in early April along with many of my family members and friends. So every April, I eagerly engage the traditions and rituals of birthday festivities. This year was particularly special for me. I celebrated 60 years with friends in the mountains of Colorado. I was treated to four days at a hot springs resort located at the base of the Collegiate Peaks—spectacular! We hiked, soaked, talked, laughed, ate, prayed, and celebrated. For me, it was the perfect way to recognize this amazing milestone—in nature, with friends, and unplugged from routine. The experience renewed, refreshed, and revitalized me. Celebrating life is a good thing indeed!
My birthday meant more to me than ever before. Yes, the chronological age of 60 is meaningful (and somewhat daunting) due to our societal attitudes about age. But that is not why my birthday meant so much to me this year. Due to the death of my brother as well as a dear friend in 2016 and the recent death of my beloved cat Micah, I am profoundly grateful for my life. I am happy to proclaim that I am 60. I am thankful to be 60—much to the amazement of some friends and colleagues! I realize that there are no guarantees regarding quantity or quality of life. I have THIS moment—a moment to savor, to cherish, and to utilize to the best of my ability. So, what do I choose to do? How do I choose to live? Who do I choose to be and to become in the moment? These are questions worthy of serious, continuous consideration. Questions that serve to motivate, to inspire, and to challenge me every step of the way.
Life is a gift—a phrase and sentiment expressed by many who appreciate the vagaries of life. But I have come to believe that life is more than that. The gift of life is also a tremendous responsibility. What do I intend to do with the rest of my life? How do I plan to use this incredible gift? How can I contribute in a meaningful way for the betterment of all concerned? Sitting in the hot springs a few weeks ago—pondering my life—gratitude and excitement permeated my soul. I am forever grateful for the life lived. And I am excited about the adventures yet to come. Since I am not clairvoyant, I can't predict the future twists and turns of life. But I am committed to squeezing the LIFE out of life. That is the gift afforded to me as well as my responsibility.
In closing, I hope the Spring season serves to inspire you to Celebrate Life as well. There is no time like the present. Carpe Diem!
I look forward to the ongoing conversation. If you have specific questions or concerns related to your caregiving experience, I would love to hear from you. Until the next posting, I wish you and yours countless blessings…jane  
© 2007-2020 Preferred Care at Home, a division of Help at Home Franchise Service, LLC. All Rights Reserved.
Services may vary depending on the licensing of each Preferred Care at Home Franchise location. Each location is individually owned and responsible for controlling and managing day-to-day business operations.