Preferred Care at Home of National Headquarters | 354 NE 1st Ave Delray Beach, Fl 33444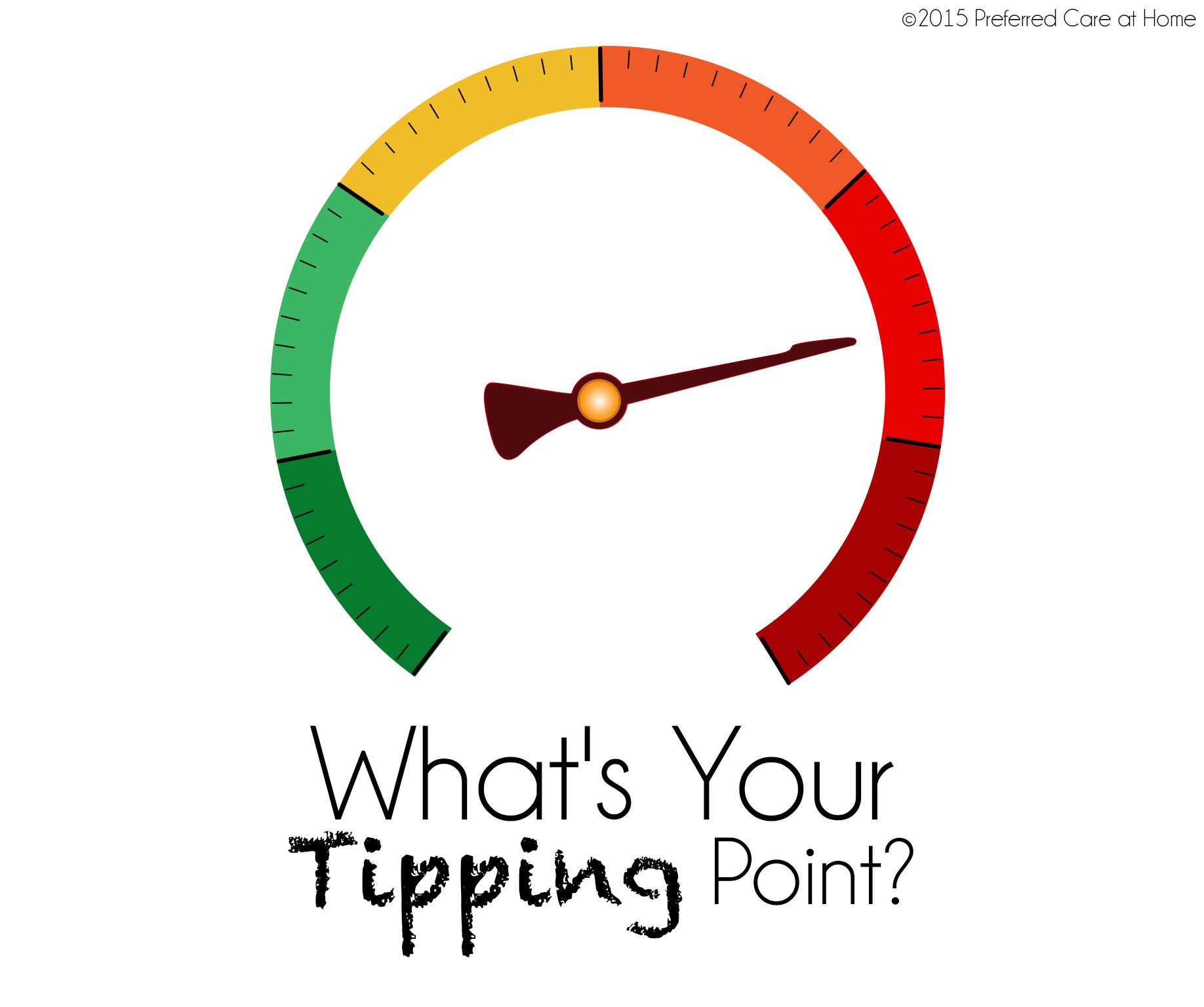 Greetings one and all! I hope you are doing well and loving life. Once again, I invite you to take a deep breath, pour a cup of coffee or hot tea, and relax. Today, let's chat about tipping points—moments in the life of caregivers and care receivers that are "game changers." We know tipping points all too well. These are often the "what ifs" that keep us awake in the wee hours of the morning. And when the "what ifs" become reality, we scramble to address the new challenges and to revise the now outdated plan of care.
Tipping points. Stressful? Challenging? Frightening? Confusing? Absolutely! But tipping points are part of the journey of caregiving. If we are to maintain any semblance of balance, we must first acknowledge that we are living on the edge. Life as we know it can change in a heartbeat. Such is the nature of the caregiving journey. So, we need to anticipate possible tipping points well in advance to avoid heart-stopping, caregiving crises.
What qualifies as a tipping point? Well, it depends on the specifics of the caregiving situation and the family system. What proves to be a tipping point for one family is an easily absorbed bump in the road for another. However, there are some common "game changers" that are noteworthy. How would the following situations change your caregiving journey IF these things happened to you or someone in your family?
Acute Medical Incident: Long-term care planning is required due to life-changing events such as heart attack, stroke, broken hip, etc.
Diagnosis of a Serious, Acute Illness or Injury: Short-term care planning is required to address medical concerns such as influenza, pneumonia, torn ligament, etc.
Diagnosis of a Chronic/Progressive/Terminal Illness: Flexible long-term care planning is required to address the escalating care requirements of a progressive illness.
Incontinence: Urinary and/or fecal incontinence is a type of care that many family caregivers are unwilling, unable, or ill-prepared to provide.
Wandering: With progressive dementia, wandering is a problematic behavior that endangers the life of the person with dementia.
Violent or Abusive Behavior: When the safety of the caregiver comes into question, the plan of care must be revised to mitigate the threat.
Safety Issues for the Care Receiver: Safety concerns can be related to the environment in which the care receiver resides and/or the providers of care.
Proximity to Family Caregivers: As caregiving needs increase, long-distance caregiving becomes increasingly problematic for care receivers and caregivers.
When Aging in Place Is Not Advisable: Relocation may be necessary due to changes in physical and cognitive abilities of the care receiver, family support, finances, and/or the environment.
Financial Issues: The financial burden of care can impact multiple generations within a family system. With limited or diminished funds, caregiving options are limited.
Death of a Spouse/Partner: The transition of living with a significant other to living alone is incredibly disruptive, often precipitating a subsequent change in residence.
This list of possible tipping points is certainly not comprehensive. Based on your particular situation, you may be worried about something else. However, it's important to identify the probable tipping points for you and your family. For each tipping point, seriously consider your available options in response to the "game changer." By so doing, you have a much better chance of avoiding some of the more common, destabilizing crises encountered throughout the journey of caregiving. You will be better prepared to meet the challenge. Being proactive beats being reactive every time!
I look forward to the ongoing conversation. If you have specific questions or concerns related to your caregiving experience, I would love to hear from you. Until the next posting, I wish you and yours countless blessings…jane
© 2007-2020 Preferred Care at Home, a division of Help at Home Franchise Service, LLC. All Rights Reserved.
Services may vary depending on the licensing of each Preferred Care at Home Franchise location. Each location is individually owned and responsible for controlling and managing day-to-day business operations.