Preferred Care at Home of National Headquarters | 354 NE 1st Ave Delray Beach, Fl 33444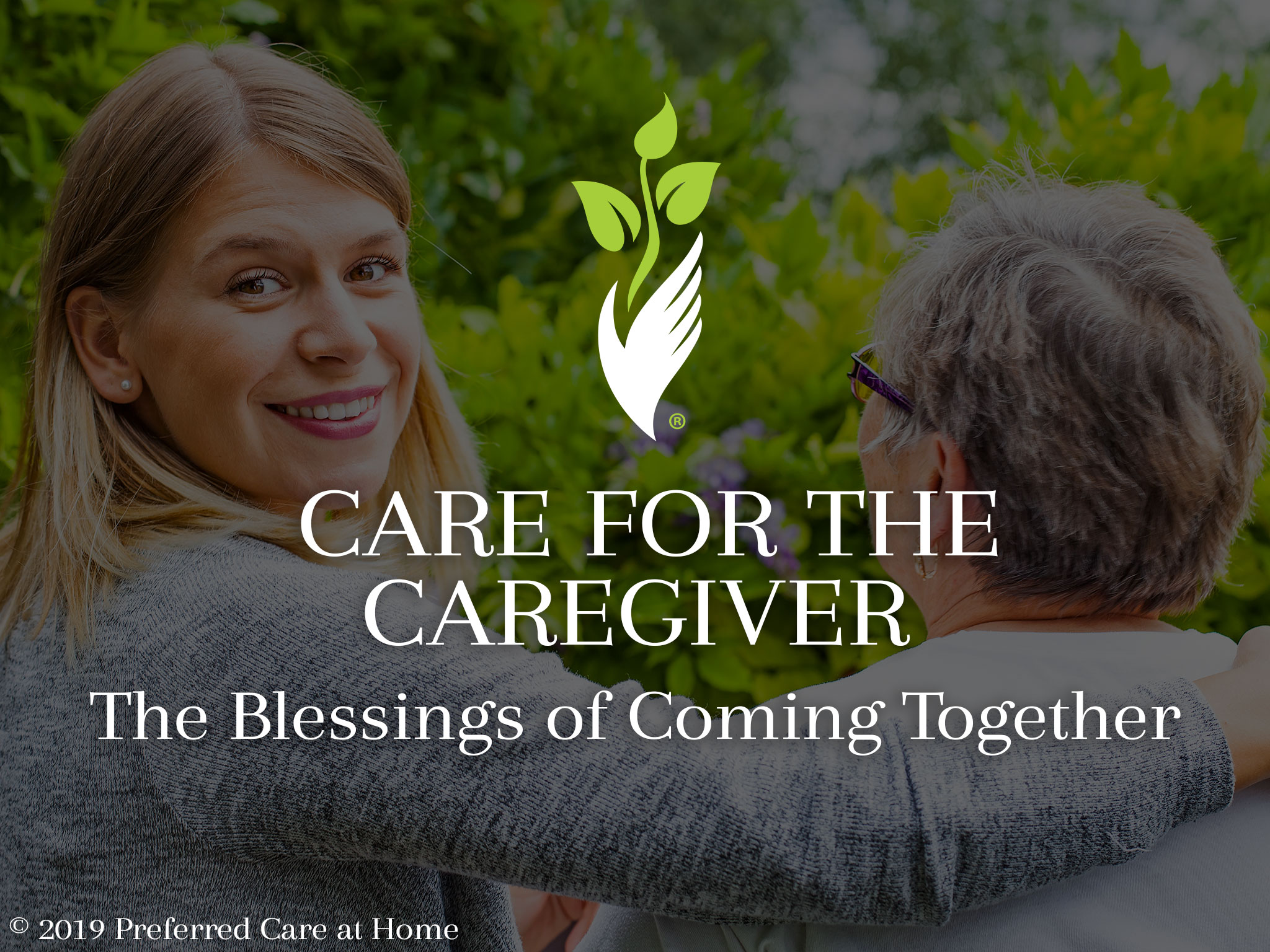 Greetings one and all…
This past weekend, I attended an annual Caregiver Pampering Day held in a small community to the north of Denver. This particular caregiver event has a long history due to the passion and the support of local organizations and agencies, professional service providers, and community members. I had the honor to welcome the 85 family caregivers and 50 volunteers that morning as well as present a couple of programs. Throughout the day, I met countless people who served to inspire, inform, and bless me. Coming together as a community of caregivers is a powerful thing indeed. Perhaps by highlighting my "takeaways" from the day, you'll be motivated to attend or to initiate a similar caregiver event in your community. Furthermore, I hope you are inspired to pamper yourself a wee bit every day.  
The Message—It's ALL About YOU!
The theme of the day was obvious—care for the caregivers! This is a significant change in perspective for family caregivers who typically focus on the needs of other people—often compromising their own health and well-being in the process. But on this day, caregivers were pampered, served, and celebrated. I so enjoyed watching those in attendance relishing a foot massage, enjoying a cuppa tea, experiencing the healing touch of a Reiki master, and sharing a sacred moment with a therapy dog. Even more amazing was this:
I never sensed an ounce of guilt in any of the caregivers as they savored the small indulgences.

The message—

It's All About You!

—was received and believed.

Caregivers viewed their needs and wants as THE top priority of the day.   
A Time to Listen, Learn, and Share
The variety of activities and classes was impressive. Caregivers selected from a list of interactive classes as well as pampering options. There was something for everyone. As the day unfolded, people graciously shared the lessons learned and the insights gained as a result of being a caregiver. People spoke and listened in knowing ways because they had "been there and done that." As a result:
Strangers quickly discovered common ground, allowing for heartfelt connections and sharing.

No one felt alone. No one felt isolated.

Everyone was seen, heard, and supported.   
Savor the Simple – Yet Sacred – Moments of Life
As I moved through the crowd of caregivers, I heard snippets of conversation and observed the body language of those in attendance. The overarching message of the day was this—take nothing for granted. Savor the simple – yet sacred – moments of life. As I walked past the tea cart provided by a local business, I heard a caregiver "oohing and ahhing" over her cuppa tea. The expression on her face was sheer delight! I stopped to speak with her since I am also an ardent fan of tea. She shared that she rarely has time to truly enjoy a cuppa tea. So, this was a rare treat to sip instead of gulping her tea! Listening, I recognized:
Just how much I take for granted every day.

A renewed desire to be intentionally attentive to the simple – yet sacred – things in my life.

The blessings of coming together.  
Today as I reflect on my experience, I am once again reminded of the blessings of coming together. When people gather together for a common cause, amazing things happen! Instead of feeling isolated and alone, we feel supported and connected. We remember that our needs are equally as important as the needs of others. We recognize that in order to care well for our loved ones, we must be well. And in order to be well, we must take good care—of ourselves! So today, I hope you are inspired to do something just for YOU. Have a cuppa tea. Snuggle with your dog. Read for a bit. Savor the moment. Reserve a portion of your day in which everything is ALL about you! I have no doubt, you'll be glad you did. Blessings on your journey……jane
© 2007-2020 Preferred Care at Home, a division of Help at Home Franchise Service, LLC. All Rights Reserved.
Services may vary depending on the licensing of each Preferred Care at Home Franchise location. Each location is individually owned and responsible for controlling and managing day-to-day business operations.