Preferred Care at Home of National Headquarters | 354 NE 1st Ave Delray Beach, Fl 33444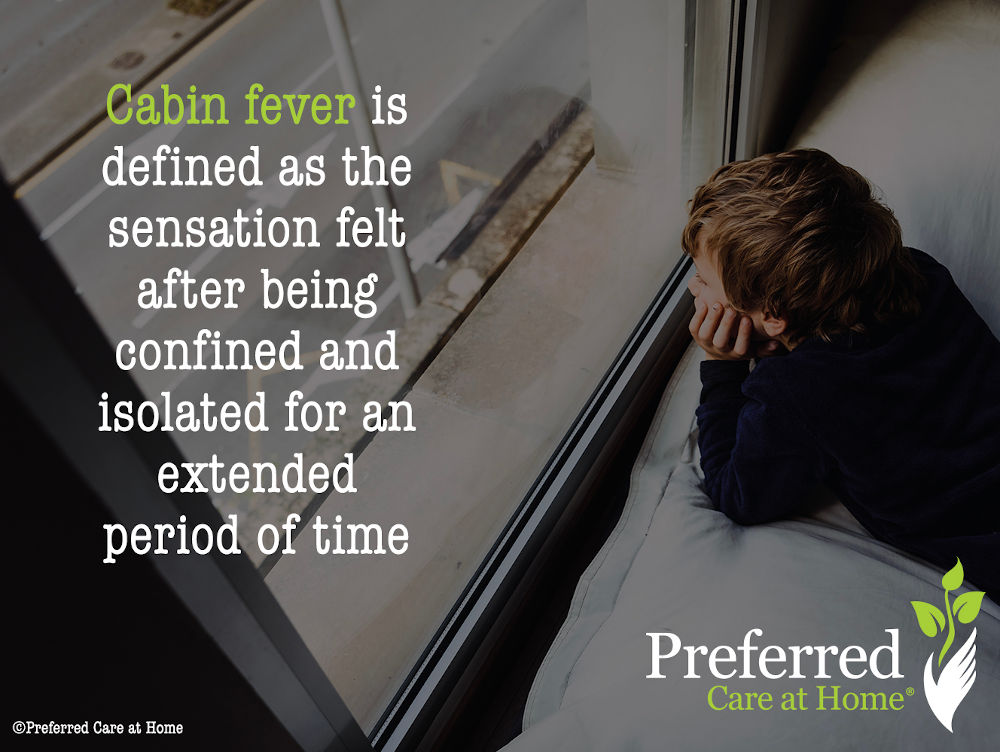 Greetings one and all….
This morning I am recalling a childhood experience – cabin fever. Cabin fever is defined as the sensation felt after being confined and isolated for an extended period of time. This is a time during which we can become irritable, anxious, and antsy. As a child, this usually happened in the winter when I couldn't get outside to play with my friends. At such times, my mom suggested other activities to keep me occupied. She was a master at creating fun, interactive, and life-giving moments within our home. In light of our collective situation today related to COVID-19, we could all use some innovative ideas as to how to leverage our time at home to our best advantage.
Personally, I don't want to look back several years from now on this moment in time and feel as if I squandered this time. Although being sequestered in our homes is not something we expected, wanted, or particularly enjoy, this is our current reality. So, how can we respond to this challenge in order to evolve, grow, and affect positive change in the world? What can we intentionally integrate into our daily routine to reinforce an overall sense of well-being?
Embrace Playtime
Over the past 5 weeks, I read articles, listened to podcasts and TED Talks, and chatted with friends and colleagues regarding the experience of social distancing. Everyone has an opinion on how best to deal with this very different lifestyle depending on their family situation, employment status, financial solvency, and spiritual beliefs. My initial reaction to the "stay at home" mandate was to generate a "To Do List" – projects to be tackled and conquered during my alone time. What I realized fairly quickly was that I also need time to play as well – time to recharge, refresh, renew, and revision my life. Playing is good for the mind, body, and spirit. What does PLAY look like?
Walking in the neighborhood and noticing the first signs of Spring – greening grass, budding trees, flowering bulbs, and singing birds.
Baking and eating delicious scones with coffee every morning.
Watching Hallmark movies that prompt a river of tears – a needed catharsis!
Concluding each day with a rousing game of dominos.
Question: How do you and yours choose to PLAY?
Give Yourself Permission to "BE"
The "stay at home" mandate is challenging for most of us. Working from home, physically distancing from family, friends, and colleagues, and possible unemployment have disrupted our daily routines. We can no longer DO what we have always done. However, to compensate for this loss, there is the invitation to BE—to live more intentionally. What does BEING look like?
Embracing a time of solitude instead of fearing isolation.
Focusing on the moment instead of worrying about what might happen tomorrow, next week, or next year.
Appreciating the simple, yet sacred, moments throughout the day.
Recognizing and feeling ALL of the emotions related to COVID-19—fear, anxiety, uncertainty, grief, anger, love, joy, and hope.
Resisting the temptation to fill every moment of the day with distractions and virtual gatherings.
Question: How do you choose to BE?
Choose to be Hope-FULL
I am the eternal optimist – a 1/2 full kind of gal. But I have to admit that the COVID-19 pandemic challenges my typically positive approach to life unlike anything before. When chatting with a dear friend last week, he gently reminded me that what is happening is well beyond my control. It is what it is! Furthermore, how I will experience today and subsequent days to come is largely dependent on how I choose to respond – the attitude I CHOOSE to assume. Bingo! My friend spoke the truth I needed to hear and posed the question I needed to answer – Do I choose to be hopeless or hope-FULL? After considerable reflection, I choose to be hope-FULL because:
I truly believe there are better days ahead. I see HOPE on the horizon.
Historically, human beings have proven to be incredibly resilient. We WILL bounce back from this pandemic in amazing and life-giving ways.
Everyday, I hear stories of extraordinary courage, kindness, and compassion reflective of the strength of the human spirit.
I sense a Sacred presence in the midst of the turmoil – a presence that consoles, heals, and cares for all concerned.
HOPE is part of my DNA. Being hope-FULL is who I am.
Question: What gives you HOPE?
In closing, if you are experiencing a bit of cabin fever during COVID-19, you are in good company! Instead of ignoring the sensation or dashing about to fill every moment of every day, take a deep breath. Relax. And realize this moment in time may ultimately prove to be an amazing opportunity to PLAY, BE, and HOPE. BE WELL and STAY WELL. Blessings to you and yours……jane
© 2007-2020 Preferred Care at Home, a division of Help at Home Franchise Service, LLC. All Rights Reserved.
Services may vary depending on the licensing of each Preferred Care at Home Franchise location. Each location is individually owned and responsible for controlling and managing day-to-day business operations.