Preferred Care at Home of National Headquarters | 354 NE 1st Ave Delray Beach, Fl 33444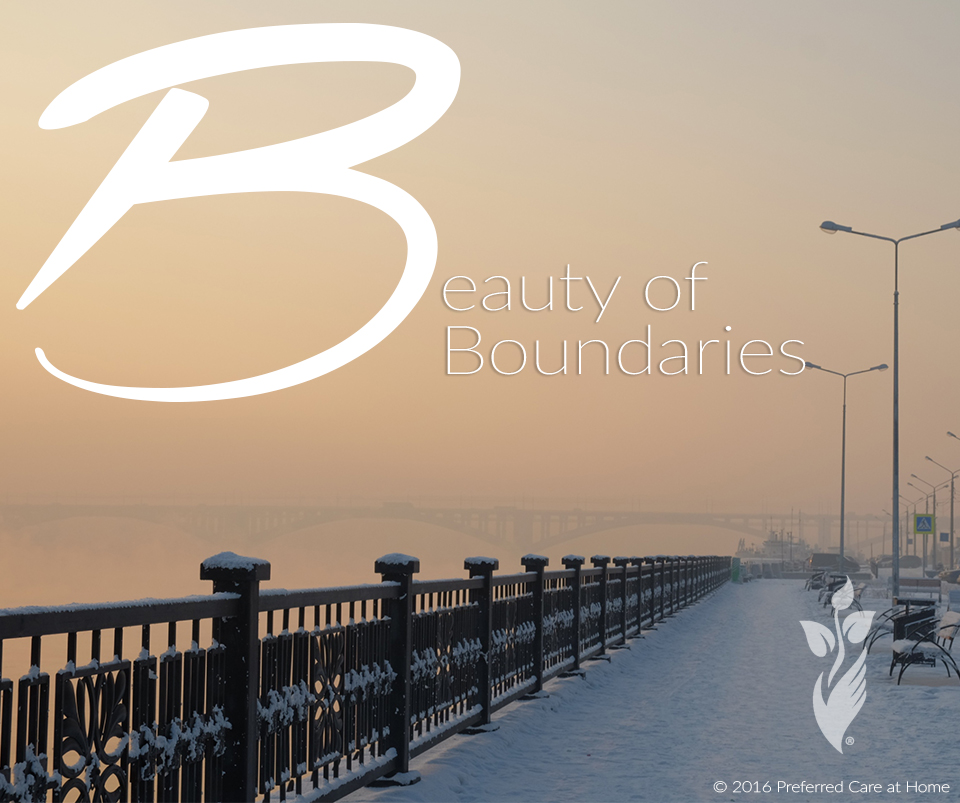 Greetings one and all! I hope you are doing well and loving life. Once again, I invite you to take a deep breath, pour a cup of coffee or hot tea, and relax. If you have been running ninety to nothing since the beginning of the New Year, you are in good company. So, it's time to take a little break in the action and contemplate the beauty of boundaries.
Over the past five years, I have routinely traveled around the United States presenting programs for various clients. Since I am by nature a "home body," I had much to learn about the art of traveling well. Colleagues and friends graciously advised me regarding the best luggage, the best airlines, the advantages of carry-on vs checked baggage, etc. Despite the wisdom imparted to me, there are some things I had to learn by doing. Nothing could have prepared me for the 30 hour delay in the Atlanta airport two years ago due to an ice storm. Those are lessons I will never forget!
I also had to learn how to care for myself on the road. Although dashing about the country may sound intriguing and enjoyable to some people, a constant routine of travel becomes wearing and grueling. So, it's important to establish and to maintain healthy and beneficial boundaries—to create a space in the midst of the madness where I can just be.
When on the road, I am either prepping a presentation, presenting, or decompressing after the presentation. There is little time to put my feet up and eat bonbons! Upon arrival at a conference or training, I shift into the "on" mode—engaged, attentive, interactive, and relational. Although I LOVE what I do, I am emotionally and physically fatigued at the conclusion of an event. It's not until the ride to the airport that I shift from "on" to "off duty." This is when the last thing in the world I need or want is an interloper in my space.
As I traveled to New Hampshire a few weeks ago, I remembered the benefits and the beauty of boundaries. I also had to laugh at the manner in which I conveyed my limits to fellow travelers. When boarding my plane, I avoided eye contact. My iPOD was charged and playing, earbuds in. I focused on the book before me and rarely looked up. Based on these behaviors, a casual observer could have erroneously surmised that I am introverted, antisocial, and/or inhibited. But nothing could be further from the truth. I love people! There is nothing I enjoy more than listening to the stories of others. I derive joy and meaning from relationships—my family, friends, and colleagues are essential elements of my life. Although I savor moments of solitude, I get revved up by meeting new people and interacting with large groups of people. Essentially, I am a caring, compassionate, relational person—but I have my limits!
There are times when my behaviors belie my true nature—the times when I need to unplug, disconnect, and recharge. And that's OK. If I am to continue doing what I love, I can't be accessible and available 24/7. I need my time and my space! Sounds good, right? Ahhhh…this is when we struggle with boundaries. Knowing what is best and doing what is best are two very different things! As a natural born caregiver, I struggle with guilt about putting my needs and wants ahead of others. Consequently, I push my limits, ignore my boundaries, and jeopardize my own well being.
Sound familiar? If so, now hear this! As a traveler on the road of caregiving, boundaries are beautiful, beneficial, and mandatory. Boundaries are self-serving—and rightly so! If we care for ourselves throughout the journey of life, we will then be available and able to care for our traveling companions when called to care. So, as you continue your journey of caregiving, take good care—of yourself and your loved ones.
I look forward to the ongoing conversation. If you have specific questions or concerns related to your caregiving experience, I would love to hear from you. Until the next posting, I wish you and yours countless blessings…jane
© 2007-2020 Preferred Care at Home, a division of Help at Home Franchise Service, LLC. All Rights Reserved.
Services may vary depending on the licensing of each Preferred Care at Home Franchise location. Each location is individually owned and responsible for controlling and managing day-to-day business operations.