Preferred Care at Home of National Headquarters | 354 NE 1st Ave Delray Beach, Fl 33444
Services

Hospital to Home Care, Transition Care

Smooth-Transition Care, an affordable, evidence-based service, combines four key components to prevent readmission in elderly people.

More info

Companion Care

Too often, with age comes loneliness. The feeling that no one cares creeps in. Aging has a way of reminding you of family members and friends who have passed on. You can feel like you're alone.

Homemaker Care

Preferred Care at Home's homemaker care. We make your house into that special place again. We do the chores and provide those tender loving touches that make you comfortable. Ultimately, our homemaker care can help you or a loved one remain where you want to be home.

Personal Care

As we mature, our needs change. The things that were once simple to perform become complicated.We can provide you or your loved one assistance and direction with all the tasks referred to as activities of daily living.

Dementia/Alzheimer's Care

If you or your parent has Alzheimer's disease, you're not alone. After all, every 70 seconds someone is diagnosed with it. Yet it can feel so isolating, so overwhelming.

Live-in Care

Peace of mind. It's so often an elusive dream for people with elderly parents and for elderly people themselves. That's why Preferred Care at Home has always been known best for our 24-hour peace-of-mind service called live-in care.

End-of-Life Care

At Preferred Care at Home, we partner with hospices to care for people as they approach life's final transition. Our caregivers are specially trained in end-of-life care. Depending on your needs, they may, for example, prepare easy-to-eat foods, read to you, and watch for discomfort and summon health-care providers if needed.

Specialty Care

Preferred Care at Home provides a variety of specialty services. These services are built around the unique needs of the individual. Included are packages for New Mothers and Surgery Recovery.

Skilled Care

Our medically trained and licensed caregivers are available to assist with your nursing needs. These services can be as simple as wound care to ventilator care.

Services

At Preferred Care at Home, we're passionate about keeping elderly people safe and independent in their own home. We offer a variety of in-home care services, so you can be sure we have the option that will work best for you.

Please explore our services listed to the left.

Blog

Caregiving Roller Coaster

"The ups and downs, the twists and turns, and the unknown trajectory of the caregiving roller coaster are more than challenging some days. But this is the price we pay for a ticket to ride with those we love until the journey is completed..." Greetings one and all… Today I am a wee bit weary having ridden the caregiving roller...

Read the blog

Escaping the Gravity of Isolation

Loneliness and isolation can feel overwhelming. It can make you feel like you are a couple thousand miles away from humanity. Loneliness and isolation can feel overwhelming. It can make you feel like you are a couple thousand miles away from humanity. Hopefully, you always and eventually come to realize that you are not actually alone, certainly not thousands of...

Read the blog

Called to Care: A Daunting Challenge and Sacred Honor

"Companioning those we love to the end of the road is the hardest thing we do as a family. And yet, it's a journey not to be missed..." Greetings one and all… It's with a heavy heart that I compose this reflection today. Earlier this week, I received the call to care for yet another family member. Since...

Read the blog

Senior Home Care Blog

If you want to connect and interact with an in-home care expert, explore our senior home-care blog, which includes posts on the senior topics that most affect you.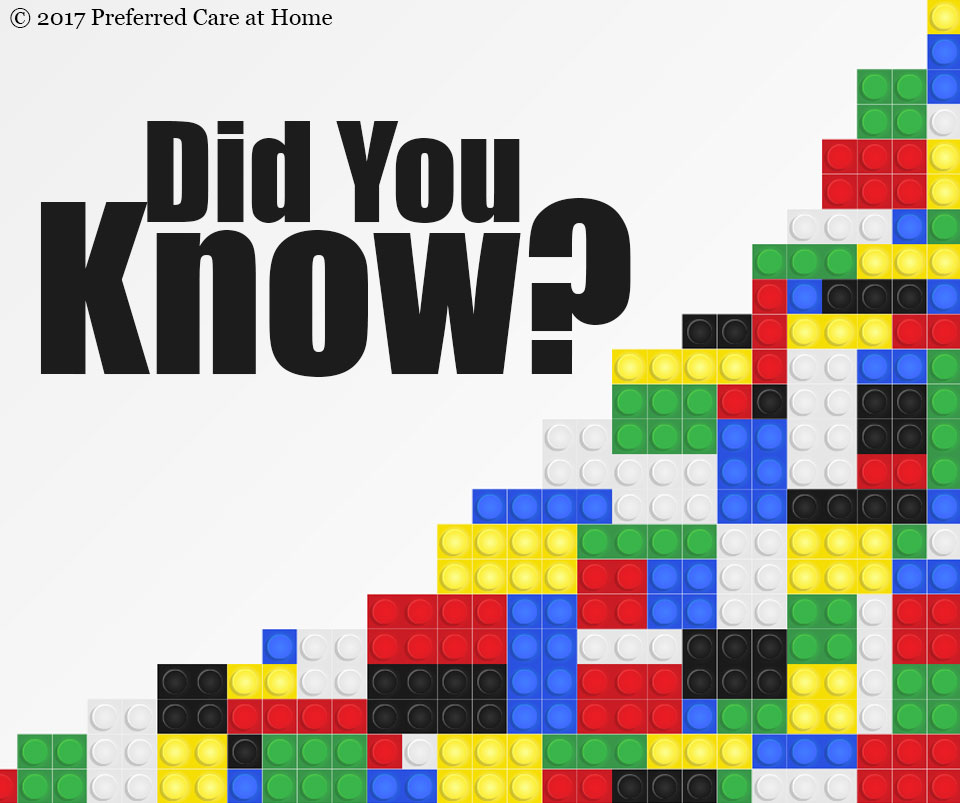 Here, Batman lives harmoniously along side Harry Potter, Darth Vader, Mickey Mouse, and Frodo Baggins, in a world sold separately, one that's been assembled, disassembled, and then likely reassembled again and again.
And it's a world you can thank Ole Kirk Christiansen for, as he founded it back in 1940's Denmark, by and through his company (called "Lego," maybe you've heard of it), who would eventually make and sell the iconic, interlocking, toy bricks that have become the foundation of childhoods worldwide.
There's plenty of reasons to love those Lego bricks. There's the simplicity, the quality and durability, the ability to use them to make practically anything.
But one reason stands out to me more than anything – each and every Logo brick created since January 28, 1958, which was when the design was patented, can interlock with one another.
I find that tremendously impressive, and more importantly fun, because that means a Lego astronaut from 1969 could easily be placed on top of Lego Mount Doom (where, for the uninitiated, Frodo destroyed the One Ring).
Doesn't do it for you?
Ok, then it means Lego Pirates of the Caribbean can, and probably already has somewhere in the world, invade Lego Atlantis.
Still don't care?
Fine, it also means Lego Indiana Jones can go on adventures with Lego Han Solo in Lego Jurassic Park!
But really, it just means compatibility and consistency still matter in a world where you can't plug your year-old headphones into your iPhone 7 without an adapter.
There's a clear and shiny piece of insight we can take away from this decades-plus dedication to compatibility and harmony.
What great things would we achieve or create if we tried to be more agreeable?
What if we made more of an effort to interlock with those who are somewhat different from us, be they older or younger, bigger or smaller, reflective or matte, flame red or forest green?
Personally, I think we would all be better off being a bit more blockheaded.
© 2016-2017 Preferred Care at Home, a division of Help at Home Franchise Service, LLC. All Rights Reserved.
Services may vary depending on the licensing of each Preferred Care at Home Franchise location. Each location is individually owned and responsible for controlling and managing day-to-day business operations.