Preferred Care at Home of National Headquarters | 354 NE 1st Ave Delray Beach, Fl 33444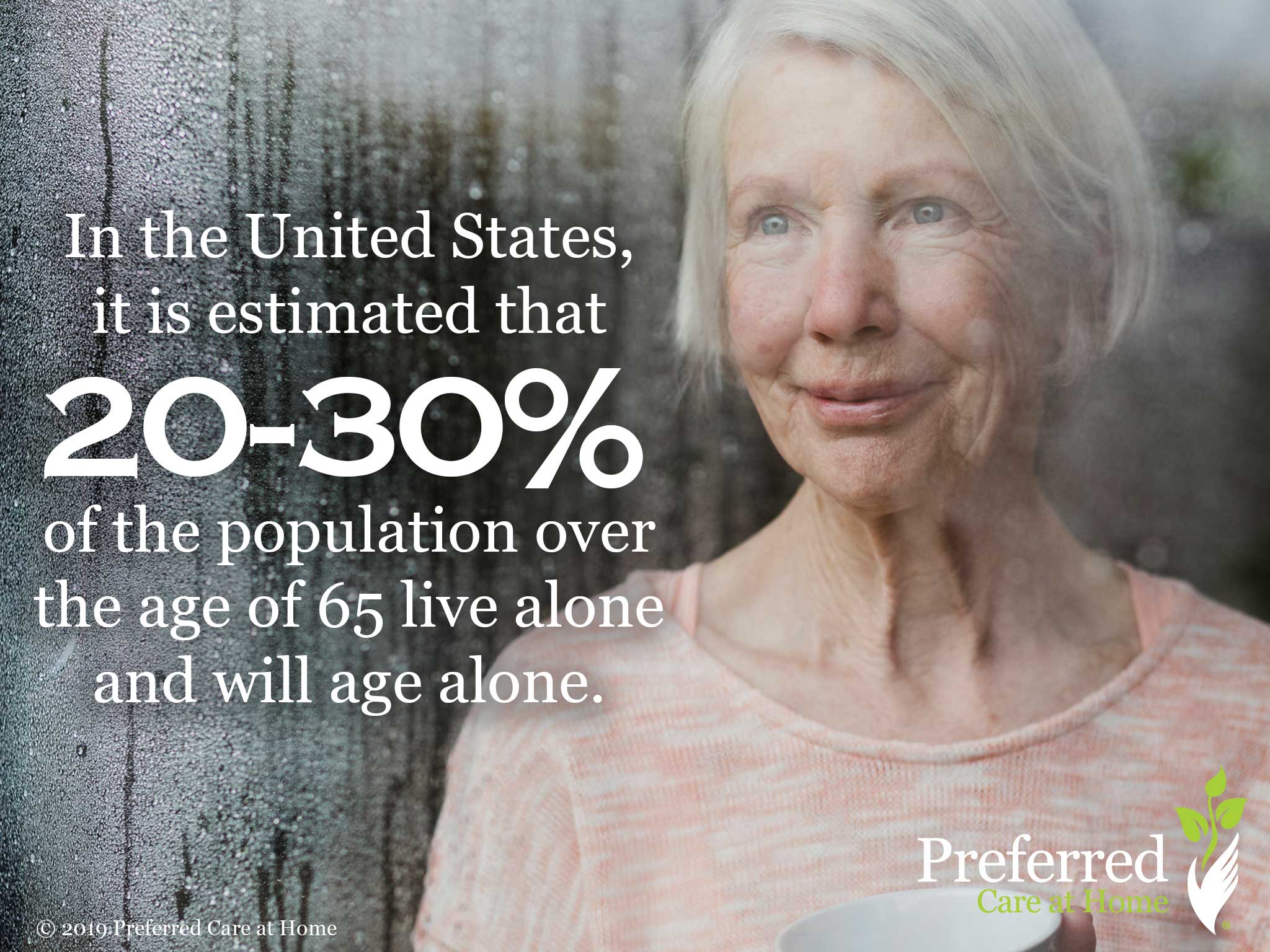 Greetings one and all…
Over the past several months, I have been researching the issue of aging alone. In the United States, it is estimated that 20-30% of the population over the age of 65 live alone and will age alone. The strict definition of a solo ager or elder orphan is someone who lives alone, has no children, and does not have a life partner. But a broader definition of solo aging highlights the reality that we are ALL at risk of aging solo due to circumstances—the death of a spouse or partner, a divorce, or geographic isolation from family and friends. Hence, we are wise to be aware of the challenges posed by aging alone and plan accordingly.
Risk Factors
There are numerous factors that increase the odds of aging alone. Factors may be situational, physical, cognitive, attitudinal, or relational. Regardless, the following factors should be recognized as having the potential to isolate and insulate us as we age:
Unwavering desire to be independent and autonomous
Death of a spouse or life partner
Change in health – physical or cognitive
Relocation to a new residence
Physical disabilities
Mental health concerns
Living in a geographically remote location
Limited financial resources
Lack of a social network of friends
Lack of transpiration
Consequences of Aging Alone
It's important to note that there is a distinct difference between living alone and aging alone. As noted by Eric Klinenberg in his book, Going Solo (2012), many people choose to live alone throughout the world. In fact, 28% of households in the United States are single person homes. Living alone affords a person freedom, control, and beneficial solitude. In contrast, aging alone often leads to life-diminishing (if not life-threatening) isolation. The potential consequences of aging alone include:
Loneliness
Diminished quality of life
Increased incidence of elder abuse
Increased risk of unhealthy behaviors (drinking, drugging, smoking, poor diet, lack of exercise)
Shorter life expectancy
Exacerbation of chronic conditions as well as physical and cognitive decline
Caregiving complications – Who is there to care?
Proactive Ideas Related to Aging Alone
The reality is this. There is no way to eliminate the risk of aging alone. However, we can choose to engage life in a way that mitigates some of the risk. Consider the following proactive approaches that increase our odds of aging well:
Embrace a healthy lifestyle (diet, exercise, social interaction)
Overcome our resistance to assistance – seek and accept the help of others
Transform independence into interdependence
Nurture lifelong friendships and seek new friends
Invite animals into the family (rescue a cat or dog)
Invest in other people (volunteer)
Reach out and create a supportive social network
Leverage technology to stay connected (text, email, Skype, Zoom, social media)
Live in the "right" home – right size, right location, right price, and right community
Planning is Priceless
When my brother died a few years ago, I recognized the increased need for advance directives, powers of attorney, and a Last Will and Testament. Prior to his death, I counted on my brother to take care of my affairs and me. Now, as the last one standing, I don't have that naturally occurring safety net. Recently, I sought the advice of an elder law attorney when updating my documents. With her expert advice and guidance, my directives now accurately express my wishes. Furthermore, I feel confident that my friends who agreed to be my surrogate decision makers and legal representatives have all the information needed to care for me and finalize my estate. Having my plan in place provides a peace of mind that is priceless.
In closing, let me reiterate that aging alone is a potential reality for all of us. Knowing the possible negative implications of aging solo, perhaps we'll be motivated to take proactive measures to mitigate the risks associated with isolation. That is certainly my hope! Take good care and remember to enjoy the moment……jane
© 2007-2020 Preferred Care at Home, a division of Help at Home Franchise Service, LLC. All Rights Reserved.
Services may vary depending on the licensing of each Preferred Care at Home Franchise location. Each location is individually owned and responsible for controlling and managing day-to-day business operations.