Preferred Care at Home of National Headquarters | 354 NE 1st Ave Delray Beach, Fl 33444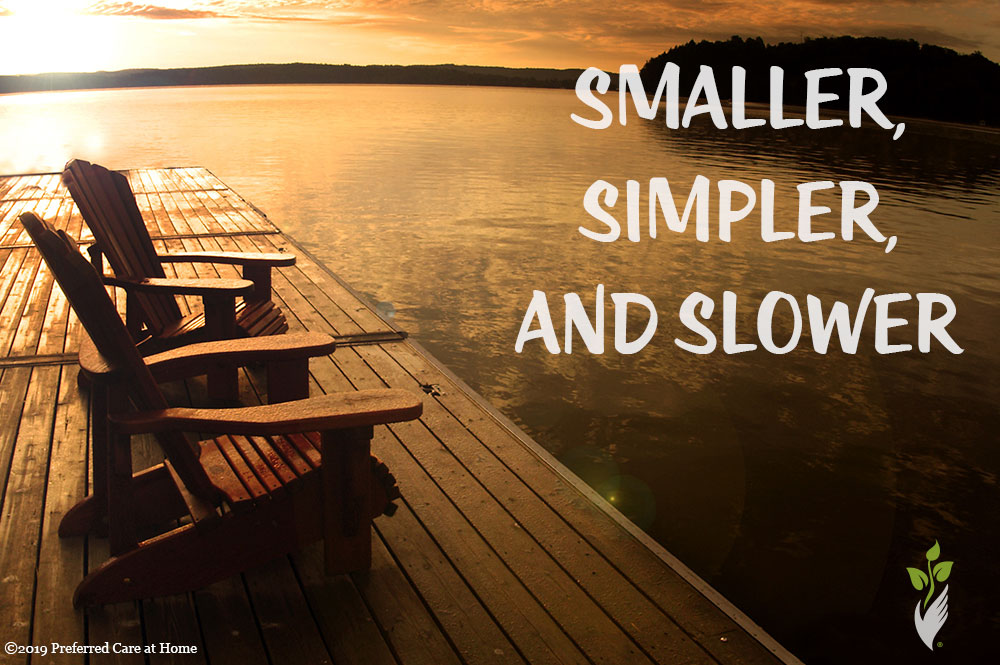 Greetings one and all…
This year, I will celebrate 62 years of life. I feel incredibly blessed and somewhat amazed by this birthday. How did I get here? I'm also pondering how the remainder of my journey will unfold in the days, weeks, and years to come. Although I am blessed to be doing what I love today—writing and speaking—I am recently aware of a stirring in my soul. A longing for a different way of being. A desire for a smaller, simpler, and slower way of life.
An Idea Takes Root
Over the past 6 months, I have been listening to a series of audiobooks—mysteries that lead from one book to the next. I have grown very fond of the cast of characters. Furthermore, I am captivated by the setting of the books—a small, Canadian village located an hour south of Montreal. The author describes a setting that appeals to every sense—the sights, the sounds, the smells, and the feel of the quaint little village. The rhythm of life is invigorating rather than frenetic. Friends and services are all within walking distance. And the foundation upon which the village resides is a loving, respectful, collaborative sense of community. Granted, the village is not without blemish or colorful characters. But having listened to 10 books thus far, I find myself longing for the village life—smaller, simpler, and slower. Perhaps you have felt a similar desire?
Location, Location, Location
Today, I am not ready to close up shop. I envision working for a few more years. But I am thankful for this recent longing for the village life. Sensing that a change is on the horizon, I am motivated to consider the various options that would result in the desired change of pace. First and foremost, where do I want to live? In order to age well and to be well, I am pondering the following facets of my preferred location:
Geographic location and associated climate
Availability of health care (acute care, home care, and long term care)
Demographics of the area
Financial affordability and availability of housing
Recreational opportunities
Educational opportunities
Access to needed and wanted retail services
Public transportation
Timing is Everything
As I consider the various options, I am also contemplating my preferred time line. When is the right time to make the desired transition from a large metropolitan area to the village life? I am somewhat cautious having witnessed the consequences of transitioning too soon or too late. Yes, timing is everything! Although I don't know the exact date when I will make the transition, I do know that I have some things to do prior to shifting gears:
Seek the advice of financial experts regarding the feasibility of retirement and relocation
Prepare emotionally, psychosocially, and spiritually for the transition
Sort and Sift—Donate, sell, trash, and/or redistribute a lifetime of "stuff"
Identify and address any needed repairs or updates to my current residence
Stay abreast of the real estate market for the purpose of selling my current home and purchasing/leasing a "village" home.
Test Drive the Options
In a conversation with a dear friend recently, I realized the benefits of test driving the various villages I am considering. So, over the next few years, I plan to spend at least a month in each village of interest to determine if that particular option is a good fit for me. Taking the time to immerse myself in the community will be time, money, and energy well invested. By so doing, when I ultimately choose to shift into full-time village mode, I will be confident that my new home will fulfill my desire for smaller, simpler, and slower. A good thing indeed!
If you are feeling the need or desire to shift gears as well, stay tuned. I'll keep you apprised of my village movement. Perhaps my experience will inform your planning process. Take good care and remember to enjoy the moment……jane
© 2007-2020 Preferred Care at Home, a division of Help at Home Franchise Service, LLC. All Rights Reserved.
Services may vary depending on the licensing of each Preferred Care at Home Franchise location. Each location is individually owned and responsible for controlling and managing day-to-day business operations.