Preferred Care at Home of National Headquarters | 354 NE 1st Ave Delray Beach, Fl 33444
Blog Archive
Traveling and experiencing new places is one of the joys of life. But, we all have fallen victim to trip hazards, poor planning, and the stress and anxiety that traveling can create. And as we age, traveling can start to seem too difficult and seniors may begin to limit their travel wish list or cease...
Read more
Summertime is a fun and happy season full of cookouts, outdoor activities, and relaxation. What some people don't realize, is that the summertime can be a very dangerous time for older adults. The sun and the heat may seem like welcomed changes from the snow and the cold from the winter months, but they can...
Read more
I am providing you with another experience from my sister Cindy, as she cared for our mother and father in their last days. I remember several trips to the hospital during those years for both our parents. Cindy shares with us here how important it is to be present at those times whenever possible to...
Read more
Over 6 million Americans are living with Alzheimer's disease. It's the 5th leading cause of death in the United States. And one in three seniors dies with Alzheimer's or another form of dementia (Statistics from the Alzheimer's Association). These statistics are very high and chances are someone you love or know is a victim to...
Read more
Well, it seems that if we live long enough, we develop some kind of back pain! Sciatica which is a common diagnosis causes at least 5% of back pain. This pain can be superficial or deep, constant or intermittent. There may be pain that is described as sharp and stabbing and may interfere with sleep....
Read more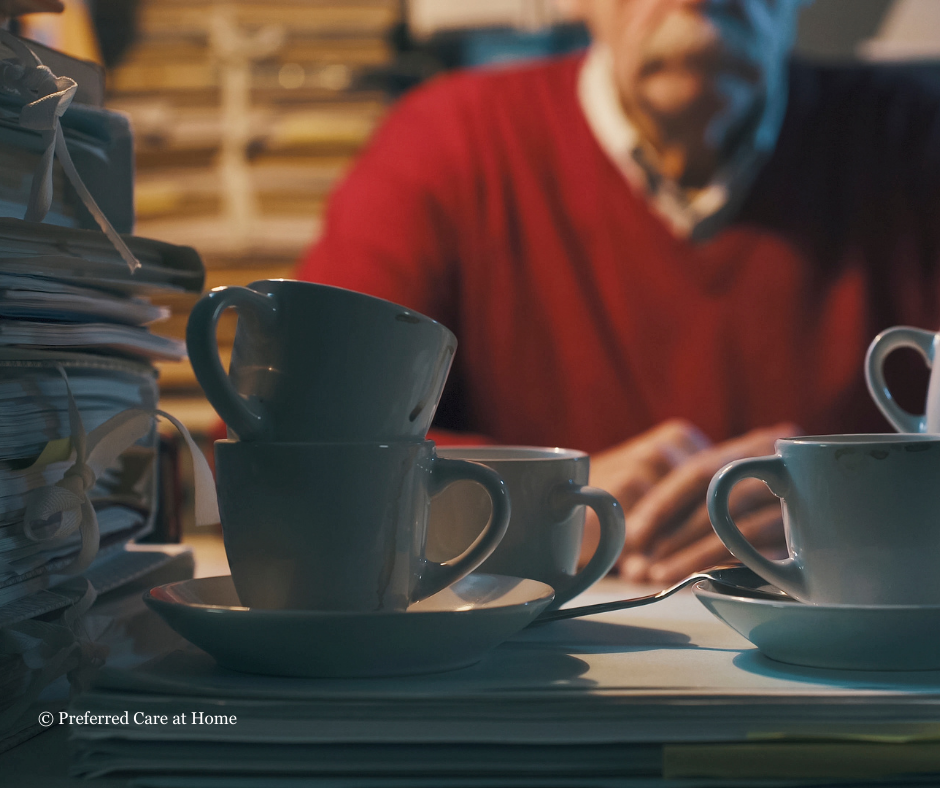 On March 21, 1947, acting on an anonymous tip, New York police officers broke into the home of Homer and Langley Collyer, two brothers who had withdrawn from their social circles 14 years prior. What they found inside was a chaotic clutter of baby carriages, 14 pianos, 8 live cats, dressmaking dummies, clocks, marble statues,...
Read more
"The idea of independence is rooted deep in the heart of every American, but, perhaps, especially our seniors. The desire to be independent does not fade as we...
Read more
"The most basic of all human needs is the need to understand and be understood. The best way to understand people is to listen to them." ~Ralph Nichols How often do you think about listening? Most of our day is filled with some type of communication, but are you taking the time to listen–to listen...
Read more
© 2007-2020 Preferred Care at Home, a division of Help at Home Franchise Service, LLC. All Rights Reserved.
Services may vary depending on the licensing of each Preferred Care at Home Franchise location. Each location is individually owned and responsible for controlling and managing day-to-day business operations.